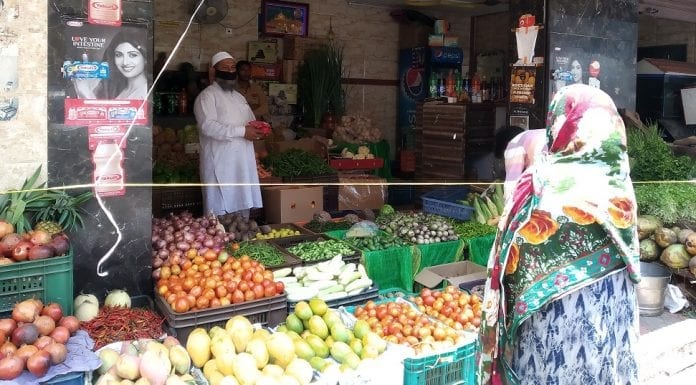 Ismail Bagwan, owner of popular mutton joint Khwaja Garib Nawaz (KGN) in Pune city has turned his restaurant into a vegetable shop after his sales slumped due to the nationwide lockdown triggered by the coronavirus pandemic.
Bagwan is not the only one to shift from a trade, established over years, to another to make ends meet. Many traders like him in Pune have switched to new businesses to survive amid the pandemic, most of them choosing to sell essentials like vegetables and fruits.
"I have a family of 45 people. It's not easy to feed them. The restaurant is our family business. A lot of people come from different corners of the city to KGN, only because of the taste and quality that we provide. But since the lockdown, we had to shut the shop and our income was completely stopped," Bagwan said.
Related news: Not all's blue for firms, some tech companies do robust business amid lockdown
Advertisement
"Only essential services were allowed so we thought why not sell vegetables instead. We began with a few items. But the response was so overwhelming that I converted my whole restaurant into a vegetable shop later," he added.
Bagwan's shop now serves as a mini market for residents in the neighbourhood.
"I come here once a week and buy all the vegetables and fruits I need. It's been like a small supermarket for us," said one of the buyers who was holding a bag full of veggies.
Naresh Malve, who owns an imitation jewellery shop in Tulshi Baug, one of the bustling markets of the city, has also taken up selling vegetables.
"My shop was closed and my son who was working with a travel company also lost his job at the same time. My wife used to run a small mess for students, but that came to a halt when the students left for their homes as soon as the lockdown was announced. All the money inflow was suddenly stopped," said Malve, who also has a daughter who is pursuing her education.
He, however, on the suggestion of a few friends decided to take a leap of faith by starting a new business.
Related news: Maharashtra hits pause on Chinese projects worth ₹5,000 crore
"Fundamentals of all businesses are the same. So I chose this thing since I had to feed my family no matter what," he said.
Malve said his amicable neighbours soon turned into clients, helping him successfully set up the business. The whole family has been running the vegetable stall for the past three months now.
The municipal corporation has allowed opening shops in Tulshi Baug since last week, but Malve can open his shop only for a week in one month. This would not fetch him the money for survival.
Other traders, who already had competition from people like Bagwan and Malwe in the vegetable business, chose to cater to people's need for fruits.
Deepak Zende, who used to run a transport business, opened a fruit stall to feed his family of nine.
Related news: Tractors hold the field, but commercial vehicles have a rocky road ahead
"Many vegetable stalls were opened in the very beginning. Later, I realised that people were also looking for fruits to maintain a healthy diet. So I contacted some farmer friends in nearby villages and set up the business of fruits next to my house in April. I got an overwhelming response from the residents in the locality," he said.
Deepak says his choice of good quality fruits got him positive response from buyers, and has earned him a dedicated clientele in the past two months.