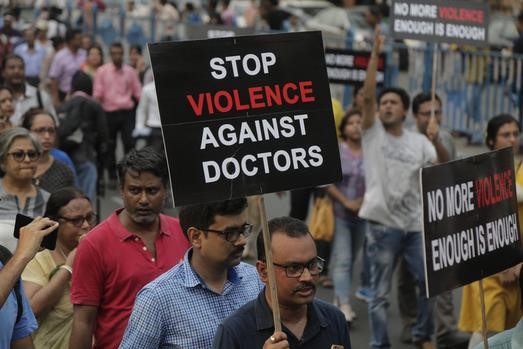 The Indian Medical Association (IMA) called for a white alert on April 22 to light a candle as a symbol of protest and vigil against the injustice meted out to doctors during the COVID-19 pandemic.
The association also said it will be observing a black day on April 23, when all doctors will wear black badges as they render their services across hospitals in the country.
The call has come a day after a doctor, who died due to COVID-19, was denied cremation at a burial ground in Chennai, as the locals in the area feared spread of the disease.
The vigil will be maintained by doctors and hospitals at 9 pm at all hospitals, said the release.
The IMA has said that while the doctors have been abused, beaten up, and ostracised ever since the outbreak, the incident in Chennai cannot be tolerated. The association has also demanded the passing of a central law by ordinance to prevent such incidents from recurring to protect doctors, nurses, and healthcare workers.
Talking to The Federal, Dr Santanu Sen, former national president of the IMA, said the ordinance was a long-standing demand. "While the Health Ministry had approved of it, the Home Ministry had shot down the proposal for the same. Now, when doctors across the world are rendering services during the time of a pandemic like COVID-19, they are humiliated, assaulted, and rejected. Nothing can be more unfortunate than this," added Dr Sen.
The Centre has dragged its feet on The Health Services Personnel and Clinical Establishments Bill.
The Bill proposes a jail sentence of up to 10 years and a fine of ₹10 lakh for anyone found guilty of attacking medical professionals on duty. Recently, the Home Ministry had hinted that a separate bill was not necessary as there are enough provisions in the CrPc and Indian Penal Code to deal with the issue and that a separate law for one professional body could result in similar demands by lawyers and the police.
Dr K Senthil from the Tamil Nadu Government Doctors Association was behind the drafting of the state bill called the Tamil Nadu Medicare Service Persons and Medicare Service Institutions (Prevention of Violence and Damage or Loss to Property) Act, 2008.
States call for tough action, ordinance
States are mulling over the idea of tough action after numerous incidents of families and patients of COVID-19 attacking doctors were reported. The Telangana high Court last week had pulled up the state police for inaction, following which three arrests were made in connection with attacks against doctors in two government hospitals.
Similarly, in Karnataka, efforts are on to come up with the Karnataka Epidemics Disease Ordinance on the lines of the ones in Uttar Pradesh and Kerala, to deter attacks against health workers. Bengaluru recently saw an attack by a mob of residents on healthcare workers at a locality when they had gone to check on those suspected to be infected with COVID-19.