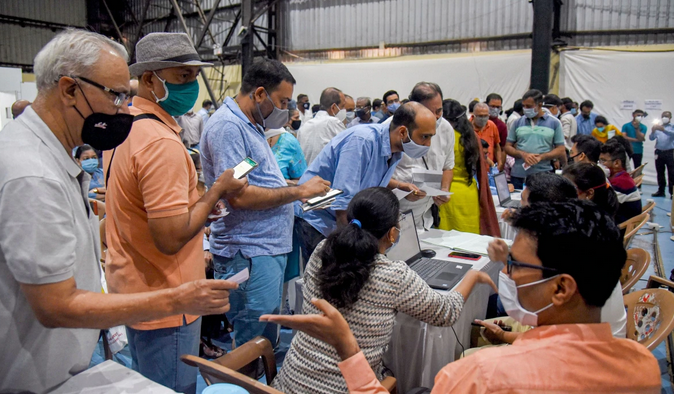 COVID vaccine manufacturers have long complained about supply line obstacles in meeting the rollout targets. First it was Pfizer late last year, and now it's the Serum Institute of India that says "bottlenecks" exist in supplies of raw materials. However, sources told The Indian Express that it has enough supplies to continue manufacturing at current capacities for the next six months.
Pfizer had set 100-million-dose target until mid-November last year. Then, it realized supply-chain hurdles that affected its end-of-the-year timeline. "Some early batches of the raw materials failed to meet the standards. We fixed it, but ran out of time to meet this year's projected shipments," a Pfizer spokesperson had said.
Serum Institute's CEO Adar Poonawalla had recently talked about curbs on exports of certain items in the US was a "serious limiting factor" in raising the production of COVID vaccines.
Advertisement
Also read: US law may hit export of raw materials for COVID vaccines: Poonawalla
Those supply disruption concerns have arisen after the Biden administration announced plans to use the Defense Production Act to boost supplies needed to make Pfizer Inc.'s vaccines. The 1950 law gives the government more control during emergencies to direct industrial production.
"I do not want to get into technical issues… but for free global access to vaccines, if we can't get the raw materials out of the United States… that's going to be a serious limiting factor," IE quoted Poonawalla as saying in at an online discussion.
"We have stockpiled many doses but there are several constraints like (availability of) bags, filters and other critical items that manufacturers need," he said. World Health Organization's Soumya Swaminathan has said there were shortfalls of vials, glass, plastic and stoppers required by companies.
The Covax facility is a global platform which is supported by the WHO. Serum Institute is currently producing the vaccine developed by AstraZeneca and Oxford University under its own brand name 'Covishield'.
Also read: Efficacy, acceptance, production: A COVID vaccine's formula to success
Most of the raw materials are procured from the US, Australia or New Zealand. While there have not been any problems in the supplies from Australia and New Zealand, the United States has used some emergency legal provisions to curb the export.