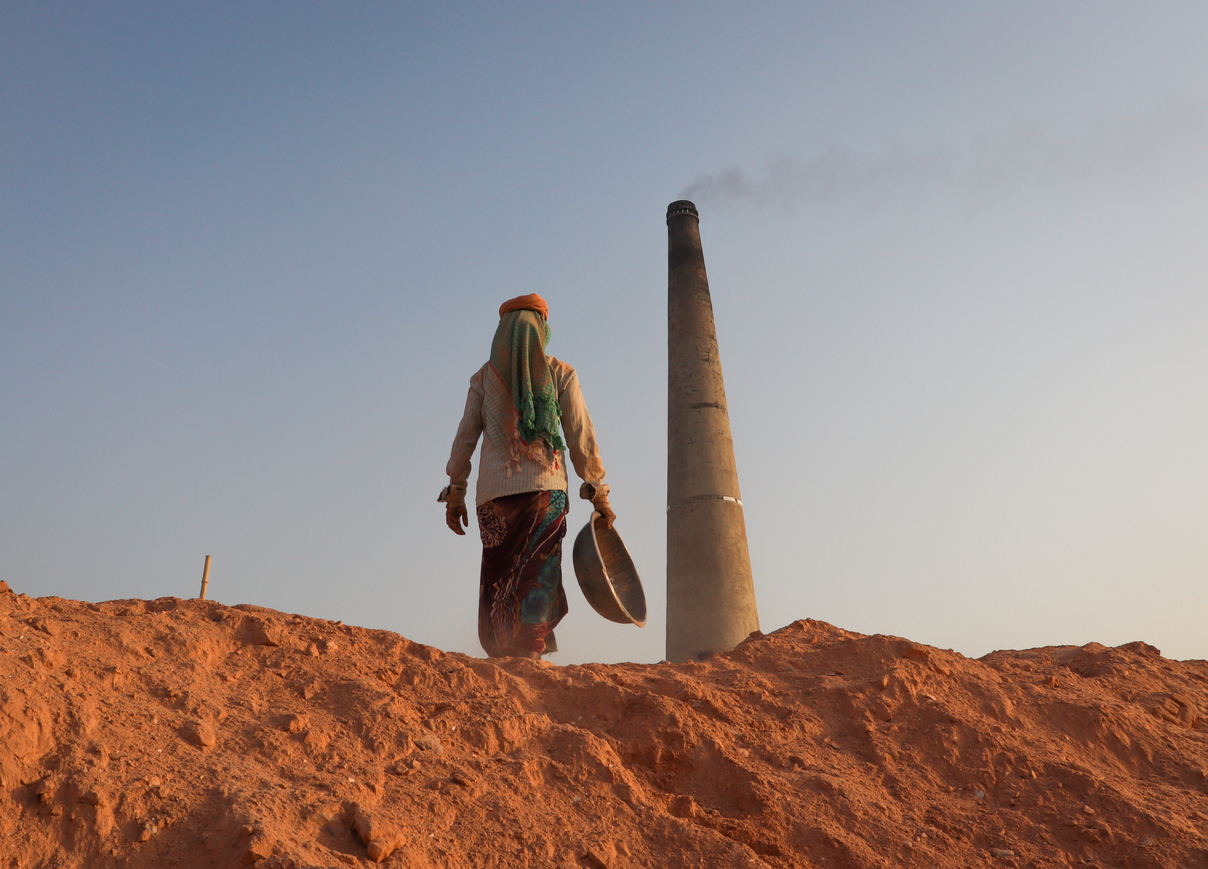 Bonded labourers stuck in work units amid lockdown await freedom
Originally from Kancheepuram in Tamil Nadu, 26-year-old Meena, mother of four children, has finally seen freedom. Lodged in a school, not very far from the site in Chittoor district in Andhra, she is listless about her future. In the beginning of the month, she and the others—some family members—were rescued from bonded labour in a rice mill in the district, after 10 years. Yet, she is not free enough to return home, courtesy the lockdown imposed to fight COVID-19.
Meena, a farm labourer, is among many who have been forced into bonded labour, a form of labour in return for loan or an advance sum.  However, they are tricked and trapped into it most often as a whole family, for no pay and long hours of work in inhuman conditions.
While the Bonded Labour System (Abolition) Act of 1976 prohibits it, the practise is rampant across small and medium units like rice mills, brick kilns, garment units and food units, across states. While states like Tamil Nadu have been taking proactive measures with a separate cell looking into the issue, the actual numbers are never known. It is believed that across the country, there are over one crore bonded labourers in various fields.
'They lured us with promise of money'
Meena and her family members around 16 of them were working in the mill under inhuman conditions for a decade. After they approached the mill owner for work through a relative, they were whisked to the place overnight by the owner and since then, they have not seen the outside world. "He told us we will be paid ₹20 per bag. But we never saw that money, nor did we get proper food to eat. Whenever we asked for food or money, we were abused. Even our children weren't spared. They were also forced to work all day along with us," she says.
Meena begins to cry as she narrates how the news of COVID-19 only added to their miseries. "The work hours were longer and there was no sight of food. We were rescued a week after the district closed (after lockdown began). First the officials (revenue officers from the district) told us to stay put and then a few days later they brought us to the school," she adds. Meena and the rest haven't received release certificates and the compensation amount of ₹20,000 at the time of release by the government to bonded labourers. "Now, the district officials tell us they don't know when we can return home. It seems coronavirus will not let us leave the district any time now. Though we now get food and are comfortable, I can't stop worrying about our future," she adds.
Related news | Chained to misery, bonded labourers in Tamil Nadu's brick kilns

Many stuck inside awaiting help
While Meena and the rest from the mill are outside narrating the sordid story of their 10-year-old ordeal, Gangadhar, who works in one of the brick kilns in Puduvoyal in Thiruvallur district of Tamil Nadu, awaits the day he will return to Odisha. There are 300 like him in the kiln and they have been working for as many as 14 hours a day, deprived of essentials like food and water during the lockdown.
Earlier this month, Gangadhar had reached out to a helpline run by an organisation called  Sramik Adhikar Mancha  in Bhubaneswar, Odisha and the local tahsildar got in touch with him and supplied the required groceries to all in the kiln. The officials have put rescues under abeyance during the period of lockdown and have reached out to those seeking help, asking them to stay put, as they cannot be transported back to their states. The tahsildar Suresh Babu says, "The day the lockdown ends, we will rescue the people and make arrangements for them to return to their hometown. Till then, I have promised Gangadhar and many like him that they will be taken care with food and grocery supplies." Ask him what if the owner abuses the labourers in the meantime, he says, "I have also warned the brick kiln owner not to mistreat them."
Helpless government
When asked about a road map for dealing with bonded labour post lockdown, a source from the Department of Labour and Employment in the state has denied that there is bonded labour among migrant workers, even as the source acknowledges that they are prevalent only in units like construction, shops and establishments and catering.  However, the source also says that rescuing them and shifting them to safer places is difficult given the restriction on movement. "We are having issues moving around for distribution of kits to those in need in the city.  But we will act immediately if there is a need," the source adds.
However, social workers note that process of providing transport and compensation to the rescued labourers who hail from other states is cumbersome. Jaba Prince, a social worker from the NGO International Justice Mission (IJM) says that it was only last month that around 250 labourers were rescued from Uthukottai division of Thiruvallur, a few days before the lockdown began. "They were from Odisha and Chhattisgarh, and the labour and revenue officials here had to arrange for their return. We only know of a few cases like Meena and Gangadhar. There are many others who are still waiting for help and are unable to reach out due to various reasons," he says.
Related news | TN builds makeshift walls on AP border to prevent influx of people

No way back home
From Odisha, many workers go to states like Tamil Nadu, Karnataka, etc to work in the industries like rice mills, kilns, and apparel units, apart from being employed sericulture and fast food units, says Neenu Thomas, director, Odisha, IJM, explaining that a good number of them are lured with advance money, an integral part of the bonded labour system. "The Odisha government is in fact trying to bring back these migrants and have asked them register on the site to make arrangements for their transport," she adds. However, unless those in bonded labour reach out, they cannot be traced or tracked.
The neighbouring state of West Bengal has migrant workers scattered across states like Rajasthan, Maharashtra, Tamil Nadu, Odisha and Uttar Pradesh. Bangla Sanskriti Mancha, an organisation working for communal harmony in Bengal, has raised concerns regarding their well being a month ago through a representation to the state home secretary. Samirul Islam, president of the organisation, says that while their database  has not distinguished them into categories as bonded labourers and seasonal labourers, they fear a good number of them are in bonded labour in industries like construction, jewellery units and garment factories. "We haven't received any response or help from the state government. Through the helplines we launched for the migrants, we received over 75,000 calls from across states. We could attend to the food requirements of over half of them by reaching out to the administration, NGOS and activists in the states," he adds. The organisation has also sent a representation to the Centre and is waiting response.
Numbers will soar
K. Krishnan, executive director, Foundation for Sustainable Development, says that while the question of survival looms large for those deprived of wages will result in more getting into bonded labour, there are also chances of re bondage happening among those rescued. "The lockdown and the loss of work due to it has had disastrous impact on the vulnerable sections. They will lose bargaining power and will agree to any terms and conditions of labour, as it is a question of their survival," he says.
Another impact of the lockdown is less migration to destination states like Tamil Nadu, Karnataka, Telangana and Kerala from source states like Uttar Pradesh, Madhya Pradesh and Chhattisgarh due to the distance, points out Bernard D'Sami, senior fellow, Loyola Institute of Social Science Training and Research (LISSTAR), Loyola College. He adds, "The result is going to be labour shortage in cities like Chennai, Hyderabad, Bengaluru and Thiruvananthapuram, as these workers will look for work within their states or in the neighbouring states. Consequently, the contractors and traffickers will lure the workers with more money and heftier advances to ensure that the labour needs are met."
He adds that more specifically in Tamil Nadu, a huge destination state, where migration happens to Thiruvallur, Kancheepuram, Coimbatore, Erode and Tiruppur are going to face acute shortage. "From rice mills to kilns, garment industries there is large scale bonded labour, though construction industry is the most visible of the lot. Manufacturing sector has been worst hit during the lockdown and this is again a huge destination for migrant labourers. There is a very thin line between migrant labour and bonded labour and with advance payment to the labourers being an integral part of all these manufacturing units—small and medium– bonded labour is going to spiral in all of them."