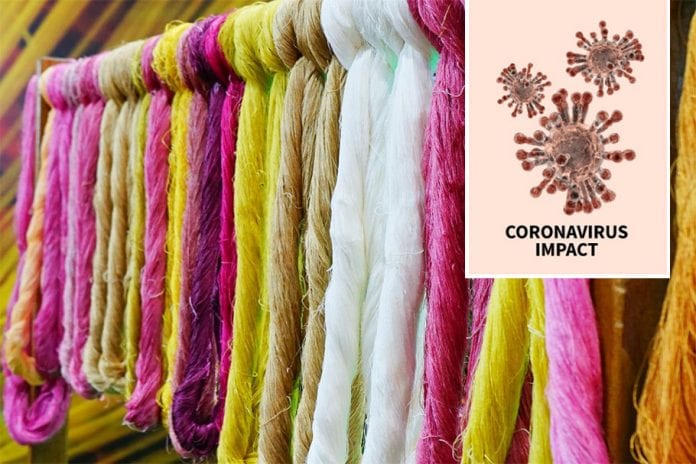 The Indian textile industry braces for a tough time ahead as traders face a double blow with both the imports and exports getting affected because of the novel coronavirus outbreak in China.
In Tirupur, India's leading textile hub in Tamil Nadu, industrialists are already feeling the heat with shortage of raw materials required for synthetic dyes, and accessories including buttons, hangers, tags, packing covers, and blended fabric from China.
Fall in demand and supply of yarn
Both India and China play a leading role in textile and apparel exports. India's share of global exports is around 5 per cent, whereas China's share in global exports is around 39 per cent. Besides, both the countries are interdependent on various aspects of textile trade.
India exports nearly 300 million kg of cotton yarn to China annually worth $ 3-5 billion. It is nearly a third of the overall cotton yarn exports from India. A partial shutdown in China would mean fall in demand leading to a price crash in the domestic market.
Similarly, India imports synthetic yarn and fabric worth over $450 million and $350 million, respectively from China. If the shutdown affects the imports, India would have to scout for resources from other countries and face the rise in prices.
Also, India imports chemicals required in the manufacturing of synthetic dyes. The finished goods are in turn sold to countries like USA, Turkey and Bangladesh among others. Maharashtra and Gujarat chemical industries that makes synthetic dyes and pigments meet about 80 per cent demand of the industries here.
Domino effect on manufacturers
With the unavailability of required raw materials, the dye manufacturers have already increased the price and the cloth manufacturers are facing the heat.
Echoing the fear of the industrialists in Tirupur, Dyers Association Secretary S Murugasamy said that few of the traders have already increased the price of the dyes and pigments by around 5-15 per cent.
Related read: Why coronavirus should teach Indian economy the art of self-reliance
Take for instance, BA Madeshwaran, an owner of a dyeing unit in Tirupur, purchased about 100 kg of textile dye at a cost of ₹300 per kg at the start of the year.
Around February 14 when the coronavirus shock had manifested, he purchased the same quantity of dye at 15 per cent premium. And on February 21, the prices went up to ₹395 (nearly 32 per cent rise).
"We enter into contracts with the traders to sell dye at a pre-set price. We cannot overcharge them merely because our raw material cost increased. If the prices of chemicals shoot up, we end up losing," Madeshwaran says.
Fear for future
According to industry sources, ₹1,000 crore worth accessories required for the readymade garments are imported from China annually and nearly half of it are bought by industrialists in Tirupur.
The accessories from China are nearly 50 per cent cheaper compared to India and other foreign countries, industry sources say.
Though traders of Tirupur Exporters Association say they have stocked accessories required for a month, they fear the stock would run out soon and they'd face a shortage which would lead to price rise in the global market.
Indian textile industry is already facing the heat in the international market. Lack of economy of scale is a major factor affecting the Indian textile and apparel manufacturing sector. While India is dominated by small textile units, countries like Bangladesh and Vietnam have developed large production facilities, pushing for competitive pricing.
And the coronavirus impact would further make Indian finished goods costlier. The increase in price would have an impact in the international market as well as domestic market.
"Manufacturers are wary of producing more as the shipping between the two countries stopped two weeks ago," said S Sakthivel, executive secretary of Tirupur Exporters Association.
However, Sakthivel hopes that once the consignments from China reaches India, things would get better.
Advantageous flip-side
T Rajkumar, secretary of the Confederation of Indian Textile Industry, expects that there would be a boost in export of finished goods since China is on the back foot because of the virus outbreak.
As factories in China remain shut for weeks now, they may not be able to meet the international demands. The buyers will have to look for alternatives and India's stands to benefit if it can cater to the global demand.
In the global textile trade, China textile and apparel export account for US $ 278 billion while India's T&A exports are worth US$ 37 billion. It is followed by Bangladesh and Germany with trade worth US$ 35 billion and US$ 34 billion, respectively.
Related read: Coronavirus impacts China's trade, India to benefit in apparel sector
"In the international market, if we can quote a competitive price, export of finished goods and clothes would go high in the next fiscal year," Rajkumar, said.
"Already exporters from Bangladesh and Vietnam are quoting 10-20 per cent less price than the Indian exporters. If the Union government gives tax benefits for the exporters, we will get a level playing field and would be able to divert the orders," he added.
(This is the second in a series of articles by The Federal which would assess the impact of coronavirus on various industries that rely on China)