India has turned into one of the world's largest pools for artificial intelligence (AI) talent, even as adoption of the technology grows at a slow pace in the country. "Artificial intelligence is no longer a fringe technology for Indian companies," said a report by Microsoft, consultancy firm Bain & Company, and industry body Internet and Mobile Association of India (IAMAI).
India's AI market was valued at $3 billion in 2020, which is approximately just 1 per cent of the global pie, but it produces 16 per cent of the world's AI talent pool — the third highest in the world. "An analysis of AI-related employment trends on LinkedIn in 2020 showed that India is leading the way in AI skills penetration across occupations, and there has been a significant uptick in AI-related hiring," said the report.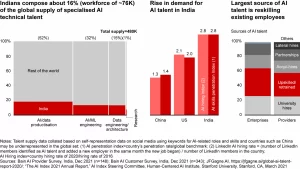 Moreover, the Indian market is expected to grow at the second-fastest rate of 20 per cent among major economies over the next five years, behind only China.
The findings of this report were based on the results of a survey completed by 148 providers and 343 enterprises. The survey respondents were C-level executives, senior vice-presidents, vice-presidents, and heads of business units/verticals who are responsible for their company's decisions related to AI and ML.
Also read: Centre ropes in tech giants to use artificial intelligence in agriculture
India has demonstrated rapid adoption of different technologies with rise in penetration of the internet, fintech, e-commerce, edtech, health tech, and uptick in enterprise investment in cloud and information technology (IT). This has created a foundation of knowledge, data, and infrastructure which can drive value through AI, the report said.
Global-level AI capability
Providers in India are either ahead of or on par with their global counterparts when it comes to AI capability on scale implementations. Indian providers state that 65 per cent of their prototypes reach production scale — a significant lead over global providers' 49 per cent success rate.
Cloud platforms have played a dominant role in the Indian market by offering an end-to-end ecosystem of infrastructure, tools, libraries, and frameworks to encourage experimentation, accelerate development, and enable scaled deployment, said the report. Other providers are increasingly building their solutions with the help of the infrastructure and tools provided by cloud platforms.
A clear and increasing requirement among Indian enterprises is to 'build' for their own customised needs while leveraging the market's building blocks, tools, and infrastructure.
While small enterprises prefer to buy pre-built models (45 per cent) due to the high cost of building in-house, they also experiment with easily accessible open-source tools and frameworks for cases they want to develop. Digital native companies have shown a similar trend. Providers, too, are inclined towards building their models using third-party support or open-source tools or services.
Approximately 80 per cent of enterprises have at least one AI model in production, indicating extensive penetration of AI/ML across enterprises. However, usage of AI across functions and use cases is still low, with only 35 per cent broad adopters.
Demand-supply gap
The demand for AI talent comes on the back of micro, small and medium enterprises (MSMEs) that seek AI contractors, and large organisations that are in search of AI and machine learning talent for digital transformation. However, despite the country being a major hub for AI talent globally, the gap in demand and supply of AI-educated employees is wider than ever.
This was highlighted in another report published on June 23 by the National Association of Software and Services Companies (Nasscom), which noted that while demand outpaced supply of AI talent in India by around 14 per cent in 2018, the gap widened to 33 per cent last year, reports Mint.
Also read: Know about Digi Yatra, the facial recognition tech for airports
Nasscom's report stated that even the advanced adopters of AI and automation services across Indian enterprises are at early stages — they are acquiring AI services from technology companies and deploying across departments for operational efficiencies, and not innovating to build their own services on top of AI platforms.
Extensive penetration
"Approximately 80 per cent of enterprises have at least one AI model in production, indicating extensive penetration of AI/ML across enterprises," said the report. "However, usage of AI across functions and use cases is still low, with only 35 per cent broad adopters (i.e., more than three models in production at scale) among enterprises."
The report further said AI adoption in India is prominent in sectors such as communication, OTT and gaming (55 per cent); technology (48 per cent); and financial services (39 per cent). 
"Due to the availability of vast amounts of data and the ability to leverage AI to solve problems at scale, adoption in large enterprises is much higher than in smaller enterprises," the report pointed out.