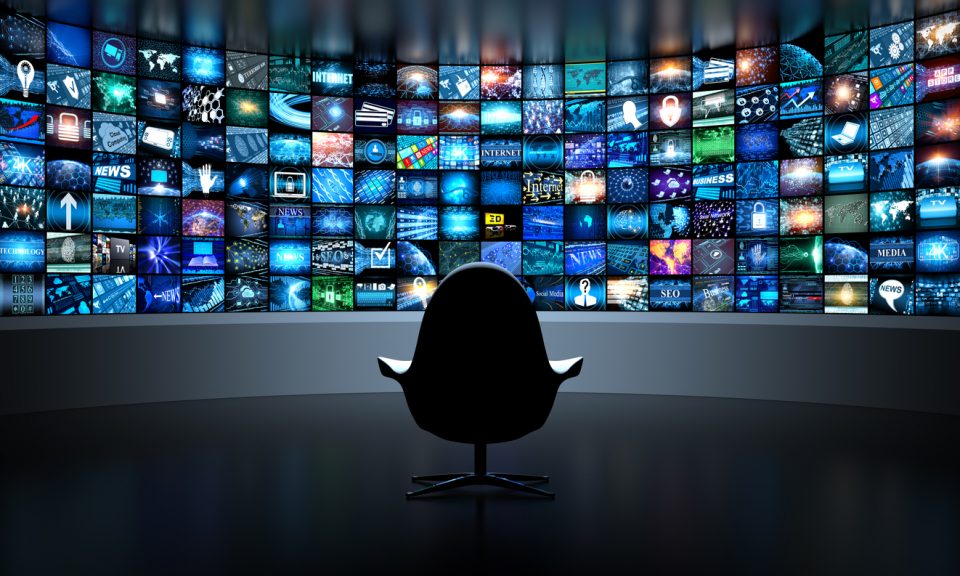 With India wresting the title of the most populous country from China recently, the perceived demographic dividend is changing India's media landscape fast.
The population boom and faster economic progress are making the idiot box smart, says the data released by The Federation of Indian Chambers of Commerce & Industry (FICCI) for 2022. The television industry is seeing a revolution, with internet-enabled smart TV pushing conventional TV sets out of the market.
According to the FICCI's annual report on media and entertainment sector, in the last year alone, 8–10 million new smart TVs have been added in India, even as sales of conventional linear television remained comparatively stable at 169 million in 2022 compared to 166 million by 2021. This smart TV rush is pushing OTT platforms to vie for the Indian market.
Watch: Netflix completes 25 years, but struggles in India | Netflix | OTT
The digital push
The American OTT platform Netflix had a tie-up with Reliance Jio last year and it has been at the top of app searches on iOS devices in the last year. Studies point out that the arrival of internet-distributed videos (OTT) would disrupt the markets for audio-visual content across the world, more so in India.
"There will be a continued shift in media consumption patterns as the digital realm provides various content options, including user-generated content, web series, personalized content, and more," said S Arulselvan, associate professor, School of Media & Communication, Pondicherry University.
The extent of disruption is clearly visible in the advertising revenue of TV media compared to digital media. While television advertising grew by Rs 5 billion in 2022 compared to the previous year, digital advertising rose by Rs 116 billion.
The data shows that television is still a dominant medium, said Arulselvan. It makes sense, as the FICCI report points out that smartphone sales flattened last year because of cost and other factors.
Also read: Need level-playing field in content delivery between OTT, DTH, cable: Trai chairman
Bigger, smarter, sharper
But more and more audiences are consuming digital media content on smart TVs. The fact that TV subscription revenues came down for a third consecutive year in 2022 and digital subscriptions went up is a sign to read the trend. Even though TV subscription revenue is way ahead (Rs 392 billion) of digital subscription (Rs 72 billion), the trend clearly shows which way it is headed.
This sounds right for India, which has always been fascinated by larger-than-life things, said media analyst Suresh Paul. "If you leave out rural markets, where the penetration of smart TV hasn't begun in a big way, it is an era of bigger, smarter, sharper TVs. In rural pockets, where availability and affordability are an issue, people are preferring smartphones as a standby for large-screen TVs," said Paul, who is the dean at Vel Tech University, Avadi.
People living in the digital dark (who own neither a TV nor any other gadgets), are pegged around 15 crore in India, said Suresh Paul. "TVs will give them an immersive experience that mobile phones cannot offer. Mobile phones are more about convenience. And the demand for tablets is also waning, showing that TVs connected with the internet are going to dominate the market," he said.
Along the same lines, FICCI has recommended that TV access be ensured to all citizens of the country, even distributing TV sets for free — a scheme implemented by the Tamil Nadu government way back in 2006.
Also read: Kerala: Film exhibitors ban movie reviews inside theatres; OTT release after 42-day gap
Digital+TV
However, TVs may not be used in the same form as in the past. The rising sales of smart TVs and digital subscriptions point out that people are watching digital content on TV. It gives them the chance to watch TV for hours without any advertisements, in contrast to frequent ads that spoil the experience in case of conventional cable TV connections or DTH connections.
"The significant rise of smart TV, the immense popularity of OTT services, the widespread availability of 5G-powered smartphones, and affordable internet access are game changers. There will be a continued shift in media consumption patterns, as the digital realm provides various content options, including user-generated content, web series, personalized content, and more," said Prof. Arulselvan.
Already, the youth are connecting their mobile devices with their smart TVs. Casting mobile content on to the big screen is a trend of late.
This is the digital+TV that American OTT platforms vie for. FICCI reports suggest that Google-owned YouTube is the leading video-distributing OTT player in India. But other US companies, such as Disney Hotstar, Netflix, and Amazon Prime, have started flexing their muscles as well.
Watch: Digital detox: Maharashtra village switches off TV, mobiles for 1.5 hours daily
Fun element in news
Even though FICCI's predictions apply to the entire M&E sector, the news genre doesn't stand out from its impact. The arrival and dominance of OTT platforms and internet-mediated content mean that newspersons cannot perform their work as they used to in the past.
"Escapist content attracts the attention of young audiences; legacy media, including television channels, would lose their dominant role in influencing public opinion in India, as it has already been relegated to micro-media platforms," said Arulselvan.
On the positive side, news subscriptions are on the rise, even though marginally. They are predicted to double in 2025 from Rs 1.2-1.5 billion last year. A portion of the revenue is being generated from individual creators, though at Rs 50 million a year.
"More and more young people are accessing news through their mobiles, while they shift to TV channels if they want to watch a movie or an entertainment programme," said Suresh Paul. "I won't even call it TV; I would rather call it a bigger screen, which is more conducive to watching movies," he said.
But the plethora of choices have forced the audience to seek lighter content, which has an impact on news journalism too.
"The audience today expects a fun element in delivering news content too. If the news doesn't induce their curiosity, they tend to skip it entirely," said Suresh Paul.
Also read: IMF Working Paper 'stacks up' benefits of India's digital infrastructure
End of serious journalism?
"But that does not mean an end for serious forms of journalism. Especially, there is a huge need for specific, updated, accurate, and credible news in a cluttered media environment. A news audience today has to reach a few news outlets to take stock of the situation or form an opinion of their own. If a platform presents news fulfilling such needs, they might be able to survive with a serious way of delivering it. Newspapers like The Hindu used to be the go-to media in the past. The need is more now," he added.
The changing dynamics of TVs and the rise of OTT platforms are so important because certain studies point this out as media imperialism in a new avatar.
"The scale of the market ambitions involved has led to renewed debate about the concept of 'media imperialism' after globalization," wrote Scott Fitzgerald of Curtin University, Australia, in the research paper titled 'Over-the-Top Video Services in India: Media Imperialism after Globalization'.
"Political economists of communication argue that the age of media imperialism has returned with a vengeance, given the global market power of major US-based 'IT' or 'tech companies' and the support those companies receive from the US state," wrote the Associate Professor in the School of Management at Curtin Business School, Curtin University.
The study also raised a few questions on safeguarding Indian content providers from telecom giants and global platforms and about the impact on India's cultural diversity. These questions demand an exclusive, comprehensive look.