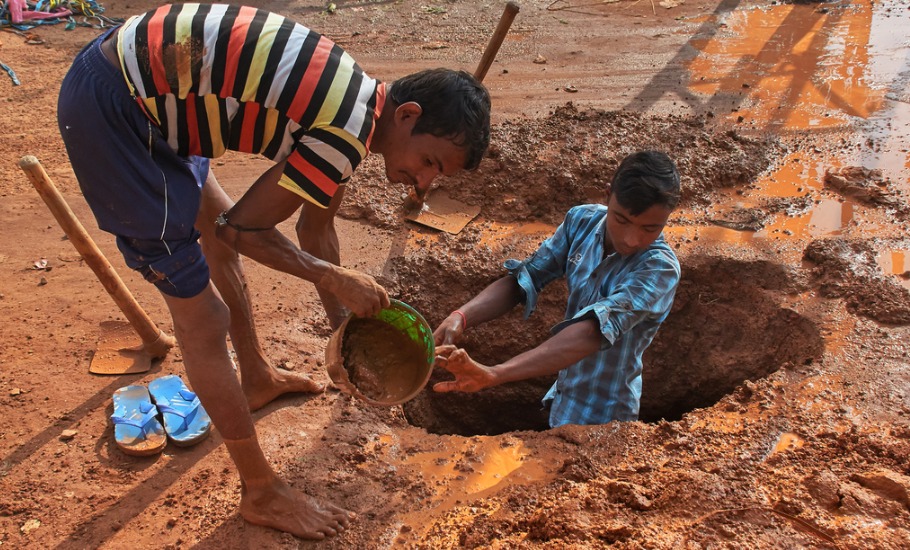 Rural unemployment rate shows a sharp rise due to fewer MGNREGA jobs
The unemployment rate in rural India rose by a sharp over 100 basis points in October compared with the previous month, while the person-days created under the Mahatma Gandhi National Rural Employment Guarantee Act (MGNREGA) too saw a fall.
A report in Mint, quoting data from Centre for Monitoring Indian Economy (CMIE), said rural unemployment rose from 5.86 per cent in September to 6.9 per cent in October, while the overall national unemployment rate, too, showed a marginal rise of 6.98 per cent as compared to 6.67 per cent in September.
Related news: I earn you learn: Unintended effects of MGNREGA on India
In October the urban unemployment rate, however, showed a slight improvement — slumping to 7.15 per cent from 8.45 per cent in September due to restart of industrial and economic activities after the Centre's Unlock measures.
Contrary to this, the weekly unemployment rate, showed that unemployment in both rural and urban economies increased in the week ending November 1 against the week ending October 25.
According to CMIE data, while the national unemployment rate rose to 7.15 per cent in the week ending November 1 against 6.86 per cent in the previous week, the rural unemployment climbed to 7.17 per cent in the same period.
Experts whom Mint quoted attributed the trend to a slow pace of harvest season which has not seen many labourers being absorbed in the process.
Related news: Drying up of MGNREGA funds hit jobs, worker payments delayed
"…lack of decent jobs and skills mismatch among available work and surplus workers in the current environment in rural markets must be impacting the labour participation rate," Mint quoted Arup Mitra, a professor of economics at the Institute of Economic Growth in New Delhi as saying.
Another economist said the increased unemployment rate could have been due to continued stress on tourism, hospitality and retail sectors as well as low person days creation by the MGNREGA.
Government data shows while 265 million person days of work were created under MGNREGA in September, it dropped to 173 million in October.