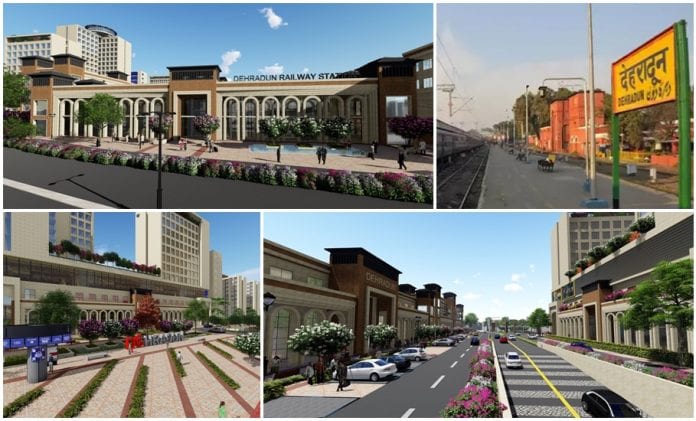 Indian Railways' Dehradun station redevelopment inches closer to reality as the Rail Land development Authority (RLDA) recently conducted the online pre-bid meeting for the redevlopement project. The request for quotation (RFQ) was invited by RLDA on April 13, 2020 during the ongoing COVID-19 lockdown.
An RLDA spokesperson told The Federal that the pre bid meeting attracted over 22 bidders including GMR Group, Experion Developers, Omaxe developers, I Squared Capital, Adani Road transport Ltd, Mahindra Lifespaces, Adani Road transport Ltd, Pacific Developers, Thoth Infra, etc. The participants are leading the infrastructure development and real estate sector in the country. The date of bid submission is June 5, 2020.
Ved Parkash Dudeja, Vice Chairman, RLDA said that the Dehradun station will be developed on PPP (Public-Private Partnership) model by leveraging the real state potential of the available land surrounding the station. The approximately cost for the redevelopment of the station is ₹125 crore.
The total area of land under consideration of is about 25 acre. This land will be utilized for developing the station building, passenger amenities. The redevelopment plan will also include commercial development hotels, malls, retail shops, multi level parking and office spaces.
For the redevelopment plan of the Dehradun station, RLDA had earlier signed a memorandum of understanding (MoU) with the Mussoorie Dehradun Development Authority (MDDA). The work of master planning, bid processing as well as construction supervision for the project is assigned to MDDA.
RELATED NEWS: Indian Railways' land monetization continues; bids invited for leasing land parcels
Ashish Srivastava, Vice Chairman, MDDA said the organisation will facilitate the approval of all requisite plans expeditiously so that the aim of completing the station development is achieved in three years. the commercial development around the station will be achieved not later than eight years.
After the finalization of eligible developers or bidders through RFQ, the request for proposal (RFP) will be floated by RLDA in the month of July 2020. Further, concession of the agreement will be signed between the developers and RLDA before taking up the physical construction of station revamp.
RLDA is a statutory body under the Ministry of Railways, delegated for the development of vacant Railway land for commercial use, in line with the objective to generate revenue by non-tariff measures.
Meanwhile, the Indian Railway Station Development Corporation (IRSDC) also conducted a pre bid meeting for the redevelopment of the Chandigarh railway station on May 12, which attracted bidders such as L&T, Adani group, Eldeco group, Kalpataru Power Transmission Ltd., JLL, JKB Infrastructure, JLL, AECOM etc.
RELATED NEWS: Anand Vihar, Bijwasan stations to be revamped to meet world-class standards
The pre bid meeting was regarding the RFP for mixed use development on land parcel on leasehold rights basis at the Chandigarh station. The redevelopment project involves mandatory tasks as well as commercial development of the station according to the transit oriented development (TOD) norms.