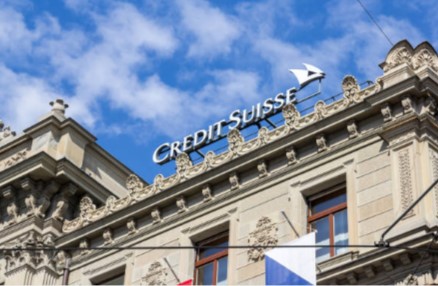 Battered shares of Credit Suisse lost more than one-quarter of their value on Wednesday (March 15), hitting a record low after its biggest shareholder the Saudi National Bank told outlets that it would not inject more money into the ailing Swiss bank.
The turmoil in the Credit Suisse stock price prompted an automatic pause in trading of the bank's shares on Switzerland's market and brought down shares of other European banks by as much as double digits.
That fanned new fears about the health of financial institutions in the wake of the collapse of Silicon Valley Bank in the United States and worries about midsized lenders.
Also read: Adani Group shares crash after Credit Suisse assigns zero lending value to its bonds
Credit Suisse stock was down more than 27 per cent at around 1.6 Swiss francs in mid-afternoon trading on the SIX stock exchange on Wednesday. That's down more than 85 per cent from February 2021.
The Swiss exchange says the drop in Credit Suisse shares triggered a temporary, automatic pause.
The tumble came after Ammar Al Khudairy, the chairman of key Credit Suisse shareholder Saudi National Bank, told Bloomberg and Reuters that it has ruled out further investments in the Swiss bank to avoid regulations that kick in when it has a stake above 10 per cent.
Saudi National Bank put in some 1.5 billion Swiss francs ($1.5 billion) to acquire a holding just under 10 per cent as Credit Suisse looked to raise funding from investors last year and roll out a new strategy to overcome an array of troubles.
Also read: Elon Musk open to buying collapsed Silicon Valley Bank
Those include bad bets on hedge funds, repeated shake-ups of its top management and a spying scandal involving Zurich rival UBS.
On Tuesday, Credit Suisse published its annual report for 2022 indicating that managers had identified material weaknesses in the bank's internal control over financial reporting as of the end of last year. That fanned new doubts about the bank's ability to weather the recent storm.
Disclosures regarding the financial reporting control environment in the 2022 Annual Report have no impact on the full-year financial results that were announced on February 9, 2023, and none of the key metrics are affected. pic.twitter.com/mQy4951JhF

— Credit Suisse (@CreditSuisse) March 14, 2023
Last month, Swiss regulators found that Credit Suisse made a "serious breach" of law in connection with a now-bankrupt firm linked to Australian financier Lex Greensill and have opened a probe that could lead to penalties against four former bank managers.
Switzerland's financial markets authority, FINMA, said on February 28 that it had concluded enforcement proceedings opened two years ago against Credit Suisse after bank partner Greensill Capital went bankrupt.
Also read: Fate of Indian startups hangs in balance as Silicon Valley Bank crisis unfolds in US
At the time, Credit Suisse closed four funds linked to the partnership, in which bank clients had invested about $10 billion.
Credit Suisse's problematic ties to Greensill Capital were one of a string of troubles that have led in part to repeated shake-ups of top management and corporate restructurings in recent years.
Greensill Capital also was the target of inquiries in the United Kingdom, with accusations that the firm founded by Greensill, an ex-adviser to former British Prime Minister David Cameron, won lucrative government contracts before going bust.
In Switzerland, FINMA said that in closing its probe, top executives at Credit Suisse will now be required to periodically review about 500 of its most important business relationships and record the responsibilities of about 600 of its highest-ranking employees.
Also read: Biden walks off press briefing when asked about reasons for SVB collapse
The authority said it also had opened four enforcement proceedings against former bank managers, which it did not identify.
FINMA concluded that Credit Suisse Group seriously breached its supervisory duty to adequately identify, limit and monitor risks in the context of the business relationship with Lex Greensill over a period of years, it said.
FINMA thus concludes that there has been a serious breach of Swiss supervisory law.
The authority works with financial institutions banks, insurance companies and even the Swiss stock exchange to ensure that proper internal controls and stability are in place.
FINMA is limited in its ability to issue penalties but has the power to revoke business licenses in the extreme. It would be up to prosecutors to pursue more severe penalties or fines if warranted.
In Greensill's "supply chain finance" model, his firm positioned itself between businesses and their suppliers, paying invoices that suppliers gave to their customers for a fee.
The claims against those customers to recover the payments were then turned into securities that could be sold. The financial products over time became far riskier than first indicated.
FINMA said Credit Suisse "made partly false and overly positive statements" to the authority about how claims were chosen and the exposure to some debtors.
In a statement, Credit Suisse welcomed the closure of the case without mentioning Greensill by name.
The Zurich-based bank said it has taken measures to strengthen governance and control since March 2021 and has dismissed "several managers and employees" in its asset management division, among other steps.
(With agency inputs)