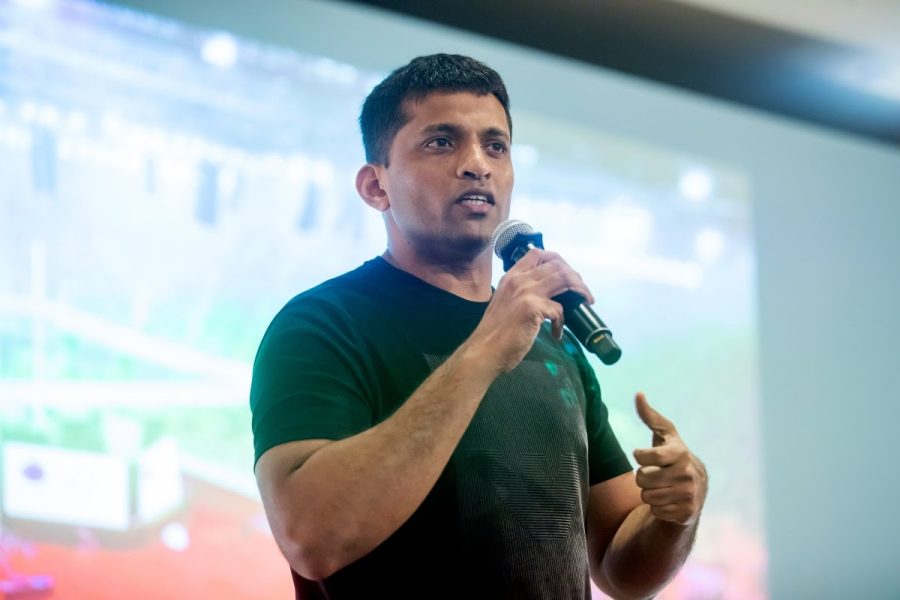 Byju's may need a management overhaul to rescue itself
The journey of Byju's has been a roller-coaster ride. It began as a start-up that rose rapidly, garnered high-profile investors by the score, and became the quickest in India to achieve a decacorn status, with a valuation of over $10 billion. However, the company's trajectory took a steep plunge just as swiftly. From a lofty $22 billion valuation in 2021, it has dropped to slightly more than $5 billion now.
Similarly, its workforce has shrunk from 59,000 to less than 34,000, with numerous layoffs in recent weeks. With each passing day, the co-founders find themselves in increasingly turbulent waters. Soon enough, the investors will have to make pivotal decisions about this start-up, whose problems seem to be piling up.
Threat of investor intervention looms large
The question of whether the investors should intervene to salvage Byju's from potential closure looms large, but the more pressing issue is their willingness to decide who should helm the edtech giant's daily operations. About six years ago, Flipkart underwent a leadership change amidst senior-level departures, a drop in valuation, and losing ground to Amazon. This led Tiger Global, the company's largest investor, to replace co-founder Sachin Bansal as CEO with Binny Bansal, another co-founder.
Also read: Byju's turning profitable, says CEO; expects loan issue resolution without court intervention
Kalyan Krishnamurthy, a former Tiger Global executive, replaced Binny Bansal a year later. At that time, the Bansals held an around 15 per cent stake in Flipkart.
With the Byju family holding around a 25 per cent stake in the edtech firm, Prosus is the next largest stakeholder with 9.5 per cent, although its executives exited the board recently. While the Byju family isn't immediately threatened, there are signs that the board may eventually make hard-hitting decisions about the company's leadership.
Management misteps
Co-founder Byju Raveendran has, during a meeting with the shareholders earlier this week, admitted management missteps and promised imminent corrective measures. Still, this assurance should have been delivered much earlier and acted upon before the company crisis peaked.
A critical point of interest is whether the Byju family has safeguarded their leadership positions, much like Bhavish Aggarwal of Ola has. If they have, replacing them with an investor-appointed executive, considered crucial by many for the company's revival, can be a challenge. In contrast to Flipkart, where Tiger Global held a majority stake, Byju's has numerous shareholders, all of whom hold single-digit stakes, making consensus on management change a complex task.
The downward trajectory
But how did the company reach a seemingly irredeemable position? Were investors oblivious to the company's downward trajectory while they continued to inject capital?
Also read: Byju's battles lenders in what could be aggressive defence or downward spiral
Possibly, investors overlooked the first warning sign when reports surfaced about parents being pressured into taking loans to afford Byju's fees. Rather than raising these issues, they accepted the management's assertions. Since then, Byju's has become embroiled in a slew of controversies: criticism from auditors, high-profile board member departures, extensive layoffs, unpaid vendors, a lawsuit against US-based investment firm Redwood, and investigations by the Enforcement Directorate and the ministry of corporate affairs, all pointing to significant governance issues.
For a sustainable future, the management will need to carry out a major overhaul in business strategy, making corporate governance a cornerstone for all its operations and toning down its aggressive marketing initiatives. For that to happen, the co-founders should voluntarily step down from key positions and allow professionals to run their company. This is a change that the investors and the co-founders will keep debating now more often than earlier.
The litany of complaints
Auditing concerns: Byju's faced criticism from its main auditor, Deloitte, due to issues surrounding the company's governance practices. The lack of communication on the "audit readiness" of its 2021-22 results was specifically noted.
Board resignations: Three board members representing investors from Peak XV Partners (previously Sequoia Capital India), Prosus, and Chan Zuckerberg Initiative have resigned.
Employee layoffs: In the recent quarter, Byju's is estimated to have laid off 2,000 to 2,500 employees across its subsidiary companies.
Lawsuit against Redwood: Byju's has filed a lawsuit against the US-based investment management firm Redwood. The suit challenges the acceleration of a $1.2-billion term loan B (TLB) facility, citing "predatory tactics". Byju's skipped an interest payment of around $40 million on this loan, marking it as the only Indian start-up to default on a US-dollar loan.
Enforcement Directorate investigation: ED carried out searches at Byju's Bengaluru premises in relation to alleged foreign exchange violations under the Foreign Exchange Management Act (FEMA). The probe was initiated based on complaints received from various individuals.
Ministry of Corporate Affairs investigation: Last week, the Ministry of Corporate Affairs ordered an investigation into Byju's due to concerns about various corporate governance lapses. This follows a request from the ministry last year for Byju's to explain why it had not filed its audited financial statements.