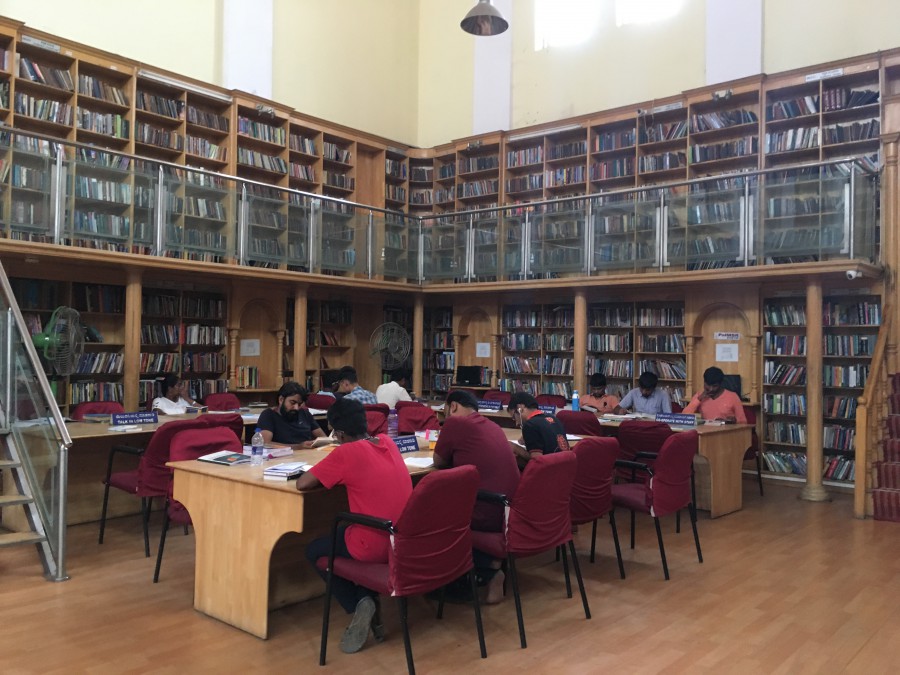 The focus in the education sector in Finance Minister Nirmala Sitharaman's unconventional Budget speech on Wednesday (February 1) seemed to be on out-of-classroom learning to make up for losses suffered during the COVID-19 pandemic, among other things.
Budget 2023-24 highlighted seven priority areas that would act "as the Saptarishi to guide us through the Amrit Kaal," as the Finance Minister said. These seven priorities are Inclusive Development, Reaching the Last Mile, Infrastructure and Investment, Unleashing the Potential, Green Growth, Youth Power, and Financial Sector. The announcements related to education came under priorities 1, 2 and 4, which are Inclusive Development, Reaching the Last Mile, and Unleashing the Potential, respectively.
Also read: Budget 2023 in a nutshell: New tax slabs + top announcements FM made
Teachers' Training
Under Inclusive Development, Sitharaman announced that "District Institutes of Education and Training will be developed as vibrant institutes of excellence" for teachers' training, which will be "re-envisioned through innovative pedagogy, curriculum transaction, continuous professional development, dipstick surveys, and ICT implementation."
National Digital Library
In another announcement under Inclusive Development, Sitharaman declared the setting up of a National Digital Library for Children and Adolescents to facilitate the "availability of quality books across geographies, languages, genres, and levels, and device agnostic accessibility."
Also read: Budget 2023: Centre revises tax slabs; all you need to know
She said states will be encouraged to set up physical libraries at the panchayat and ward levels and provide infrastructure for accessing the National Digital Library resources. The National Book Trust, the Children's Book Trust, and other sources will be "encouraged to provide and replenish non-curricular titles in regional languages and English to these physical libraries." The target is to "build a culture of reading and make up for pandemic-time learning loss."
NGOs working in the literacy sector will also be a part of this initiative. At the same time, financial sector regulators and organizations will be encouraged to provide age-appropriate reading material to these libraries to inculcate financial literacy from an early age.
Eklavya Model Residential Schools
A key announcement under the education sector was made under Priority 2, which is Reaching the Last Mile. These are the Eklavya Model Residential Schools, which will supposedly serve 3.5 lakh tribal students.
In the next three years, the Centre will recruit 38,800 teachers and support staff for the 740 Eklavya Model Residential Schools, announced Sitharaman.
Also read: Budget 2023: What is new for senior citizens and women
Centres of Excellence for Artificial Intelligence
The final announcement related to education was made under Priority 4, which is Unleashing the Potential. To realize the vision of "Make AI in India and Make AI work for India," the finance minister announced three Centres of Excellence for Artificial Intelligence to be set up in top educational institutions.
According to the Budget speech, "leading industry players will partner in conducting interdisciplinary research, develop cutting-edge applications and scalable problem solutions in the areas of agriculture, health, and sustainable cities." The target is to "galvanize an effective AI ecosystem and nurture quality human resources in the field."
Also read: Budget 2023: Railways allocated a record-high capital outlay of Rs 2.40 lakh crore
Allocation in the sector  
Overall, the Centre has allocated Rs 1.13 lakh crore for the Ministry of Education in Budget 2023-24, an 8.65% rise from Rs 1.04 lakh crore in 2022-23. The allocation constitutes 2.5% of the government's estimated expenditure for 2022-23.
The Department of School Education and Literacy has been allocated Rs 68,804.85 crore, accounting for 61% of the total allocation. The Department of Higher Education has been allocated Rs 44094.62 crore, accounting for 39% of the ministry's total allocation.