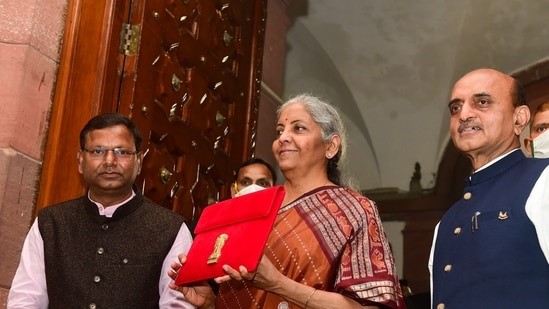 ◘ Finance Minister Nirmala Sitharaman spoke of SEVEN priorities for Budget 2023, which act as Sapt Rishis in the Amrit Kaal.
◘They are: Inclusive development, infrastructure and investment, unleashing potential, green growth, youth power, financial sector.
◘ Personal Income Tax: Five major announcements: Rebate: those with income of Rs 5 lakh do not pay any IT extended to Rs 7 lakh under both regimes.
◘ An individual with an annual income of Rs 9 lakh, will be required to pay only Rs 45,000 from Rs 60,000. Those with an income of Rs 15 lakh would be required to pay Rs 1.5 lakh or 10 per cent of the income from Rs 1,87,000.
◘ Tax slabs for individual tax payers
Rs Till 3 lakh: Nil
Rs 3 to 6 lakh: 5 per cent
Rs 6 to 9 lakh: 10 per cent
Rs 9 to Rs 12 lakh: 15 per cent
Rs 12-15 lakh: 20 per cent
Rs 15 lakh+: 30 per cent
◘ 50 additional airports, heliports and advanced landing grounds will be revised for improving regional air connectivity.
◘Centre to support Hyderabad-based millet institute as centre of excellence
◘PM Vishwa Karma Kaushal Samman, a package of assistance for traditional artisans and craftspeople, has been conceptualised. It will enable them to improve quality, scale & reach of their products, integrating with MSME value chain
◘An agriculture accelerator fund will be set up to encourage agri-startups by young entrepreneurs, and the agricultural credit target will be increased to Rs 20 lakh crores with a focus on animal husbandry, dairy and fisheries
◘To improve the social-economic condition of tribal groups, PMPBTG development mission will be launched. Rs 15,000 crore to be made available to implement scheme in next 3 years
◘Eklavya Model Residential Schools: In the next three years, the Centre will recruit 38,800 teachers and support staff for 740 schools serving 3.5 lakh tribal students
◘To help fishermen, fish vendors and micro and small entrepeneurs, a new scheme under PM Matsya Sampada Yojana, with Rs 6000 crore, will be launched
◘ 3 centres of excellence in Artificial Intelligence to be set up in leading educational institutions in the country
◘ All cities and towns will be enabled for 100 per cent transition of sewers and septic tanks from manhole to machine hole mode
◘ Govt to set up Gowardhan Scheme for promoting circular economy with total investment of Rs 10,000 crore
◘ Govt to spend Rs 10,000 crore per year for urban infra development fund
◘ Govt to support setting up of battery energy storage of 4,000 MwH
◘ Govt to provide R&D grant to one of the IITs to encourage indigenous production of lab-grown diamonds in a bid to reduce imports
◘ PM Pranam to be launched to incentivise states and UTs to use alternative fertilisers