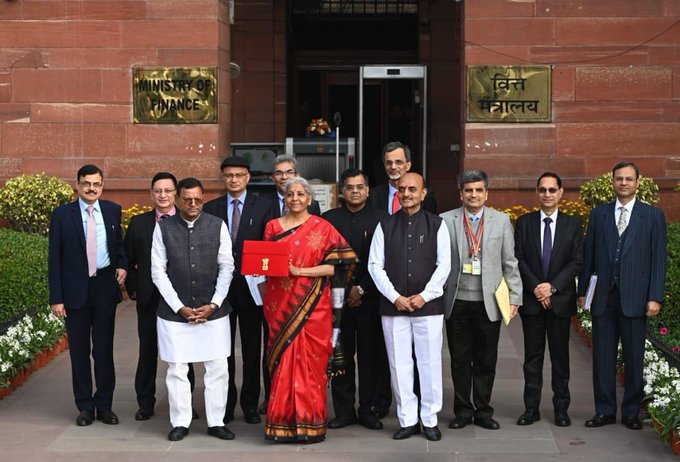 Finance Minister Nirmala Sitharaman's 87-minutes-long speech for the 2023 Budget is her shortest so far.
Nirmala Sitharaman, besides being India's first full-time female Finance Minister, also holds the record for making both the shortest and the longest Budget speeches. When she presented her fifth Budget in the Lok Sabha on Wednesday, she surpassed the record for the shortest Budget Speech. The 87-minutes-long speech for the 2023 Budget is her shortest so far. In 2022, she had read out the speech for 92 minutes, becoming the first FM to have wrapped up the speech in record time.
Interestingly, Sitharaman also holds the record for making the longest Budget speech. In 2020, she delivered the longest speech in the history of budget presentations. The 2-hours-and-40 minutes-long speech had forced her to stop midway for a breather, sipping what seemed to be electrolytes. The record for the longest speech was held by former FM Jaswant Singh, who had spoken for 135 minutes while presenting the 2003-04 Union Budget during the Atal Bihari Vajpayee government. In 2019, when Sitharaman took over as FM, she had spoken for two hours and 17 minutes.
Words count

Sitharaman's 2023 Budget speech, however, had a little over 9,000 words, far less than Former Prime Minister Manmohan Singh's 1991 Budget, which ushered in the era of liberalisation in India. Singh, incidentally holds the record for the longest speech in terms of word count (18,650 words). Singh's face, bristling with a silvery white beard, had shone when he had quoted Victor Hugo during the Budget presentation: "No power on Earth can stop an idea whose time has come." Liberalisation, which changed the country in more ways than one, was such an idea. And we all know what it achieved.
Also read: Budget offers bounty, but with subtly placed caveats
After Singh, the FM who came close was Arun Jaitley, with 18, 604 words in his 2018 Budget speech. Hirubhai Mulljibhai Patel holds the record for presenting the shortest Budget in terms of words: his 1977 Budget speech consisted of mere 800 words.
FM dons handwoven saree from Karnataka

Every year, before the budget is presented, the sartorial choices of Finance Ministers is a subject of extensive speculation. P. Chidamabaram made fashion statements with his crisp cotton shirt and matching veshti, with an imperceptible white border known as paramas. Arun Jaitley mixed and matched Nehru jackets, kurta pajamas, shirts, trousers, and jackets of various hues: in 2014, when the Narendra Modi government stormed to power, he wore a light yellow jacket to present the interim budget.
For the last four years, Sitharaman has demonstrated her unmitigated love for sarees. On Wednesday, she sported a maroon Ilkal silk saree with temple borders and traditional Kasuti work, and a matching blouse. The FM, who is a Rajya Sabha member from Karnataka, chose the handwoven saree from Karnataka's Dharwad region, apparently to give impetus to Prime Minister Narendra Modi's Vocal for Local pitch, which he keeps reiterating every now and then.
Kasuti, a traditional form of folk embroidery craft which enjoys a geographical indication (GI) tag, is believed to be unique to Dharwad region. It incorporates embroidery work of chariots, elephants, temple gopuram, peacocks, deer, and lotus. According to agency reports, the saree worn by Sitharaman had works of chariots, peacocks, and lotus on it. The heavy silk (800 gm) saree was designed by Arathi Crafts, owned by Arati Hiremath in Dharwad. "We were happy that the saree was for Nirmala Sitharaman ma'am, but did not know about the occasion, we had sent two Kasuti sarees. This morning, we saw on TV that she was going to Parliament to present the budget wearing the saree we had designed," Hiremath told PTI.
Also read: Budget 2023-24: Good for small taxpayers, not for HNIs
Having embraced the traditional bahi khata (ledgers) in 2019, and done away with the leather briefcase which had been the norm for several decades, Sitharaman had switched to tablet, wrapped with a pouch resembling the good old cloth to keep ledger papers, during the pandemic years. During the photo-op, the FM flashed the tablet, contained in a  pouch embossed with the national emblem.
First budget of 'Amrit Kaal'

The 2023 budget has brought some cheer to the middle class (no income tax on income of up to Rs 7 lakh per annum; earlier, the cap was Rs 5 lakh). It is also centered on achieving inclusive development, creating better infrastructure and harnessing youth power. It also sharpens its focus on environment and technology. It is no surprise then that Sitharaman's speech is peppered with words like tax (122 times), income (60), green (25), digital (22), development (38) and growth (15).
In the very beginning, Sitharaman set the tone by stating that this was the "first budget of Amrit Kaal," referring to a term PM Modi had used in 2021 to outline a new roadmap for India for the next 25 years, a new quarter after the country completed 75 years of Independence. "Our vision for the 'Amrit Kaal' includes a technology-driven and knowledge-based economy, with strong public finances and a robust financial sector. To achieve this 'jan-bhaagidari' (public participation) through 'sabka saath, sabka prayaas' (support of all, efforts by all) is essential," Sitharaman said.
Sitharaman had quoted the Chanakya Niti Sutra, a piece of classical Tamil literature belonging to the Sangam era while presenting the 2019 Budget. "Karya purusha karena lakshyam sampadyate (With determined human efforts, the task will surely be completed)." She had also recited a couplet from Urdu poet Manzoor Hashmi: Yaqeen ho to koi rasta nikalta hai/hawa ki or bhi laikar charagh jaltaa hai (If there is belief, there opens a way – sheltered behind the wind also burns the lamp). The teachings of 12th-century poet and philosopher Lord Basaveshwara were also evoked: Kayakave Kailasa (work is worship). This time round, there were no such literary references. All we got were the quotes from the numero uno: PM Modi. Quoting his speeches, Sitharaman told us that the budget would realise his vision: "Make AI in India and Make AI work for India."
A gaffe and some laughter
It's not often that you see a Finance Minister, and all lawmakers, burst into laughter on a day that is expectedly tense with expectation and emotion. However, Sitharaman, the sixth minister in independent India to present five consecutive budgets, evoked laughter from the lawmakers in Lok Sabha, with a gaffe.
Also read: Budget 2023-24: Centre hurtles along infra track with 33% capex hike

While announcing a major boost for the automotive industry and the allocation of "adequate" fund to replace old and polluting government vehicles under scrappage policy, the FM inadvertently referred to "old political" instead of "old polluting vehicles." With her slip of tongue, Sitharaman had the entire house chuckle in amusement over her faux pas.
After correcting herself, she stressed on the word "polluting" a couple of times before continuing with her speech, speaking about replacing old vehicles as part of an environment conservation policy. "Replacing old polluting vehicles is an important part of greening our economy," she said. "In furtherance of Vehicle Scrapping Policy mentioned in the Budget 2021-22… states will also be supported," she added. Sitharaman's speech was also briefly interrupted by chants of "Adani, Adani" from the Opposition benches, who also shouted 'Bharat Jodo' several times during the speech.