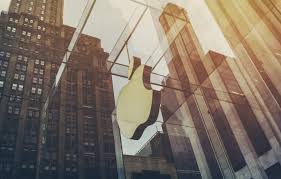 The US-based technology giant Apple Inc. invested in office rental space of four lakh sq ft in Bengaluru's central business district (CBD) area. The property developed by Prestige Estates is nestled off the busy Mahatma Gandhi Road, overlooking the Chinnaswamy cricket stadium.
Related News: With online store, Apple eyes a bigger pie in Indian market
This would be Apple's biggest real estate deal India, out throwing its development centre in Hyderabad at 2.5 lakh square feet leased space.
Advertisement
With this, the company has strengthened its presence in South India. A development centre in Hyderabad, the technology hub in Bangalore and a manufacturing assembly plant through Taiwan-based manufacturer in Chennai.
The deal is said to be worth ₹82 crore annual at a cost of ₹170 per sq ft per month, according to a TOI report.
All the three locations put together could account for 10,000 workforce for the company. While the Bengaluru office could accommodate around 5000 people, with COVID-19 restriction it may be cut down to 3,500-4000 people. And with the company already having hired nearly 4,000 people in Hyderabad, the technology hub in Bangalore could add to its rising presence in India.
Related News: It is time Apple and Google stores are regulated
With India being the fastest-growing smartphone market in the world, Apple somewhat lost to Chinese phone manufacturers in India over the last few years. But with the India-China standoff taking a toll on the Chinese manufacturers, Apple is trying to cash in on the opportunity.
The deal comes days after Apple launched its online store in India last month. It is aiming to open the first offline store in Mumbai next year.
"We're proud to be expanding in India and want to do all we can to support our customers and their communities," Deirdre O'Brien, Apple's senior vice-president of retail had said during the e-store launch.
While the Hyderabad office helped the company accelerate maps development, the existing App design and development centre in Bengaluru supported its users stay engaged and connected from home with health apps.
The company, which has started to manufacture iPhone 11 in India, is expected to roll out more made-in-India products in the days to come at a lower cost. Besides the premier segment, the company will also focus more on mid-range phones. With Chinese manufacturer OnePlus and Huawei facing a downtrend in the premium segment over the last two quarters, Apple is set to gain.
Amid market slowdown due to the pandemic, Apple's shipments in India grew 5% year-on-year in the April-June quarter, according to a Mint report. The growth comes mostly on the back of comparatively strong sales for iPhone SE (2020) followed by the iPhone XR and iPhone 11, it said.
Data from International Data Corporation (IDC) indicates that Apple's market share in the premium segment grew to 48.8% in Q2, 2020 from 41.2% in Q2, 2019. The iPhone 11 and iPhone XR together accounted for 28% shipments in this segment.