An economy battered by COVID pandemic is showing signs of recovery, as was evident on Friday (February 26) when Gross Domestic Product (GDP) for the October-December quarter (Q3) grew by 0.4 per cent, while the GDP for the entire financial year 2020-21 (FY21) is still in the negative with a -8 percent contraction.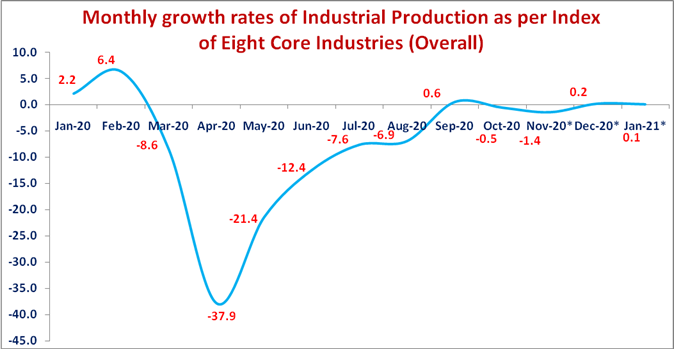 The Ministry of Statistics and Programme Implementation (MoSPI) released the second advanced and quarterly estimates of GDP on Friday.
Also read: Modi's antidote for slowdown: Tap farm potential, support private sector
The output of eight core infrastructure sectors grew marginally by 0.1 per cent in January, mainly due to growth in the production of fertilizers, steel and electricity. The core sectors had expanded by 2.2 per cent in January, according to the provisional data released by the Commerce and Industry Ministry on Friday. Coal, crude oil, natural gas, refinery products, and cement recorded negative growth in January. However, the output of fertiliser, steel and electricity in January grew by 2.7 per cent, 2.6 per cent and 5.1 per cent, respectively. During April-January 2020-21, the sectors output declined by 8.8 per cent against a growth rate of 0.8 per cent in the same period of the previous year. The eight core industries constitute 40.27 per cent of the Index of Industrial Production.
Also read: COVID effect on jobs to be felt in 2021 as well: UN
The GDP had contracted by 7.5 percent in July-September quarter (Q2) and by a sharp 23.9 percent in April-June quarter (Q1), the worst performance in the history of Indian economy ever, owing to a strict nationwide lockdown caused by COVID-19 pandemic.