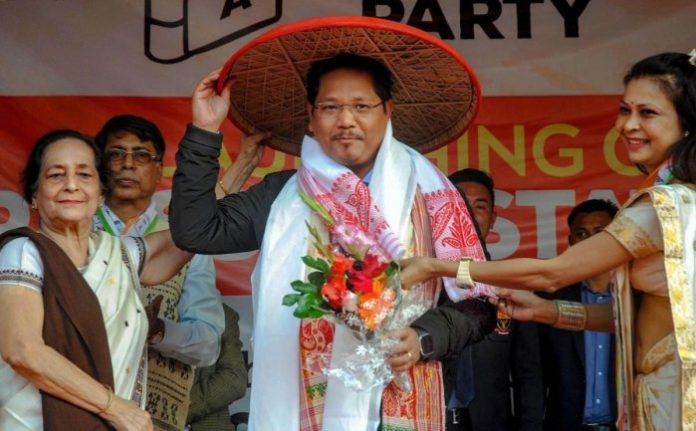 With the allies in the scam-riddled Meghalaya Democratic Alliance (MDA) government involved in a bitter spat, rampant pre-poll defections, and former Chief Minister Dr Mukul Sangma leaving the Congress for the Trinamool Congress, a hung assembly was largely predicted for Meghalaya.
However, nearly turning all exit polls on their head, the National People's Party (NPP) led by Conrad Kongkal Sangma has emerged as the clear leader in the north-eastern state. With 20 seats in its kitty and leads in another six by 6.30 pm on Thursday (March 2), it has not got the majority, but it has several options to form the next government.
"Not fully happy"
Conrad Sangma, who has an MBA degree in finance from Imperial College London, is the 12th and the current Chief Minister of Meghalaya, a position he is likely to retain. In 2016, he took charge of the NPP after the death of his father, former state Chief Minister and former Lok Sabha Speaker PA Sangma.
"We thank the people of the state for having given us this mandate. Of course, we have fallen short. We were hopeful that we'd be able to get up to the halfway mark. But nonetheless, this is much higher than what we had got last time (20 seats). We are not fully happy because we had expected more," Conrad said in an interview to NDTV on Thursday evening.
Adaraniya Sri @JPNadda ji , the national president of the @BJP4India has advised the state unit of BJP, Meghalaya to support the National people's Party in forming the next government in Meghalaya. @SangmaConrad

— Himanta Biswa Sarma (@himantabiswa) March 2, 2023
"Since it's a fractured mandate, we will, of course, talk to other parties. I'm waiting for all my MLAS to reach along," he added. The Meghalaya CM has already had a conversation with Assam CM Himanta Biswa Sarma of the BJP.
Shortly afterwards, Sarma posted two tweets. One said Conrad had called Home Minister and senior BJP leader Amit Shah and "sought his support and blessings in forming the new government". In the other, he wrote that BJP national president JP Nadda had advised the state unit of Meghalaya BJP to support the NPP in forming the next government in Meghalaya.
Conrad's career
Conrad contested his first polls in 2004 and lost by a mere 182 votes. In 2008, he contested from West Garo Hills' Selsella constituency and won. At 30, he became the youngest finance minister of Meghalaya in 2008 and presented his first annual budget of Meghalaya within 10 days of debuting as a minister.
He was also the Leader of the Opposition from 2009 to 2013. Conrad contested from his father's Lok Sabha constituency Tura in 2016 after the latter's death and won by a record margin of 1.92 lakh votes, becoming an MP for two years. He has handled several important portfolios in the state Cabinet, including finance, power, tourism, and IT.
At 6pm, Conrad was still leading in the South Tura constituency over BJP's Bernard K Marak by 2830 votes.