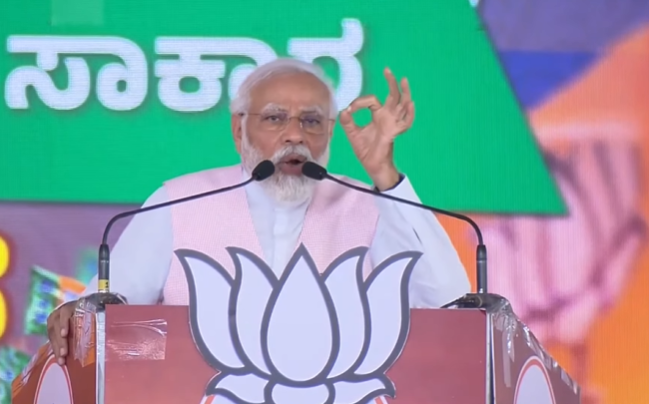 In a blistering attack on the Congress during his last campaign rally ahead of the May 10 Assembly polls, Prime Minister Narendra Modi on Sunday accused the party of openly advocating for "separating" Karnataka from India.
He alleged that "tukde-tukde gang disease" had reached such heights that Congress was "openly arguing in favour of Karnataka seceding from India". Modi further claimed, "When it comes to working against India's interests, Congress' royal family will be at the forefront. I want to speak about a serious issue here, I want to say it as there is a lot of pain in my heart. This country can never forgive such a game. This family, to influence the politics in the country, is encouraging foreign forces to interfere."
Also read: Karnataka polls: Congress accuses Modi of being a 'master of distortion'
Addressing a public meeting at Nanjangud in Mysuru district, Modi accused Congress leaders of secretly meeting foreign diplomats who hate India, repeatedly indulging in activities that insult India's sovereignty and said they were not ashamed of it.
Stating that in this Karnataka election, Congress' shahi parivar had gone a step ahead "breaking all the limits and crushing the feelings of the country", Modi said, the shahi parivar on Saturday came to Karnataka and said that they want to protect the "sovereignty" of Karnataka.
"Karnataka's sovereignty, you know what is the meaning of it? They have sat in Parliament for so many years, they have taken oath on India's Constitution, and they say this… When a country becomes independent that country is called a sovereign country. The meaning of what Congress is saying is that the Congress believes that Karnataka is separate from India," he said, without taking any names.
Also read: Karnataka polls: Bajrang Dal row divides Congress, gives ammunition to BJP
Asking people whether they approved of it and whether they would punish the Congress for such a statement, the Prime Minister said it meant that the Congress was openly advocating for separating Karnataka from India.
Modi said, "For every Kannadiga, Karnataka is a mother and she has been described as the daughter of Bharat ma. I can feel the feelings of Kannadigas." Insulting the feelings of Karnataka was like insulting the "culture and pride" of the state, he added.
(With Agency inputs)