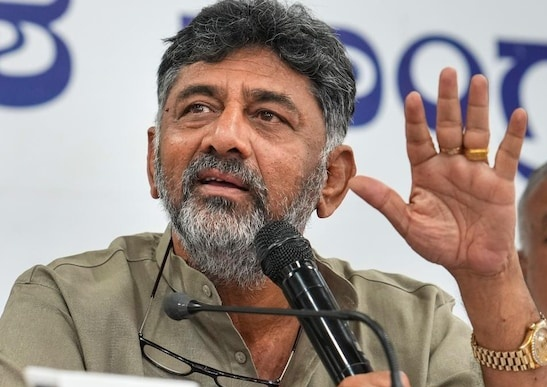 Congress state president DK Shivakumar on Friday junked exit poll predictions and said the country's oldest party was all set to win at least 141 seats in Karnataka on Saturday and form a government.
Speaking a day before the millions of votes polled on May 10 are counted, Shivakumar said there was a wave in favour of the Congress and there was no question of a hung verdict.
Also Read: BJP will clear majority, form govt, says Bommai on counting eve
He ruled out the possibility of "resort politics", saying that "era ended 25 years ago".
"I don't trust exit polls. I have trust in 141 seats. Our sample size is much bigger. Exit poll sample size is small. There is a major wave in favour of the Congress," Shivakumar told the media in Bengaluru.
Most exit polls have said the Congress will have an edge over the BJP although there will be a hung assembly in Karnataka.
Asserting that the exit poll results fluctuate by 20 seats, the Congress veteran said the tally he has given will only increase and not decrease.
"I am not disputing the exit polls showing results in our favour. I thank them but we will get a clear majority. This is my firm belief," he said.
Confident Congress
Explaining the reason behind his confidence, Shivakumar said he has been on the ground and has done his homework well.
Shivakumar, the Congress candidate from Kanakapura constituency, said the verdict will be in favour of the Congress despite the vast amounts of money spent by the BJP and its top leaders campaigning in the state.
"The ballot is stronger than the bullet," he said.
He ruled out the possibility of a hung assembly and said the voters were not influenced by money and misuse of the "double-engine BJP government".
Regarding JD-S leader HD Kumaraswamy's statement that he was ready for a coalition government, Shivakumar said he does not know what the former chief minister said.
He also appealed to JD-S workers not to "waste their career" and instead join the Congress.
"The BJP people have said that whatever number (of seats) they get, they will form the government. Now it seems to be their illusion," he said.
Surjewala pleased
Congress general secretary and Karnataka in-charge Randeep Singh Surjewala also expressed optimism about the party's prospects.
"We are deeply humbled… Let us wait till tomorrow," he said.
To a question on the BJP leaders saying their party will get a majority and was working on a back-up plan with the JD-S, he said: "At least one thing is clear; the BJP has admitted defeat."
(With Agency inputs)