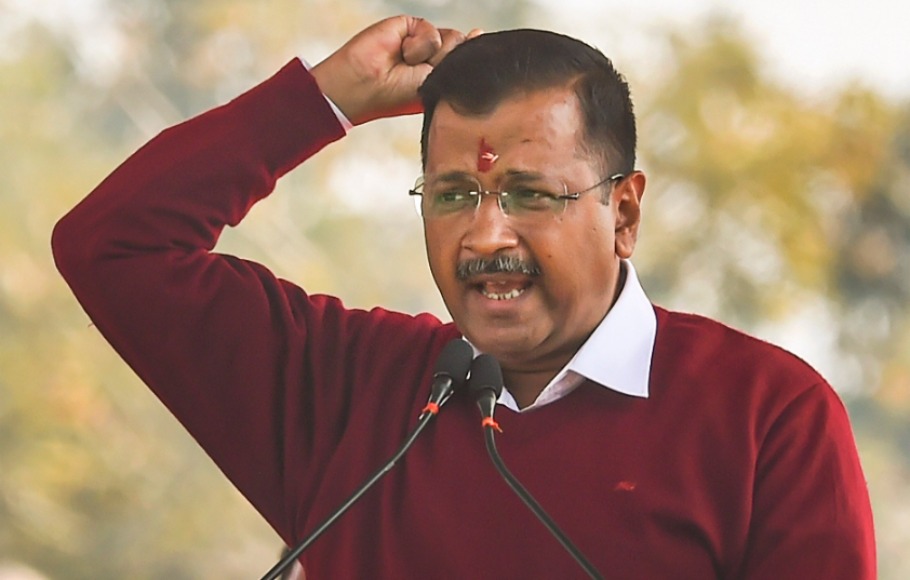 Delhi Chief Minister Arvind Kejriwal's oath-taking speech can well be a lesson in political inclusion and non-partisanship.
In his very own words, the politics of 'work, water, electricity, and roads' was at work to make Delhi a 'khubsoorat' (beautiful) place. He said the elections were over and it was time for one and all to shun differences and work together for progress. "I am the chief minister of everyone – be it workers of the BJP, Congress or any other party," he said.
A jubilant Kejriwal addressed the gathering from a makeshift podium on Ramlila Grounds after he and six other minister took oath on Sunday (February 16).
Advertisement
Striking a poise and retaining his characteristic unflappable demeanour, he said, "Much politics was at work but I forgive those who spoke ill of me." The CM was subtly hinting at the hate speeches taken up by an array of BJP leaders, some of whom had called him a 'terrorist.'
He thanked the people of Delhi and said he considered everyone part of one extended family. Urging everyone to call upon him for any work, he said, "Never hesitate to approach me and I will help everyone."
Making it expressly clear that there was no shred of 'mohalla' politics, he said it never mattered whom one voted for in an area. "In the past five years, I have never discriminated, thinking it is a BJP mohalla," he said.
The chief minister did not forget to include the prime minister in his speech. He said he wanted the 'blessings' of the prime minister. "An invitation was sent to Modiji but he has been unable to attend the swearing-in."
Related news | Arvind Kejriwal sworn in as Delhi CM for the third time, 6 others take oath
All through the speech, the newly sworn-in chief minister's feeling of pleasant superiority was palpable – for he had emerged unscathed in a campaign that saw more of hate and very little constructive criticism.
But, Kejriwal and his party never retorted in the same coin and all the while stuck to their planned campaign track, which was jocularly called the 'bijli-pani' plan.
In combat parlance, the AAP and its leader stuck to the ROE or rules of engagement, which was marked by civility, hope for a better future, and change on the ground.
The speech also assumes significance as it proclaims the institutional shift from an age of sodden political gimmickry to people-centric and positive action.