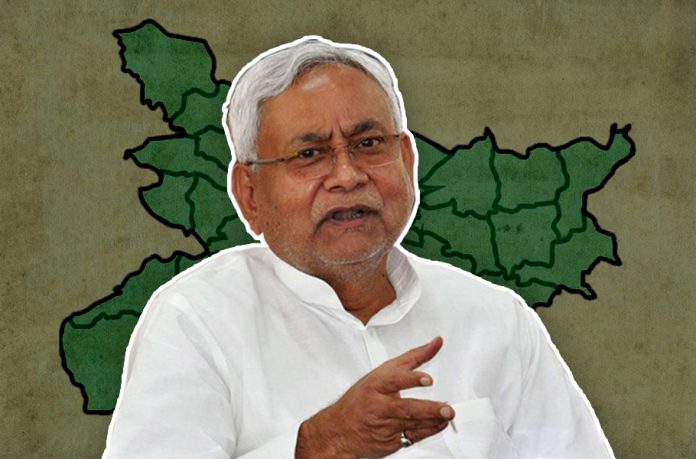 Among the socialist stalwarts, many of whom lost their way in power politics and crudeness of one-upmanship, Bihar Chief Minister Nitish Kumar, 69, emerges not only as a great survivor but also as a clever politician, who has always known which way the wind blows.
He has assiduously tried to maintain the socialist sheen regardless of the "saffron surge." That explains why he has been a familiar bedfellow with his erstwhile socialist colleagues such as RJD's Lalu Prasad and even with Congress, proving it time and again that there are no permanent friends or foes in politics.
Related news: Chirag Paswan seeks votes from BJP voters for 'Nitish-free' Bihar
Born on March 1, 1951 Bakhtiarpur in Nalanda, Nitish, comes from the Kurmi community, an OBC in caste-conscious Bihar. He has several achievements to his credit. During his tenure as the chief minister of Bihar in the last 15 years, the JD-U chief has been credited with re-laying roads that had virtually ceased to exist, building of bridges, completing long-delayed infrastructure projects, appointing teachers and ensuring that doctors attended health centres.
He cracked down on criminals who had strong links to politics and speedy trials were ordered. He introduced the 'Jaankari Scheme', to make Right to Information more accessible for the common man. He also introduced E-shakti NREGS program, bicycle and meal programs (that led to fall in school dropout rates), 50 per cent reservation for women and extremely backward castes, health schemes and loan schemes for farmers.
His government declared Bihar a "dry state" and imposed total prohibition on the sale and consumption of liquor which has been appreciated for reducing violence against women in the state, apart from bringing down the crime rate.
Turning point in 2017
Known as 'Munna' and 'Sushasan Babu,' Nitish's political journey is embedded in the JP movement (1974-77). He has had great socialists – Jayaprakash Narayan, Karpoori Thakur, SN Sinha (one of the founders of Janata Party) and former PM VP Singh — to look up to. The electrical engineer has befriended the likes of Lalu Prasad – his bête noir now – Sharad Yadav, whom he left out in the cold in 2017. The latter's parting of ways very well demonstrated the mettle which Nitish the politician is made of. Here's a brief revisit to those years:
Related news: Bihar polls: How BJP reworked strategy after Tejashwi's 10-lakh 'job offer' 
Things deteriorated between Nitish and Sharad after the 2014 Lok Sabha polls. Sharad lost his Madhepura seat. So, Nitish decided to send Sharad to the Rajya Sabha. But, just before the polls, a group of party dissidents cropped up. However, they didn't field any candidate against Sharad and even declared they had Sharad's blessings, an assertion that created mistrust over the veteran socialist leader's game plan.
The divide widened and Nitish apparently lost his trust in Sharad during Jitan Ram Manjhi's ouster as CM, as many, including Manjhi, openly admitted that Sharad had asked him not to resign if Nitish asked. Sharad was also suspected to be the person who helped Samajwadi Party MP Ram Gopal Yadav sabotage the larger merger plans of all socialist parties into one party.
Sharad's future has been doubtful after Nitish replaced him as party president in 2016.
In his parallel convention, Sharad, a 10th-term parliamentarian, said, "The people gave us their mandate for five years and I'm really disappointed that the Grand Alliance has collapsed. I don't blame anyone. Let people decide who chose the right path because we did not leave the JD (U), they left us."
Related news: Jobs in lakhs to women's rights: LJP, JD-U wage manifesto war in Bihar
The 'Sushasan Babu' quit as CM in July, 2017, citing "differences" with ally RJD on the issue of corruption allegations against his then deputy Tejashwi Yadav. The BJP swiftly moved in, praising Nitish's action, and giving its letter of support to a government headed by him.
Thirst for partners –old and new
Nitish's political journey is broadly divided into four phases 1989-96, 2004-13, 2005-13, and 2013-2017.
The first phase was marked by his backing Lalu Prasad and he became leader of the Opposition in the Bihar Assembly, becoming the secretary general of Janata Dal. Soon, he was elected to the Lok Sabha and joined the VP Singh government as Minister of State for Agriculture and briefly served as junior minister of railways.
In 1994, it was Nitish who rebelled against Lalu's control of the Janata Dal in Bihar. He allied with George Fernandes to form the Samata Party
in 1996, when the Janata Dal-led United Front coalition came to power, with outside support from the Congress under Sitaram Kesri, choosing H.D. Deve Gowda as their prime minister. The Congress withdrew its support in less than a year, hoping to gain power with the support of various United Front constituent groups, and IK Gujral became the next prime minister. His government too fell in a few months, and in February 1998, the Janata Dal-led coalition lost power to the BJP.
The JD, which was in power from 1996-98, suddenly disintegrated into the RJD, BJD, JD (S) and JD (U). And that was the time when Nitish Kumar realized the importance of the sense of timing.
Related news: Bihar Assembly polls: JD(U) should take a lesson from Maharashtra
The Vajpayee era
Nitish served in the NDA government under A.B. Vajpayee in various capacities as the Railway, Surface Transport and Agriculture Minister. As Railway Minister, Nitish brought in widespread reforms, such as internet ticket booking facility, opening a record number of railway ticket booking counters and introducing the Tatkal scheme for instant booking.
In March 2000, Nitish was elected Chief Minister of Bihar for the first time at the behest of the Vajpayee government at the Centre.
In the 2004 Lok Sabha elections, Nitish contested elections from two places; he was elected from Nalanda, but lost from his traditional constituency, Barh.
The rise of Modi
Often referred to as the Chanakya of Bihar politics, Nitish Kumar served as the CM of Bihar for the first time from March 3, 2000, to March 10, 2000. He became the chief minister on November 24, 2005, with the BJP support and since then he has been at the helm of state affairs.
Related news: Nitish gets Modi's endorsement ahead of Bihar elections
That was the time when Nitish banned the entry of then Gujarat CM Narendra Modi to Bihar, blaming Modi for post-Godhra communal riots. In the national election in 2009, the JD-U told the BJP that Narendra Modi could not campaign in Bihar.
June 2013 was another historic day in the life of Nitish Kumar. A day after he ended a 17-year alliance with the BJP over the prominence conferred upon Narendra Modi, Chief Minister Nitish Kumar tried to respond to allegations of political hypocrisy. As pay-back for the break-up, the BJP had released a video which shows Kumar praising Modi at a public function in 2003, a year after the deadly Gujarat riots. And in 2017, Nitish accepted the reality of Modi and expressed his rich admiration of the Prime Minister.
Events unfolding in 2015 to 2017 were epoch-making in Bihar politics with Nitish first supporting Lalu and then withdrawing his support to Tejashwi Yadav, then Deputy CM. On July 26, 2017 he broke up with RJD and Congress and resigned as CM. He was sworn in afresh as CM for the sixth time with BJP-NDA support.
Such has been the speed of Nitish Kumar's calculation of political situations that his foes-turned-friends and vice versa have often found themselves at loss to describe him as. In the run-up to the present Bihar poll campaigning, RJD's Tejashwi Yadav says Nitish is tired, to which JD-U reacted by saying that the JD-U boss remains as active as ever. Maybe, that could as well be an oblique warning to BJP, a party that has kept itself off LJP's Chirag Paswan to make JD-U happy. The NDA looks united, for now, but given Nitish's history, the BJP will have to be watchful.