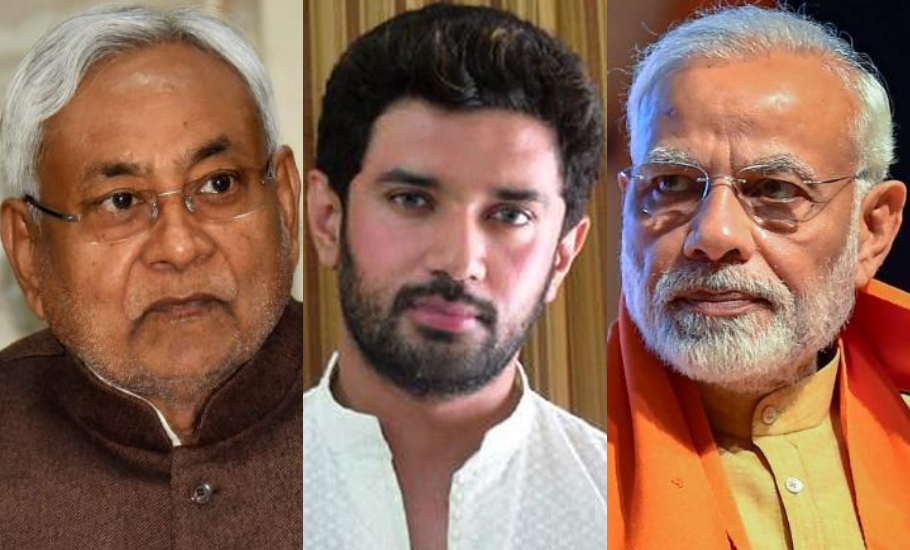 Chirag Paswan seeks votes from BJP voters for 'Nitish-free' Bihar
LJP chief Chirag Paswan, who is seeking a Nitish Kumar-free government in Bihar, on Sunday (October 25) requested even those from the BJP who do not support Nitish to vote for the LJP.
Taking to Twitter, he said, "I request you to please vote for LJP candidates to implement #Bihar1stBihari1st. Everywhere else vote for the BJP. The coming government will be a #Nitish-free government."
The Lok Janshakti Party is contesting 138 seats in total, 122 of them against the Nitish-led Janata Dal (United) [JD(U)] and its ally, Jitin Ram Manjhi's HAM.
The LJP has fielded candidates against the BJP in five of the state's 243 seats. However, Paswan said the BJP would be his partner in government formation after the election.
On the other hand, the BJP, which has openly supported Nitish Kumar's JD(U), has asserted that Nitish Kumar will remain the Chief Minister of the state after the polls.
The BJP has also said that any party not accepting his leadership will not be considered part of the NDA and cannot seek votes in the name of Prime Minister Narendra Modi.
However, no direct action by the BJP against Chirag Paswan and his statements has given rise to speculation that the LJP is just the "B Team" of the BJP and is meant to keep Nitish Kumar under check.
Furthermore, Paswan, who has strongly opposed the Nitish Kumar-led government ever since the lockdown began, pledged his allegiance to Prime Minister Modi.
Paswan also said he wishes to be a "BJP chief minister" after this election.
He also declared that the votes of the Paswan community would go to the BJP in the other 105 seats the BJP is contesting, making the poll situation favourable for the BJP on both sides.
The assembly polls in Bihar will take place on October 28, November 3 and 7. The election results will be announced on November 10.