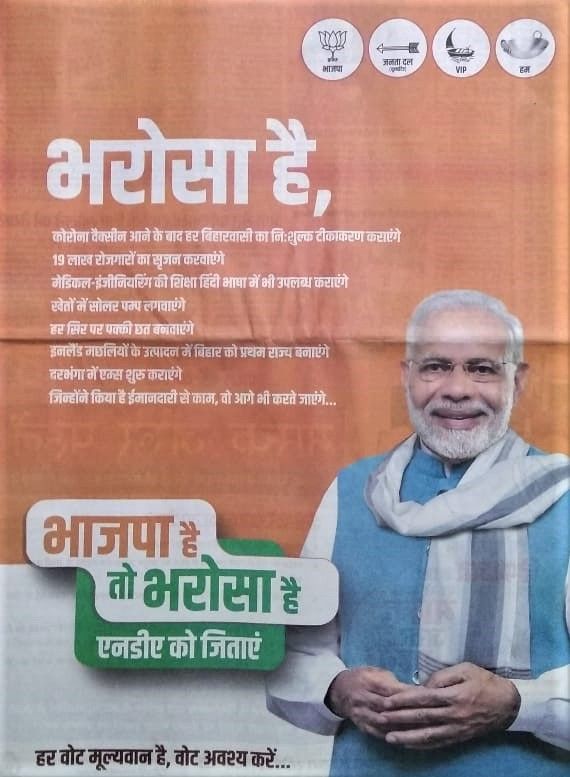 It was not very long ago when Chief Minister Nitish Kumar didn't allow Narendra Modi, then chief minister of Gujarat, to enter Bihar and campaign for the BJP in the elections even though he led the NDA government in the state.
This happened during the early NDA days when Nitish was looking very strong, virtually dictating terms to the BJP. In 2010, Nitish even cancelled a dinner organised in the honour of the visiting BJP leaders — they had arrived to attend party's national executive in Patna — just after the BJP issued an advertisement in the local media showing Nitish clasping hands with Modi whom he didn't like then and treated him as his "arch rival". Although it was an old photograph dating to a 2009 rally in Ludhiana in the run-up to the Lok Sabha polls, its impact was terrible.
But now that Nitish looks too eager to share dais with PM Modi and wants to be seen together, he has gone mysteriously missing from the BJP ads and posters ahead of the Bihar elections! This is strange since Nitish Kumar is NDA's chief ministerial candidate.
…where lies BJP trust
What has set tongues wagging is a life-size advertisement issued by the BJP in the local newspapers. Although the full front-page advertisement features images of Prime Minister Narendra Modi, the face of NDA's chief ministerial candidate is nowhere to be seen. The advertisement carries the party tagline, "Bhajpa hai to bharosa hai. NDA ko jitayen (where there is BJP, there is trust. Help NDA win)", and also repeats the promises the BJP made to the voters in its election manifesto, such as giving free COVID-19 vaccines to all Bihar residents once available, creating 19 lakh jobs, setting up solar pumps in agriculture farms and houses for all.
Nitish's absence from the BJP's ads and posters has made experts believe this could be a part of the party's strategy to sideline the Chief Minister. "As such, the BJP has been working on this strategy for long. They kept on projecting Nitish as NDA's CM face for only two reasons: first, to ensure he didn't leave the NDA and, second, to cash in on his secular image. But now that it is clear that Nitish's secular image is not working and instead he himself has got very much dependent on the BJP for survival, the party is now treating him as a liability," says political expert Prof D.M. Diwakar.
Also read:Nitish Kumar: Chanakya of Bihar whose socialist sheen has withstood saffron 'storm'
What gives credence to this belief is the mysterious silence maintained by the Prime Minister over the BJP's relations with Lok Janshakti Party (LJP) headed by Chirag Paswan, son of Dalit politician Ram Vilas Paswan who died early this month after prolonged illness. Although the LJP is contesting elections alone in Bihar, it has fielded its candidates on only 143 seats — mainly against the Janata Dal United (JD-U) candidates. The JD-U is headed by Nitish.
"Everyone hoped the PM would end confusion from the minds of the NDA voters by speaking about the LJP, but instead of saying a word, he offered rich tributes to Ram Vilas Paswan. That means the BJP has kept its option open with the LJP," said Prof Diwakar. Modi's silence becomes even more significant in the sense that some 30 BJP heavyweights are contesting elections on LJP ticket in constituencies where JD-U candidates are in the fray.
Nitish being sidelined?
Experts say the BJP has "sidelined" Nitish for mainly three reasons which have not gone down well among the voters. The first reason, according to them, is Nitish's "nonsensical" comment against opposition Grand Alliance's chief ministerial candidate Tejashwi Yadav with regard to his promise to give 10 lakh jobs to the youth if voted to power. "Instead of explaining his objections in a logical manner, the Chief Minister has continued asking Tejashwi from where he would arrange money (to pay salary to these large numbers of staff) – "from the jail or fake currency notes". This message has not gone down well among the masses and that is the reason the BJP was forced to promise 19 lakh jobs to the people," commented an expert wishing not to be named.
Also read:Nitish has reasons to distrust BJP and why
The second reason could be Nitish's virtually "conceding defeat" in matters of attracting the investors to Bihar in the past 15 years. Addressing a virtual meeting of party workers held earlier this month, Nitish had said no big industries came to Bihar despite his serious efforts and he blamed it on Bihar being a "landlocked" state. "Most of the industries prefer a state where there is a port or sea. We are a landlocked state," Nitish had explained. But his "strange explanation" has triggered a new debate in the country as to how Punjab, Haryana and Madhya Pradesh have managed to get industries despite these states too being landlocked. Apparently as a counter to Nitish, the BJP has now promised to convert Bihar into an "IT hubs" and generate five lakh jobs in the next five years.
The third reason, experts said, is growing protests against Nitish across the state over various issues. In the past one week, the Chief Minister has faced strong protests from the people attending his election rallies in Auranagabad, Gaya, Saran, Begusarai and Muzaffarpur which have apparently prompted the BJP to tread its path with caution. The growing protests have also left a telling effect on Nitish who is slowly losing control over his words, indulging in verbal duels with the people at his rallies and also going more personal against the opposition chief ministerial candidate.
"Never in the past has Nitish looked so irritable. Something indeed is wrong with him, and the BJP wants to take advantage of this situation. It appears the BJP is not in a mood to give him a piggy-ride any further," said Soroor Ahmed, a political analyst.