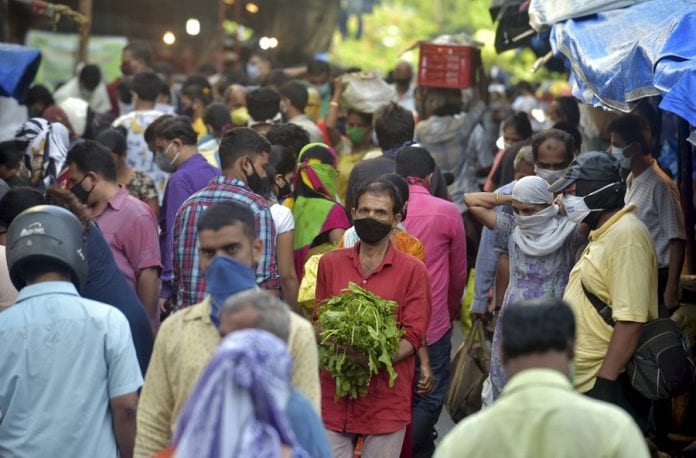 Most regions in India may be inching towards acquiring "involuntary" herd immunity against COVID-19 as about one out of four individuals have already been infected by the coronavirus, suggests a seroprevalence study done by a leading diagnostic and testing company.
Over 26% of people have already been infected by the disease, showed the study on seroprevalence of the Cov2 virus in India done by Thyrocare Technologies Ltd, a listed company, reflecting the trend witnessed in Mumbai, Delhi and Pune and indicating that the virus has spread considerably despite the harsh lockdown measures undertaken in many of these geographies.
About 26.6% of Thyrocare's data sample size of about 2,35,542 people as on Wednesday (August 19) had the antibodies, A Velumani, a biotechnologist and founder-chairperson of Thyrocare, said. This is similar to the seroprevalence data released in Mumbai, Delhi and Pune by the Indian Council of Medical Research (ICMR).
Antibody v/s Vaccine: As on 19.08.2020. 10.00 hrs Seven days Moving Average (SDMA) of #TNCAI is 26.60%. Data points: 235,542. #AntibodyAcchaHai #ImmunityMatters #IndiaBlessed https://t.co/gIDCuTpLlz

— Antibody Velumani. (@velumania) August 19, 2020
Thyrocare has been collecting seroprevalence data since the beginning of July and Velumani has been making the data public through his tweets. "It (data collection) did not start as a survey. It is a part of the business of Thyrocare," Velumani said while speaking to The Federal for a podcast.
As soon as it was announced six weeks ago that antibody tests can be done, the company introduced it as a diagnostic test all over the country through its franchise network, Velumani said.
Velumani, who regularly updates the data on his Twitter feed (Antibody Velumani @velumania), had in the beginning of the month posted data according to which seroprevalence was about 15% and this has grown to 26.3% in just two weeks. The data also showed that women consistently exhibit higher positivity percentages than males.
"After just 15 days of testing, we understood that the country had 15% positivity, which was a pleasant surprise," said Velumani.
"Today it is 26%. This (data) covers north to south, it covers east to west, it covers metros to small towns, and is unbiased in terms of whether the person had a PCR positive or not. If at all there is a bias, it is only that people who could afford to pay got the tests done and people who could not afford to pay are not part of the survey," he said.
"If I extrapolate a little more optimistically, it looks like one-fourth of Indians have already got exposed to the virus and they have developed antibodies, sometimes without even their knowledge. It is not that they all had symptoms. Many are surprised and say, 'I didn't have a symptom'," he said. "This is very positive news. If we go by the numbers and data, before the vaccine arrives, about 50% of India would have already been exposed to the virus."
Related news: Herd immunity against COVID-19 cannot be an option in India: Centre
In fact, according to the second serological survey conducted in Delhi between August 1 and 7, 29.1% of the city's population has developed antibodies against the coronavirus disease. The survey results also showed more number of women (32.2%) had the antibodies than men (28.3%).
Thyrocare gathered seroprevalence data from apartment complexes, organisations and individuals who came to have themselves tested in more than 500 pin codes across the country, varying from the densely populated metros like Mumbai to smaller cities like Jamshedpur.
"A good number of cities have plateaued. Even if they have not finished the peak, the plateauing itself says a good number of people have antibodies and this virus is unable to do that kind of damage as it did earlier," Velumani said.
The percentage of antibody-positive is high in Delhi, Mumbai, and Ahmedabad kind of cities with a very high infection rate in the month of June. It is clear that in these cities, when the local administration claims the number of cases is under control, it means it is not they who have controlled it, rather it is the antibody presence in the circulation of the population that is limiting the impact of the virus and infections."
Although this cannot be considered as a proper random study due to the absence of any other national-level prevalence data from government agencies, one has to accept that the datasets released by Velumani are currently the best available in the public domain on national-level seroprevalence.
Related news: Silver lining in the COVID-19 cloud: Is Delhi closer to herd immunity?
Thyrocare offers low-cost antibody tests, leveraging its vast network of diagnostic laboratories and franchises across the country.
Seroprevalence is the number of persons in a population testing positive for a specific disease based on serology (blood serum) specimens. Seroprevalence surveys use serology tests to identify people in a population or community that have developed antibodies against infectious diseases. Antibodies are specific proteins made by the body to fight infections and are detected in the blood of people tested after infection. The presence of antibodies suggest that the person concerned has show an immune response to the infection. Antibody tests are especially important in detecting infections in people who showed few or no symptoms.
Finding more people immune to the disease through serological tests could prove useful in identifying frontline health workers who can then safely work around critical COVID-19 cases. It could also increase the number of people willing to donate blood for the plasma therapy of sick patients.
Speaking on the specificity, sensitivity and false negatives of the test kits Velumani said, "We wanted our data to be compared with global data, so we opted to do (the tests with) globally sold brands like Roche, Abbott, Siemens and have 99%+ sensitivity and specificity."
As on August 21, India reported 29,05,823 COVID cases, while the death toll was at 54,849.