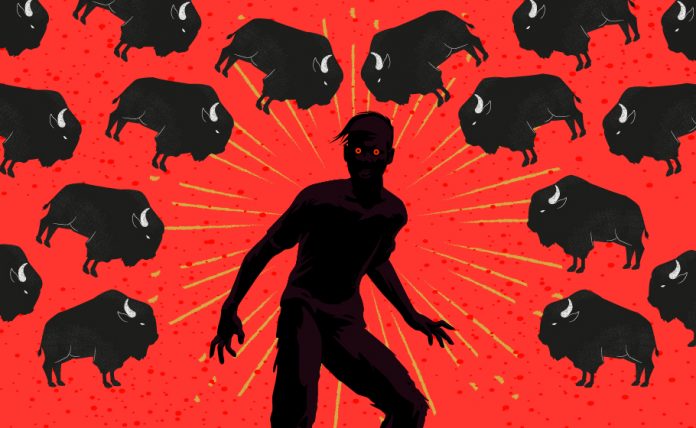 About 20 years ago, a leopard had strayed into Pune city and it reached all the way up to Nal Stop (a heavily crowded junction today) before climbing atop a tree and hiding behind branches to avoid attention. It stayed there long enough for the forest department to get its act together and rescue it safely without causing any buzz.
Today, the tree at the busy junction has been replaced by a traffic signal, which not many care to obey unless there is a cop around.
Madness on the road
Fast forward to December 11, 2020. It was a usual weekday morning in the multi-storied Mahatma Society in Kothrud, Pune. A huge animal was loitering by the roadside unnoticed, since people thought it could be a wandering buffalo. Things were peaceful till the time the fire brigade arrived, followed by a team of the forest department. A police squad was in too. Someone who thought it was more than a buffalo had clicked a picture of the animal and sent it to the forest department, which confirmed it was an Indian bison or gaur (a Schedule I endangered species).
Thereafter began a three-hour ordeal for the hapless animal which ran amok despite its heavy body (an adult bison could weigh around 800 kilos), covering a distance of about three kilometers, escaping humans, breaking three iron gates, bumping against four-wheelers, jumping across tall compound walls … all the while pursued by the forest team, police and around 1,000 bystanders who happily clicked pictures of the chase and continued to do so till the beast got injured, exhausted and collapsed while trying to sprint over a wall. It was an ideal example of what not to do while rescuing a wild animal.
The forest department finally put a net around the animal and lifted it with great difficulty to put it in a van. The crowd, however, was not pleased. They gathered around the motionless beast, clicked selfies and some even sought relief in touching it to know how it feels. Of course, there were those who prayed with folded hands as if it was some deity that had blessed them with its magical appearance. Unfortunately, the animal did not survive the test of endurance and crowd mania. The post-mortem report said the three-year-old juvenile bison "suffered from respiratory insufficiency leading to cardiovascular failure, shock and death, possibly due to exhaustion and stress".
Related news: How hate-mongers turned a man-animal conflict into a religious war
This isn't the first instance of an animal straying into a human habitat, but it is definitely one of the few so far where unruly human behavior and the subsequent lack of police action put the animal under so much stress that it died of heart failure.
Mandar Deshpande, a photojournalist, was a witness to the drama. He stays in Mahatma Society and was out with his camera the moment he heard the commotion. "People had surrounded the bison from all sides. They would scatter only when it would start running. The bison is not really a runner because of its huge size. But despite getting annoyed by the constant attention, it did not hurt a single human being and vented its anger on vehicles and gates instead," said Mandar.
Punekars were lucky that the animal was just a juvenile and was too scared to get close to humans. "Had it been a full grown bison, you never know how it could have responded to the spectacle. I think the only way this tragedy could have been avoided was for the police to have immediately clamped a curfew in the area," adds Mandar.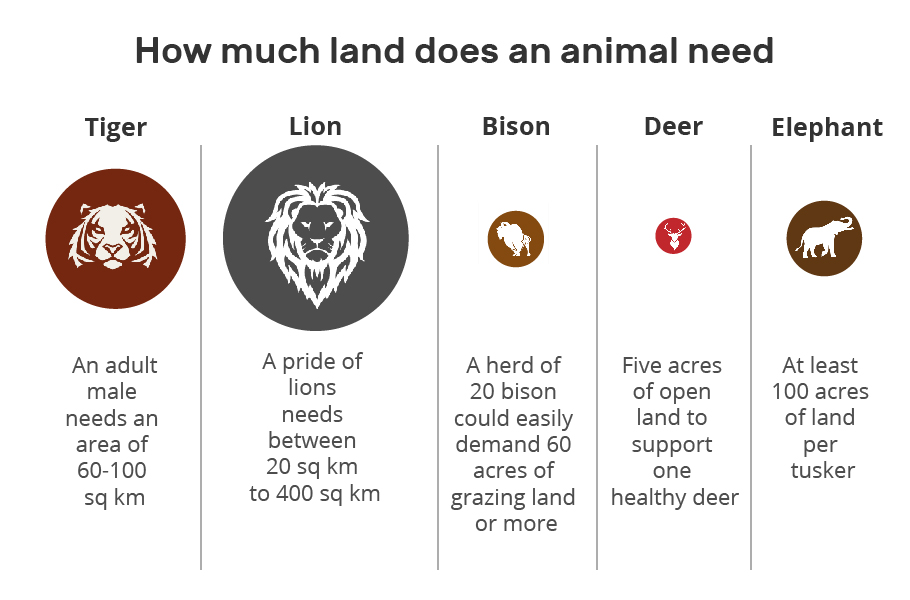 Live and let others live
Radhika Khare, who saw the whole drama unfold from the balcony of her second floor flat, was at a loss of words. "Later, I imagined myself lost in the jungle and surrounded by a thousand bisons! How would I feel? I think we have lost our sensibilities. While we are conscious of human rights, we don't care about the simple right of an animal to be left alone," she said.
Rahul Zaware, a Twitter user posted pictures of he playing golf somewhere in Mahabaleshwar, about 120 km from Pune, with bisons peacefully grazing in the background. Besides, people living in Mahabaleshwar, a popular tourist spot, say they often see bisons roaming in the busy market, like any other cattle. Just because no one pays extra attention to them, they come and go unnoticed.
'Police failed to control crowd'
So what happened in Pune that day that triggered such a mass hysteria? Sunil Limaye, Maharashtra Additional Principal Chief Conservator of Forests (Wildlife-West) said, "Normally when a bison is sedated it needs to be ascertained that it does not suffer any stress or exertion thereafter. In this case, the bison got hyper once it got hit by the dart. The animal started running helter-skelter and the crowd went berserk as well. The resultant stress caused the unfortunate death. Crowd control by police could have saved its life."
Animals don't understand, but humans do
Limaye has been successfully running an initiative called "Mumbaikars for SGNP" (Sanjay Gandhi National Park) to address the problem of human-leopard conflicts since 2011. "We cannot teach wild animals, but we can definitely teach people how to behave. We, humans, are responsible for human-wildlife conflicts," he said.
Limaye and his team members have been working with the adivasis living in Aarey Colony (an undeclared forest) in Mumbai, which is adjacent to the Sanjay Gandhi National Park. "These people have been living here for ages and they depend on the trees and wildlife for survival. They cannot be taken away from here so we teach them how to live with wild animals, especially the leopard. Over the years there has been a decrease in the number of man-animal conflicts here, which means people have learned to co-habitat," said Limaye.
With expanding cities and decreasing forest covers, man-animal conflicts are imminent. As against the common belief, animals cannot be restricted and bound to national parks and sanctuaries. Their need and compulsion to move is the reason why we have tiger corridors that facilitate migration of animals from one place to another. Most of them, especially tigers, migrate and seek new territories. Otherwise, they would interbreed and die. In Gir National Park in Gujarat, the population of lions residing outside the national park has been increasing while that of inside the park has decreased by 3 per cent this year.
Related news: Chasing cheetahs: A conservation effort or misplaced priority?
A former official of the National Tiger Conservation Authority (NTCA) gives an example. "A territorial animal like a male tiger needs an area of 60-100 sq km. But the area allocated to an entire tiger reserve, like the Bor Tiger Reserve in Maharashtra, is 138.12 sq km. This is barely enough for one or two tigers," he says.
How to avoid a Pune-like incident in future?
The bottom line is that animals would move and may stray into urban localities more frequently in future. The question is, are we prepared for it? Says Limaye, "The forest department had prepared a standard operating procedure or SOP in 2015 with regards to handling a bison if it strays into human habitats. In the case of Pune, it was the responsibility of the police department to control the crowd. However, the police department believes that catching wild animals is the forest department's job. Besides sharing the SOP with municipal administration and the police, it is the job of the forest department to have a repeated communication with them to ensure all teams work in tandem when the need arises."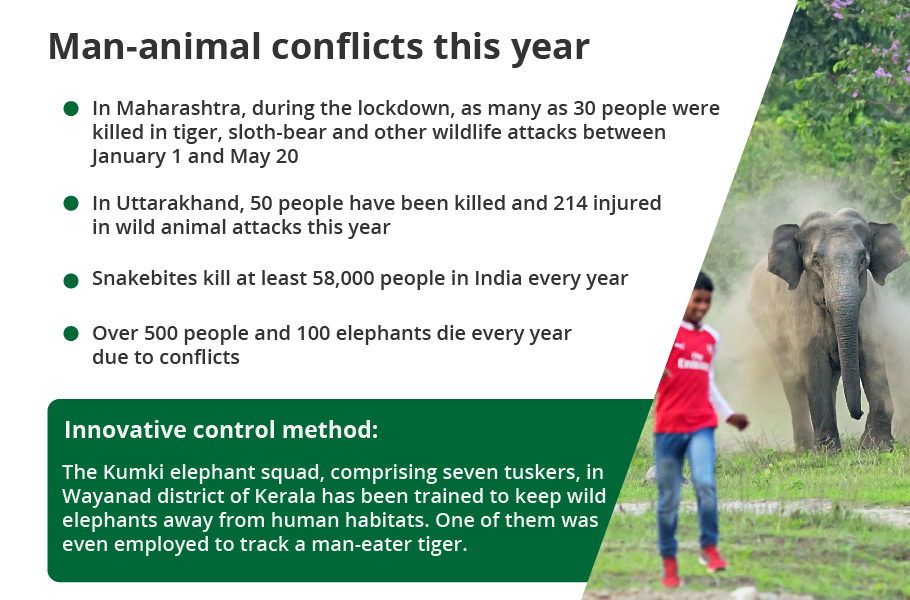 The Forest Department of Maharashtra has now asked the state Director General of Police (DGP) to share the SOPs of handling different animals with police stations across Maharashtra. "The state government too has issued a government resolution (GR) to this effect. Besides, the Divisional Forest Officer will hold a meeting with the respective district police chief once in a month. We are making efforts to ensure the forest department in each district has a well-equipped animal rescue team. We will ensure the Pune incident is not repeated in Maharashtra ever again," added Limaye.
Related news: Tiger conservation doesn't need eviction of tribals