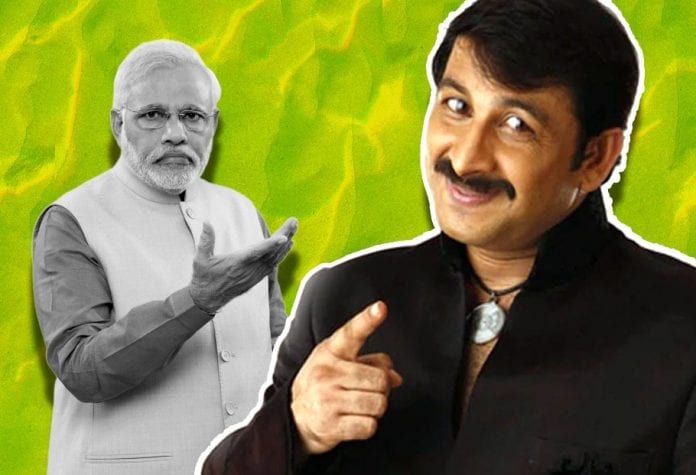 In 2014, Bhojpuri superstar and then newly-elected BJP MP, Manoj Tiwari received a word of advice from PM Modi himself – "stay away from low budget commercial films." It was an existential shock for the singer-actor who had made a career out of doing low budget Bhojiwood movies (Bhojpuri movies).
For those not familiar with the Bhojpuri movie universe, the films are more famous for their double-entendres and below the belt humour than production value or acting skills. Tiwari had mastered what the industry needed from its icon – the art of titillating the audience by using suggestive dialogues and pelvic movements. One of his cult songs – Baby Beer Peeke Nache – has been a rich source of memes for AAP and other opposition parties.
Modi ji lifted Tiwari from the top of Bhojpuri box office charts and placed him at the crossroads of his career – either it is Modi or low budget Bhojpuri films. In an interview given to the Times of India, Tiwari tried to articulate his dilemma, "Mr Modi did have a word with me. He didn't tell me that I should stop doing the typical Bhojpuri films. But yes he did say, 'Please come up with a film which I can watch."
Tiwari further clarified to ToI, "Mr Modi wants me to do saaf-suthri films… (Mr Modi wants me to do clean films) He wants me to do films which are in line with our party's ideology…" Films in line with party's ideology? Maybe he wanted Tiwari to make 'Accidental Prime Minister' in Bhojpuri. Who knows? But he certainly broke Tiwari's heart, and that of lakhs of Bhojpuri film lovers, many of whom stand in long queues outside Patna's Mona theatre to see the latkas and jhatkas of stars like Manoj Tiwari.
If Tiwari had been in a party less demanding, like for example the Congress, he may have even rebelled and succeeded. Look at Navjot Singh Sidhu. Even after becoming a Minister in the Punjab government, he refused to stop laughing on 'Comedy Nights With Kapil'.
Also Read: BJP seeks ₹500 crore as defamation damages over AAP's Manoj Tiwari video
In 2016, after two years of probation, Tiwari got promoted as BJP Delhi President. Modi-Shah duo were reportedly unhappy with the previous Delhi chief, Satish Upadhyay, who was a failure in their eyes. Neither had he succeeded in stopping AAP's march or countering Kejriwal's frequent diatribes against party supremo, Modi ji, but had also failed in silencing dissenting voices within Delhi BJP.
Tiwari was Modi-Shah's answer to BJP's 20-year dry run in Delhi. By appointing him, the BJP was targeting the Poorvanchali voters in Delhi – settlers from eastern UP and Bihar, who reportedly constitute about 35% of the electorate. Electorally speaking, that's a sizeable chunk. Poorvanchali voters were originally Congress vote bank who shifted en masse to AAP and helped the new party win power in 2015.
Can Tiwari's on-screen pelvic thrusts bring that vote bank to the BJP and thrust AAP out of power?
For some strange reason, Modi-Shah's juggernaut loses steam at the boundaries of Delhi. In the 2013 election, BJP came within a whiskers margin of forming a government. With 31 seats in a 70 seat assembly, it was as close as the BJP could get. The party chose to sit out. In the next election, in 2015, the party was almost wiped out. Fate had bumped off the 1 from BJP's 31. The tally now stood at – BJP 3, AAP 67.
There are two possible reasons why BJP lost Delhi so badly. Firstly, they underestimated AAP. The latter worked round the clock and reached out to people through door-to-door campaigns. They were humble, and apologised to people for dishonouring the 2013 mandate.
The second and equally important reason was Modi-Shah's so-called 'masterstroke' – Kiran Bedi. Her disastrous campaign foiled any chance that the BJP might have had at returning with a face-saving tally. Against such a background, the appointment of Tiwari as Delhi BJP chief was an interesting move.
Tiwari (48) began his career as a Bhojpuri singer in 1997. His foray into acting triggered an avalanche in Bhojiwood when he starred in Sasura Bada Paise Wala (2003). The film became the biggest grosser of its time and is said to have single-handedly revived the Bhojpuri film industry. By 2009, Tiwari was a household name in the Bhojpuri universe. He thought of trying his luck in politics and fought the Lok Sabha election against Yogi Adityanath, on a Samajwadi Party ticket, but lost. In 2010, Tiwari made another attempt to get noticed on the national scene and took part in the reality show – Bigg Boss. In 2014, he decided to change his bigg boss and quit Samajwadi Party to join Modi's BJP. He won from North East Delhi.
Like his predecessor, Tiwari had to face the resentment of those who thought they were better suited for the post than him. A few months back, a party MP Ramesh Bidhuri accused Delhi BJP's social media team of unduly favouring Tiwari. "The Delhi BJP is supposed to highlight the party's work, not only that of a particular individual. The state unit social media team only highlights Tiwari." He had a point.
Soon after, voices of disapproval started emanating from BJP's mothership too – the RSS. The trigger this time was the induction of dancer Sapna Chaudhary into Delhi BJP by Manoj Tiwari. "You can't run a party like an orchestra. You can't win elections by singing. He (Tiwari) has to reach out to people," an unnamed RSS leader told The Print. And he is right, but the RSS is expecting a neem tree to shower them with mangoes! That doesn't happen.
Tiwari has a history of complicating his party's life. In the run-up to the 2014 elections, he went on air with India Today's Rahul Kanwal without any preparation on how he proposed to solve the problems of North East Delhi constituency or how his party would bring down inflation. To every question fired at him, the only excuse of a reply he had was – "Modi ji karenge…Modi ji ke paas plan hai (Modi ji will do it, he has a plan)". Kya plan hai, he had no idea. Tiwari was fortunate he was riding the luck of Modi in 2014, and not that of Rahul Gandhi.
Had he not been Modi-Shah's choice, Tiwari's colleagues in the Delhi BJP would have packed him off to Bhojiwood by now. Tiwari has an inclination to land himself and his party in trouble. In January 2017, when the nation was reeling under the shock of demonetisation that had claimed the lives of several people standing in bank queues, Tiwari mocked the hardships faced by people. At a private new year get together, Tiwari narrated how, when he had gone to an ATM queue, he made up a song to "amuse" people. The lyrics translated as, "The patriots are standing in queues, there is a huge crowd. India's destiny is getting decorated with hardships."
While his PM was forced to shed tears in public in order to subdue the outpouring of public sentiments, Tiwari was promising to distribute "laddoos" to people for their cooperation. This was like adding insult to injury.
His attempts at 'connecting' with people have more often than not ended up disconnecting him from people. At a public function in March 2017, Tiwari scolded a woman teacher on camera. She had very respectfully requested him to sing a couplet on stage. For some strange reason, Tiwari got so miffed that he asked the poor teacher to get off the stage and directed the organisers to take action against her. It became a political issue after the video of this incident was posted by AAP Deputy CM Manish Sisodia, who demanded strict action against Tiwari.
Also Read: AAP tells Manoj Tiwari "Tumse Na Ho Paayega"
A few months later, in August, Tiwari visited another educational institution – Ashoka Institute of Technology and Management in Modi ji's constituency, Varanasi. He not only sang there but was also seen dancing with Shah Rukh Khan.
Tiwari's lack of political wisdom, and indiscretion, have landed him in many awkward situations from which even his party sometimes could find no escape routes. In September 2018, in the middle of an ongoing sealing drive in Delhi, the BJP chief was videographed breaking the lock of a sealed house. The video went viral and the opposition hounded the BJP for enacting a drama. It was the BJP ruled MCD which was sealing shops and here we had BJP's Delhi chief breaking those seals.
Two months later, Tiwari was again in the news, this time parading his hurt self-esteem. Dressed in a pink kurta, Tiwari, along with his supporters reached the inaugural event of newly-built Signature bridge and entered into a scuffle with AAP members and police. Tiwari claimed he was protesting because he had not been invited to the event "despite being a Member of Parliament." Kejriwal called this act of violence by Tiwari as "unprecedented".
The list of Tiwari's faux pas is long and exhaustive. In April, last year, he tweeted a list of nominees for the Municipal Corporation of Delhi (MCD) elections in which he declared the sub-caste of each nominee, like Baniya, Gujjar, Punjabi. It angered a lot of people. One Twitter user, Yashpal Singh wrote, "Isme caste likhna zaruri hai kya..Jaativaad ki Rajneeti band karo…Shame !!!" (Is it necessary to write caste here… put an end to casteist politics.)
Last month, Tiwari released the official date of the Delhi Election to a news channel, even before the Election Commission. When told that he had released the date of the election, Tiwari said, he was only predicting.
"Last time, the polls were held on February 7. This time, it could be held on February 8 or February 14." When the date was officially announced by the ECI earlier this month, Congress spokesperson Randeep Surjewala asked, "…Has ECI joined the bandwagon with Manoj Tiwari? Delhi wants to know – Delhi polling dates were decided by ECI or in advance by Manoj Tiwari? Tiwari decides, ECI stamps?" The ECI refuted the allegation.
To be fair to Manoj Tiwari, under his tenure, his party did record a victory in the Municipal elections held in 2017, though AAP too improved its tally, both at the cost of Congress.
Tiwari's appointment is a gamble played by Modi-Shah. If it does pay off, God knows, Delhi might even see its first Bhojpuri superstar CM. At least, he would be assured of a second term as Delhi BJP President. But if he is not able to deliver, he will, in all probability, be asked to step down. RSS anyway is not too happy with him. They think he is "losing a winning election".
Does Tiwari or his party have any surprises from their bag of tricks?