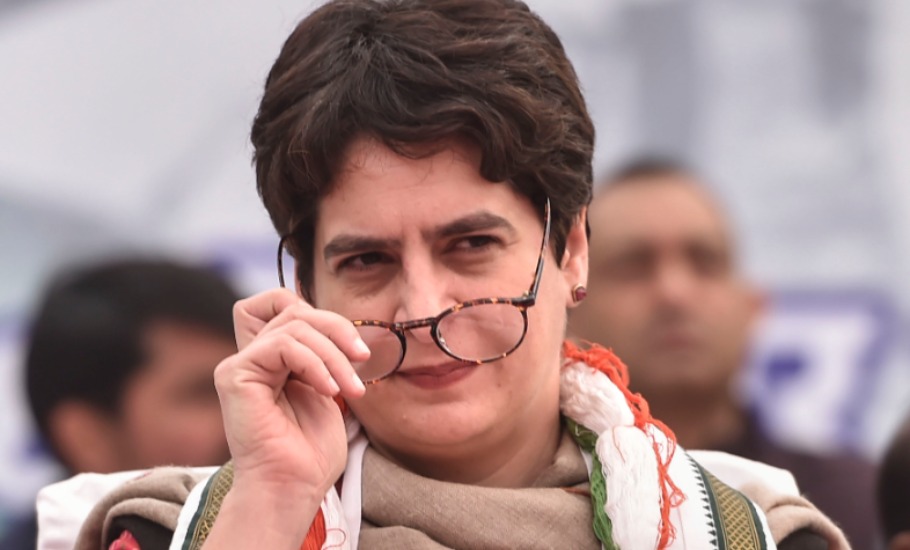 Deep divide in Uttar Pradesh politics robs Priyanka of her Delhi house
In a politically significant move, the Centre has ordered Congress leader Priyanka Gandhi Vadra to move out of the government bungalow allotted to her in Delhi in a month's time.It was the government that had offered her the lavish accommodation 23 years ago.
In a politically significant move, the Centre has ordered Congress leader Priyanka Gandhi Vadra to move out of the government bungalow allotted to her in Delhi in a month's time.
It was the government that had offered her the lavish accommodation 23 years ago, purely on security considerations, which is now being taken away. Gandhi stayed in the national capital's central vista though she never held any public office.
The sudden move on July 1 came as a surprise to the political class and they believe that this decision was purely taken on political considerations. It has kicked off speculations that she could move to Lucknow to take a deeper plunge in Uttar Pradesh politics where she has been trying to revive the Congress' fortunes for nearly a year.
Though Gandhi campaigned spiritedly during the Lok Sabha elections last year, her party drew a blank in the state except for the Rae Bareli parliamentary seat, which was won by her mother and party president Sonia Gandhi.
Related news: After 'vacate' notice, Priyanka plans to move to Lucknow to revive UP Cong
Since the 2019 elections, there has been no major electoral showdown in the state to make Priyanka Gandhi's effect discernible and the Assembly polls are still a year-and-half away in Uttar Pradesh, and may well be held in or around February 2022.
Yet, her bid to make forays into the vexed politics of UP has alerted her rivals. This includes not only the BJP that rules the state with a huge majority, but also the two main state-level parties led by Mayawati (Bahujan Samaj Party) and Akhilesh Yadav (Samajwadi Party). The two chiefs have held power in UP before the rise of Chief Minister Yogi Adityanath.
Mayawati is bitterly opposed to Gandhi's attempts at making inroads into UP politics. But in July last year, it was saffron-clad Adityanath who got her detained on her way to a village in Sonebhadra district after the ghastly massacre of 10 poor villagers due to a land dispute. Ever since, the battle-lines etched between him and Gandhi have only been deepening.
In the sharply divided politics of caste, class and faith, and religion, both Adityanath and Mayawati saw an opportunity in taking on Gandhi tooth and nail. Both the parties, BJP and BSP, have their own reasons for opposing the 48-year-old Gandhi scion.
Related news: Cong alleges vendetta as Priyanka Gandhi asked to vacate bungalow
Since Gandhi targeted Dalit votes, Adityanath saw an opportunity. In his estimate, any dent in Mayawati's Dalit vote bank is a gain for the BJP. Mayawati, on the other hand, saw a threat in her and therefore, has launched a no-holds-barred attack on her. This was amplified by the media, leading to a bitter war of words between Gandhi and Mayawati.
Asked about the tussle between the two leaders despite them being on the same side of the political spectrum in opposing the BJP, Ashok Bharti, a Dalit rights activist and founder of the National Confederation of Dalit and Adivasi Organisations, remarked, "It is unfortunate. Priyanka (Gandhi) should read the caste and class realities of our society and her moves should be tactical rather than confrontational. Instead of provoking leaders from the same side of the political spectrum through her social media posts, she should look for likely allies and move forward. One should make bridges rather than destroying them."
Bharti was referring to a recent Twitter comment by Gandhi where, without naming the BSP leader, she hinted that Mayawati could be a self-styled spokesperson for the BJP. Mayawati took umbrage to Gandhi's veiled attack and issued a terse statement, chiding both the Congress and the BJP.
Related news: I am Indira Gandhi's granddaughter: Priyanka tells UP government
Yet, it is a fact that Mayawati, alongside the BJP, had blamed top Congress leaders generally and Gandhi in particular in the wake of the recent migrants' crisis during the current lockdown. The BSP leader also did not like Congress' aggressive attack on the BJP and Prime Minister Narendra Modi after the Ladakh clash that left 20 Indian soldiers dead.
So, besides the BJP, Mayawati too turned the heat on Congress and Priyanka Gandhi. Her opposition to Gandhi suited the BJP since the saffron party has been trying to highlight the Congress leader's privileged background where the house allotted to her could be taken away after downgrading her security a few months back.
Yet, the BJP and BSP could stick together only that far. This is because, as opposed to Adityanath's calculations, Mayawati sees Gandhi as someone who has a potential in denting BJP's vote bank rather than that of her own party's. The BSP thrives on class and caste character of its rival leaders and parties. In her world view, since both Adityanath and Priyanka fall in the same category, the fight should be between the two. The sudden move to oust Gandhi from her cushy home is being seen as a bitter fallout of that struggle.
(The writer is an independent journalist based in Delhi. He tweets @abidshahjourno)