An auto decked up in BJP flags whizzed past them, the party's campaign song — Bhajpa dil mein, dil mein, bhajpa Delhi mein (BJP in hearts, BJP in Delhi) – blaring on its stereo.
Oblivious to its trail, a motley group of children strode ahead holding a large banner. On its white backdrop, in red and black ink, was written, in Hindi, their appeal to voters: Chuno unhe jo bachpan bachaye (choose those who can save childhood).
As they walked past rundown shanties, negotiating puddles and overflowing drains on narrow alleys, unmindful of the stench of the lone public toilet that caters to the need of 6,000-odd residents of the area, people started trickling out of their homes, curious to see a 'parallel poll campaign' run by their children.
Tucked away in ignominy behind a string of embassies and the Railway museum in New Delhi's swanky Chanakyapuri locality, this cluster of slums, named Sanjay Camp, reels under gruelling poverty, accentuated further by years of civic neglect. The children, who constitute a bulk of the population of the camp (around 4,000 of around 6,000 residents), naturally, are the worst sufferers.
Also read: Remove Anurag Thakur, Parvesh Verma as star campaigners for Delhi polls: EC
Many drop out of school halfway to take up menial jobs to supplement their family income. Problems aren't any less even for those who attend school. Even a basic need like using the toilet before going to school in the morning needs extra efforts and immeasurable patience to wait in a long queue.
"We have only one community toilet here. In the morning as everyone is queued up outside it, many a time, by the time my turn comes, I am already late for school," said Bibek Kumar.
The 12-year old studies in 6th standard in New Delhi Municipal Council (NDMC)-run Atal Adarsh Vidyalya at Moti Bagh. His predicament does not get over even after he manages to use the toilet after a long wait. On the way to school, the children of this slum need to cross open railway lines. This has often proved fatal for some.
Their panchayat, their demands

Now with the advent of Delhi elections and candidates knocking at their doors to seek votes from their parents, children residing in the four major slums of Delhi— Sanjay Camp in Chanakyapuri, Inder Camp and Israil camp in Vasant Kunj and Indra Kalyan Vihar in Okhla phase 1—decided to put forth their demands in front of their aspiring representatives.
They are no ordinary children. They themselves are elected members of the "Bal Panchayat" of their community. The Bal Panchayat is an initiative of the Bal Mitra Mandal (BMM) programme of Kailash Satyarthi Children's Foundation.
The BMM was launched in these slums in 2017. "In BMMs, there is an exclusive elected Bal Panchayat comprising 12 slum children. This Bal Panchayat ensures participation of children in the decision making process, raises issues of children like education, water, sanitation and security to the competent authority and gets the problems solved locally," said Rakesh Sengar, executive director of the programme.
Also read: Why is Kejriwal not taking a stand on Shaheen Bagh
The elected Bal Panchayat of these slums after consultation with the community members and other children living in the slum have prepared their community-wise demand letters, called 'Bal Panchayat ki maange' (demands of Bal Panchayat).
They have put up stickers and banners all across their locality with slogans like 'Jo bachhon ki baat karega, who dilli pe raaj karega' (only one who understands children will get to rule Delhi) and 'Chune unhe jo bachpan bachaye, sabhi bachchon ko shiksha aur suraksha dilaye' (choose those who can save childhood, protect and educate children).
An answer to polls campaigns
This unique campaign is named 'Bal Mitra Chunav Abhiyaan' (child friendly election campaign) which aims to create a child-friendly Delhi where every child is free, safe and educated.
Under this 'election campaign' launched on January 28, children are approaching every household in their respective slums and holding street plays to create awareness and are requesting parents and other relatives to only vote those who agree to fulfill their demands – demands that benefit both the community and its children. They are taking out rallies with slogans to convey their demands to the candidates.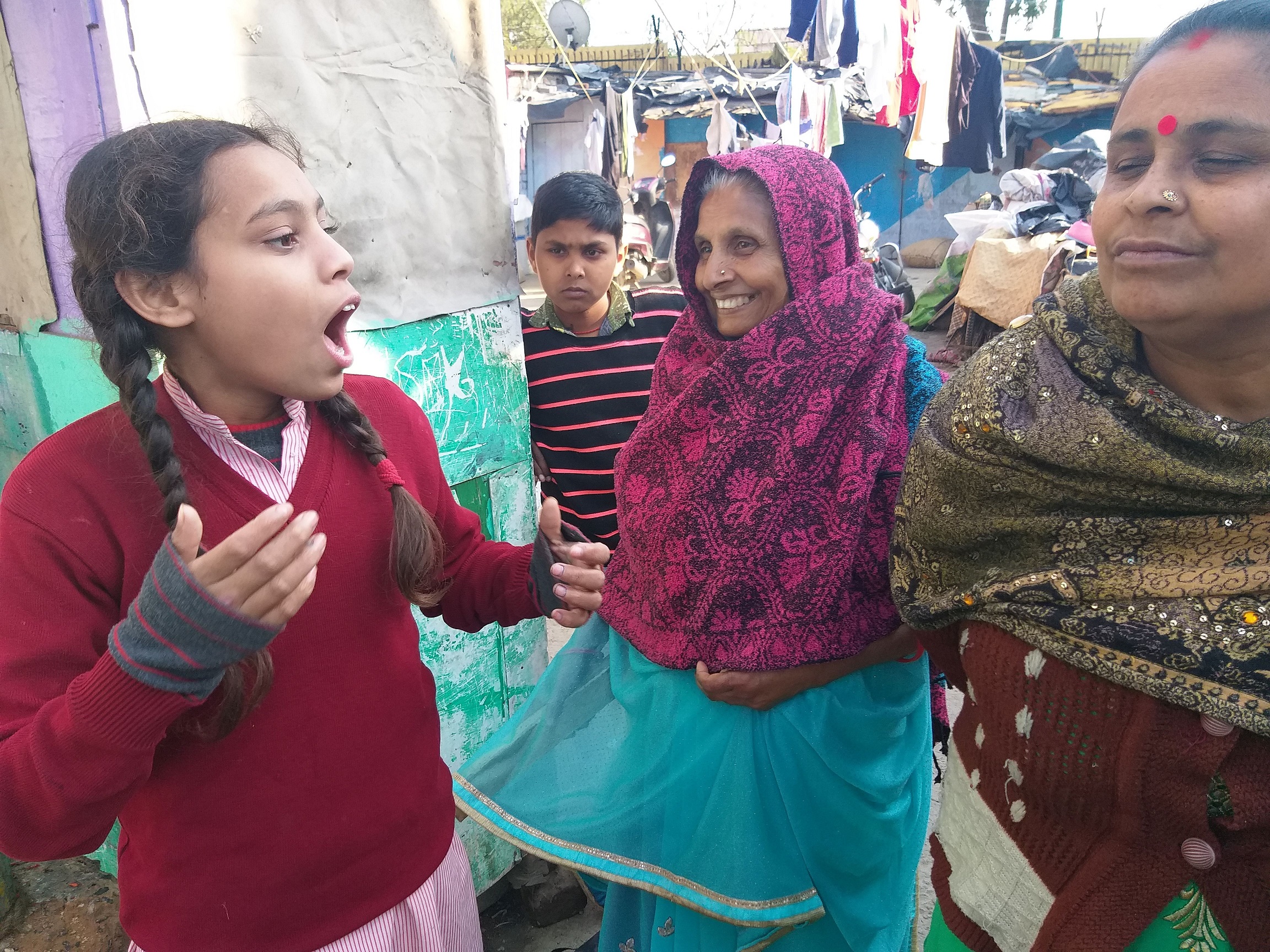 As part of the campaign, which will continue till February 5, the day official campaigning for the assembly elections ends, children will present their demands to the candidates visiting their community seeking votes and will make video of the interaction which will then be uploaded on social media.
The Bal Panchayat members have also lined up Bal Chaupal, which will include not just the members of the community but also the political candidates or representatives of political parties.
Besides, they are also reaching out to all the candidates of the 70 assembly constituencies of Delhi to sign a pledge to make Delhi child-friendly.
"I will ensure my parents vote for the candidate who is genuinely interested in addressing the issues raised by us," said Aditya, president of the Sanjay Camp Bal Panchayat.
Among others, demands of the children of Sanjay Camp include free and compulsory education up to 12th standard, availability of clean drinking water in their locality, building of toilets in every house, setting up of a railway crossing at the railway track, eradication of child labour and making their locality crime-free.
Also read: Will the road to Delhi pass through Shaheen Bagh?
In this campaign Pooja, Aditya, Ashima, Nazneen, Sariful and others march shoulder to shoulder, blissfully unaware of the attempt to polarise this elections on communal lines, side-tracking the core issues confronting Delhi.