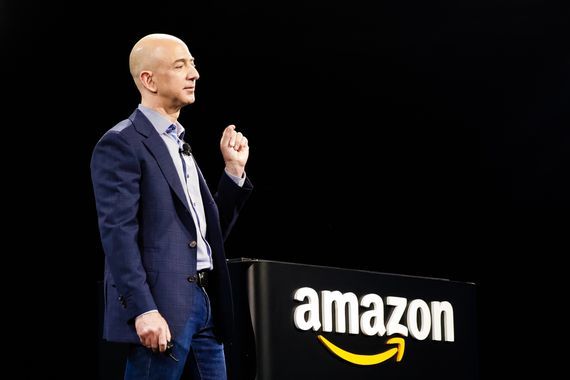 If Amazon CEO Jeff Bezos were like Rip Van Winkle, waking up in India in 2020 after his last visit to the country six years ago, he will find that nothing has changed as far as the government's stand on the e-commerce industry is concerned.
Bezos is expected to land in India tomorrow (January 15) and have discussions with the government and as expected, will face the same kind of protests which he faced in 2014. While his e-commerce platform, Amazon.in, in India has grown several times over, the government, either the previous one or the current, has still not made up its mind whether this industry is good for the country or not.
In some way, such dithering helps e-commerce players who happily chug along unfettered, unregulated expanding their businesses. Such procrastination only helps a set of stakeholders and not everyone as can be seen from the recent action of the country's anti-trust body, Competition Commission of India (CCI), which can't make up its mind on whether it should go after e-commerce players, Flipkart and Amazon for their alleged unfair trade practices or wait till the government formulates a complete policy on these companies.
Four years ago, the CCI ruled against a trade body which had claimed that Flipkart, Amazon and Snapdeal and a few others were indulging in unfair business practices. Since then, the CCI has been sending questionnaires and e-mails to these e-commerce platforms seeking clarifications. The latest one sent on January 13 this year, aims to investigate alleged competition law violations by these e-commerce firms.
The CCI has said that it has ordered a full probe after a review of the allegations against them for promoting "preferred sellers," and for selling products which were exclusively made available to them. A trade body, Delhi Vyapar Mahasangh, which represents offline small and medium enterprises say that deep discounts by these companies and their ties with certain preferred sellers were hitting the sales of offline stores.
The fact that businesses can sell their wares at any price below the MRP is a point they miss out completely. The e-commerce world and startups work differently from any other businesses. Valuations of these entities are based on the number of footfalls and conversions into actual sales. For that to happen, entities like Flipkart and Amazon offer discounts higher than those offered by offline players. Once the valuations go up, investors, primarily Venture Capital's (VC) and Private Equity's (PE) exit at a higher price offering their stakes to other similar investors.
Also read: Flipkart, Amazon discounts hurt offline trade; govt inaction worries traders
In case the CCI rules against such practices, Amazon and Flipkart would be mere online stores who would offer only the convenience of shopping sitting at home without trudging to the brick and mortar ones.
What the regulators and the government should realise is that e-commerce is a reality and that it is also one among the enterprises which offer jobs and at the same time helps a wide section of the people who do not have access to capital to set up physical stores to sell their goods through these online stores. There are benefits which outweigh the negatives though it is equally important that the government formulates a policy which benefits all the stakeholders in this space.
Also read: Amid slowdown, Tier II and III cities drive demand for e-commerce
Writing for the balancesmb.com, Susan Ward says that in today's market, virtually all large brick-and-mortar retailers have a strong online presence and ought to have one because more and more customers now use search engines to buy products. While it is not necessary to have complete e-commerce websites, even a Facebook page or a simple website with a payment gateway can boost their businesses.
What is more important for offline stores is to build long-term and strong relationships with their customers, Ward says. "Customers enjoy a sense of familiarity. Being addressed by their first name, enjoying a friendly interaction with sales staff, receiving personalized service and feeling that their needs are being met are sure ways to keep customers coming back."
Also read: Walmart layoffs a course correction in big retailers' race?
For a long time now, the government has been dragging its feet on coming out with a robust e-commerce policy, or even a policy on online tech platforms like a Swiggy or a Zomato or an Uber or an Ola. Most of the statements from the government are like knee-jerk reactions to certain situations.
Bezos will, of course, have a hearty laugh which he generally tends to have whenever the media poses a difficult question to him. Journalists will surely quiz him for his views on the CCI order and his reply will certainly be punctuated with more laughter because he knows that next time he visits the country, there will be more of the same.