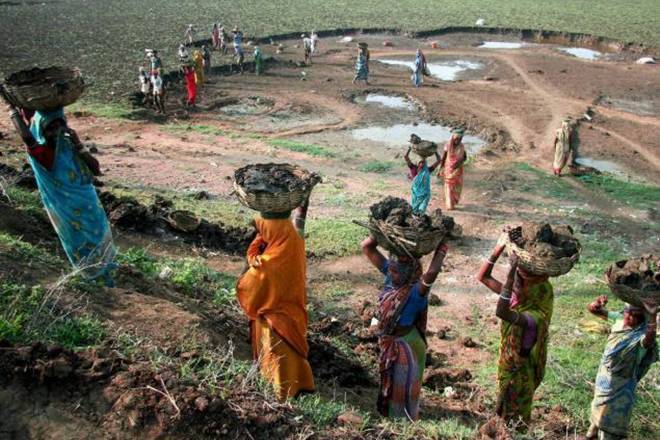 Millions of job-aspiring youth across the country invariably look to the government for suitable employment opportunities. So their expectations could well have been answered in the Budget for 2023-24. But this was not so. The reason behind this is that, strictly speaking, the government is not the only job provider in the country. Yet, it can be a crucial enabler for job-seekers by resetting its priorities.
Finance Minister Nirmala Sitharaman did refer to job creation in her speech but avoided mentioning unemployment and its extent as such. This is so when the numbers of actively working population today is only marginally higher than the non-working job-seekers. About 332 million people have some kind of proper employment from the point of view of their income while 286 million are in need of work or better work, as per statistics. This includes for workers both in the organised and unorganised sectors.
Also read: Callous budget that has betrayed hopes of vast majority of people: Chidambaram
India has a fast growing organised or formal private sector with quite a bit of potential to create jobs that are supposed to be productive and bring profit to the proprietor, besides being remunerative for the employees of the unit. But, ironically, it is this supposition that is also behind today's growing job crisis. It is so since the basic precondition calls for the government to play the role of an alert, effective and intelligent regulator. It goes without saying that lack of this or its inadequacies may further aggravate the employment crisis faced by the country's youth which is already quite alarming.
Shortfall of jobs despite PM's Rojgar Melas
But before looking at jobs in the private sector, let's examine central government jobs. As per the figures as of March 1, 2022 there were 31,69,038 government employees at the Centre. This includes employees in centrally controlled public sector units. A year later or on March 1, 2023, this figure is going to be 34,45,834 and the next year or for March 1, 2024 this is projected for budgetary purposes, or giving salaries, at 35,65,100.
But in October last year, Prime Minister Narendra Modi held a Rozgar Mela or job fair to provide appointment letter to 75,000 recruits to central government jobs. He also promised at the same time to create 10 lakh jobs. As per this promise, the projected figure for central government employees in March next year should have been put at over 41 lakh instead of over 35 lakh as is the projection now for until March 2024. This is so despite the fact that Modi held a similar Rozgar Mela last month where 71,000 appointment letters were issued by him.
So the shortfall of over half a million jobs in central government and public sector units controlled by it than what was stated by no less a person than prime minister is a glaring example of the inability of the government to meet its own target. The Budget does not make any provision to fill the gap between the present numbers of personnel in its ranks and what was promised.
Also read: ₹20 lakh crore credit target in govt push for agriculture sector
In his Rozgar Mela address, Modi also assured new recruits about similar exercises to be taken up by the NDA or BJP ruled States so that more jobs could be provided. But state governments too have been falling short of providing jobs to growing numbers of the unemployed.
J&K, Haryana top in unemployment rate
As per Centre for Monitoring Indian Economy (CMIE), Jammu and Kashmir had until the last month the highest unemployment rate followed by Haryana.
CMIE pegs these at 21.8 and 21.7 per cent respectively while Chhattisgarh at 0.5 and Madhya Pradesh at one per cent reported the lowest unemployment rates in the country through the same month. These rates for states with higher population density like Uttar Pradesh and Bihar are put at 4.2 and 11.9 per cent respectively by the CMIE.
The overall unemployment rate in the country in January 2023, according to CMIE, stood at 7.14 per cent with rural parts being relatively better off at 6.48 than the urban at 8.55 per cent. The unemployment situation at the countrywide level has worsened since September last year when its rate was reported to be at 6.43 per cent. The rural parts had 5.83 as compared to 7.71 per cent unemployment rate in the urban areas. This is indicative of growing unemployment rates throughout the country.
'Rural employer' MGNREGA needed better allocation
So the issues related to unemployment need to be tackled in a state and region-specific manner. Agriculture is still the largest employer of the workforce; and the lower unemployment rates in rural areas than the urban are also because of MGNREGA under which employment guarantee is supposed to be offered for 100 days in a year to the willing among the rural workforce.
But the Budget grant under MGNREGA has been brought down from last Budget's ₹73,000 crore to ₹60,000 crore for 2023-24. This may well result in reduced number of days of paid employment for rural folks in the fiscal year to come.
Also read: Budget offers bounty, but with subtly placed caveats
But there is no similar employment guarantee scheme for workers living in urban areas. This is also evident from the higher unemployment rates in cities than villages.
Rajasthan has only recently introduced a job guarantee scheme for urban areas at the state level. So its effects will take time to unfold. The unemployment rates shown by CMIE for Rajasthan through the last month were as high as 21.1 per cent which is only slightly better than Jammu and Kashmir and Haryana. This leaves much to be desired for the huge desert state.
Dalits, minorities ignored
The Budget has a provision for hiring 38,000 school teachers for Eklavya schools that cater to tribal children. The recruitment of these teachers will be spread over for a period of three years. The move is, obviously, aimed to woo tribal voters for the next general elections.
There are no similar allocations made in the Budget for other sections like the Scheduled Castes and minorities. "Budgets for social sector and schemes have substantially been cut," says Delhi-based Dalit rights activist Ashok Bharti, adding that the Budget should have special provisions and centrally funded schemes for the education and employment of Dalits and minorities.
More spending on infra, but no steps to ensure mass employment
Now coming to the private sector, what deserves to be taken note of is the fact that the government mainly supports big industry rather than the medium and small through schemes like PLI or Productivity Linked Incentive.
The big industry unlike the medium and small depends more on automation than human workforce. The possibility of job growth is more in the medium and small sector than the big corporate that have now started using even robotic technology to replace manpower.
This is happening in industries like automobile where minimal human intervention is called for, allowing only a few workers to be hired on contractual basis and at low wages.
Increased government spending on infrastructure is provisioned in the Budget.
This is supposed to meet some of the demand for jobs. But these too are mostly going to be on contractual and, thus, temporary basis with competitive wages.
Also read: Budget 2023-24: Comprehensive list of new schemes
India also flaunts its low wages to woo industry, investment and finance from abroad. Yet, countries like Bangladesh have been more successful in this. It is so, when it is to be seen from the point of view of creating gainful employment for its citizens.
Thus, the Budget appears to lack the foresight for meeting the demands for mass employment of a phenomenally growing Indian workforce.
These workers are second to none as many of them go abroad and get suitable and far more rewarding employment than what is generally available back home, though this may come after quite a bit of struggle for many of them.