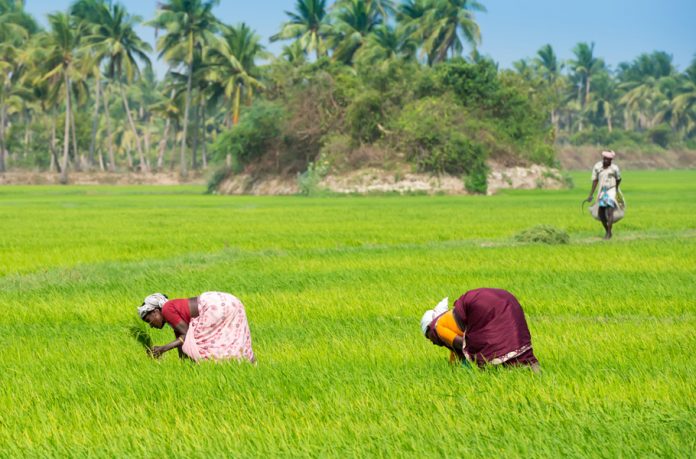 Giving a major push to the agriculture sector in the Union Budget 2023-24, Union Finance Minister Nirmala Sitharaman on Wednesday (February 1) announced that the agriculture credit target will be increased to Rs 20 lakh crores, with focus on animal husbandry, dairy and fisheries.
Natural farming

Sitharaman made a slew of announcements with an aim to boost the agrarian economy — from promoting natural farming to setting up a fund for encouraging agri-start-ups.
She said 10,000 bio input resource centres will be set up to enable 1 crore farmers to adopt natural farming over the next three years. Taking forward this initiative, the PM-PRANAM scheme will be launched to incentivise states to promote alternative fertilisers and balanced use of chemical fertilisers.
Fund for start-ups

She said the government will set up an Agriculture Accelerator Fund to encourage agri-start-ups by young entrepreneurs in rural areas. The fund will aim at bringing innovative and affordable solutions for challenges faced by farmers.
It will also bring in modern technologies to transform agricultural practices, increase productivity and profitability.
Also read: Economic Survey silent on challenges in agriculture and possible solutions
Digital public infrastructure

The finance minister also announced that digital public infrastructure for agriculture will be built as an open source, open standard and inter operable public good.
"This will enable inclusive, farmer-centric solutions through relevant information services for crop planning and health, improved access to farm inputs, credit and insurance, help for crop estimation, market intelligence, and support for growth of agri-tech industry and start-ups," she added.
Global Hub for Millets

Referring to millets as 'Shree Anna', Sitharaman said the government aims to make India a global hub for Shree Anna. She announced that the Indian Institute of Millet Research, Hyderabad, will be supported as a Centre of Excellence for sharing best practices, research and technologies at the international level.
Horticulture

The government also announced an Aatmanirbhar Clean Plant Programme to boost availability of disease free, quality planting material for high value horticultural crops at an outlay of Rs 2,200 crore.
Decentralised storage

Sitharaman said 63,000 Primary Agricultural Credit Societies are being computerised with an investment of Rs 2,516 crore. A national database is being prepared for countrywide mapping of cooperative societies.
The government will also implement a plan to set up a massive decentralised storage capacity to help farmers store their produce and realise better prices for their output. The government will facilitate setting up of a larger number of coop societies, primary fishery societies and dairy coop societies in uncovered villages over the next five years.
To facilitate finances to farmers, the government will provide a higher limit of Rs 2 lakh per member for cash deposit and loans by Primary Agricultural Credit Societies.
Rs 6,000 crore for fisheries

In a push to fisheries, a new sub scheme of PM Matsya Sampada Yojana, with a targeted investment of Rs 6,000 crore, was announced to further enable activities of fishermen, fish vendors and micro and small entrepreneurs, improve value chain efficiencies and expand the market.
Also read: Budget 2023-24 must focus on climate-smart regenerative agriculture: Expert
Cotton production

To enhance productivity of cotton crop, a cluster-based and value chain approach through PPPs will be adopted, to increase productivity of extra-long staple cotton. This will involve collaboration between farmers, the state and industry for input supplies, extension services and market linkages.
Food for poor

In another major announcement, Sitharaman said the government will bear the entire expenditure of about Rs 2 lakh crore under the PM Garib Kalyan Anna Yojana for supplying free food grains for one year to all Antyodaya and priority households, starting from January 1, 2023.
Fertiliser subsidy slashed

The minister allocated Rs 1.75 lakh crore for fertiliser subsidies. The allocation for the next fiscal is lower than the revised estimate for fertiliser subsidy spending of Rs 2.25 lakh crore this year. The Centre had initially allocated Rs 1.05 lakh crore for fertiliser subsidy in FY23 but it had to raise the allocation to Rs 2.25 lakh crore amid a spike in prices of the farm nutrient.
The government spent Rs 1.5 lakh crore on fertiliser subsidy in FY22. India is one of the largest importers of fertilisers. The Ukraine war last year disrupted supplies of input such as potash and phosphate that account for the bulk of non-urea-based soil nutrients.
PM Kisan unchanged

Putting all speculation to rest, the government didn't announce any increase in allocations for the PM Kisan Samman Nidhi scheme. The finance minister merely stated that they made a cash transfer of more than Rs 2.2 lakh crore to 11.4 crore farmers under the scheme.