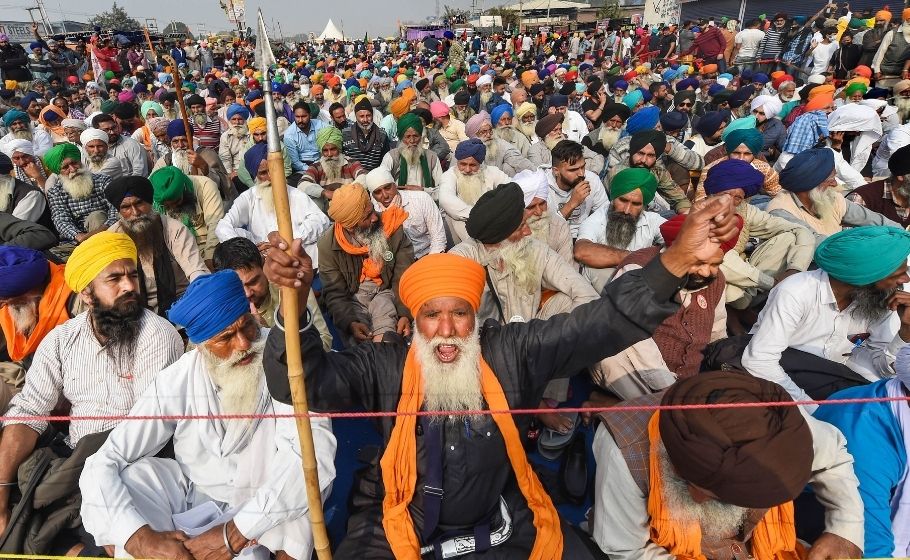 Singhu is a non-descript location that hardly gets any attention as Delhiites travel to Haryana, Punjab or Himachal Pradesh by road. People travelling to the capital from these states get to know that they are near Singhu due to the numerous trucks that line up at the toll booth, ahead of entering Delhi.
A massive transformation has happened at this north-west border outpost of Delhi with thousands of farmers camping there to protest against the three controversial farm laws, pitching water-proof tents, parking their tractors and mini trucks in rows, setting up numerous community kitchens, and erecting makeshift solar power generation units for recharging phones.
Also present are the numerous mobile toilets and water tankers provided by the Delhi government. Adding colour to the "siege of the capital" are sundry supporters who want to be part of the struggle, curious onlookers, and good samaritans who have come with food, water, warm winter clothing to protect the farmers from biting cold, medicines or other amenities.
Related news | Sikhs in UK, US add bite to growing concerns over farmers' protests
Singhu even has a makeshift gym for the use of protesters and a couple of medical facilities that provide treatment for minor ailments. Then there are numerous other battlefields like Tikri border on the western side of Delhi, Gurgaon and Faridabad borders on the southern fringes of Delhi, Ghazipur border on the eastern side of Delhi — flanked by protests at Delhi-Uttar Pradesh border at Noida, and frequent flutters at Chilla Village that also borders Uttar Pradesh.
While there are several battlegrounds, what is missing is a meeting ground between the protesting farmers and the Narendra Modi government. The flowing sympathy for the farmers is evident, but no solution is visible at Singhu that has emerged as the protest-headquarters or Raisina Hill, seat of the Union government that stands 30-odd kms away from this Haryana-Delhi border post.
From the beginning, the government is emphatic that there's no question of repealing the legislations — The Farmers (Empowerment and Protection) Agreement of Price Assurance and Farm Services Act; The Farmers' Produce Trade and Commerce (Promotion and Facilitation) Act;  and The Essential Commodities (Amendment) Act. On the other hand, farmers say that the three laws have to be repealed and there is no question of any compromise on this demand. No wonder little progress has been made to find common ground despite several rounds of negotiations.
In the meanwhile, farmers have demanded a written assurance from the government on continuation of minimum support price and government procurement. According to current indications, the tussle is likely to be protracted even if the Supreme Court decides to make a decisive intervention after the winter vacation.
Big Brother's Counter Attack 
While the farmers' protest made a strong impact initially and pushed the government to the backfoot, gradually, the Big Brother is mounting a steady counter-attack. Numerous pro-government associations representing the farmers have expressed opinion in favour of the controversial farm laws and state governments run by the BJP are organising events to support the legal amendments.
In addition, lakhs of SMS messages are being shot off everyday and open letters and appeals from Prime Minister Narendra Modi and Agriculture Minister Narendra Singh Tomar are making the rounds, emphasising that the government does not want to blink at all. Of course, dirty tricks departments are active on digital media, painting the protest black and attributing political motives to the agitation.
Related news | Farmers union moves SC against farm laws; 'ultra Left' fuelling protests: Govt
The protest leaders, on their part, are struggling to find new ideas to retain attention and keep the government under pressure. The fear of rival farmers' unions undermining the protests is worrying them and the Supreme Court has emphasised that there shall be no inconvenience to others while farmers exercise their right to protest. This has led BJP leaders to claim that this is the reason why the government allocated a specific protest site for the farmers at Burari that is close to the Singhu border. Farmers are also struggling vigilantly to keep political elements away to ensure the protests are not discredited with political motives.
Love for farmers
The most important factor keeping the agitation going is the love and affection for farmers among the people.
Despite three weeks of frequent roadblocks, diversions and traffic jams, most people travelling through Singhu, Tikri, Ghazipur and other other border posts have not blamed the farmers for their hardships. On the other hand, they have tried to do their bit by providing blankets, tents, food, water and other amenities to those braving the severe cold. There are also people who drop in whenever they can to spend time with the farmers.
In backing the farmers, Delhi-ites have also forgiven the huge spike in pollution caused every year due to the burning of farm waste in Punjab, Haryana, Rajasthan and several parts of Uttar Pradesh. This bonhomie needs to be preserved by farmers for the success of their protest as any breach of law and order would invite the Supreme Court's ire.
Already, Punjab politics is playing out in the background as the Aam Aadmi Party (AAP), Congress and Akali Dal are trying to exhibit that they care more for the farmers than others. That has led to active involvement of several Gurudwaras controlled by the Akali Dal and a number of AAP MLAs competing with each other to provide amenities to the farmers. Punjab Chief Minister Amrinder Singh's supporters, on the other hand, are leaving no stone unturned in ensuring continuous supply of essentials to the farmers.
Ultimately, the impact of the protest and its outcome would be felt the most in Punjab than other states. A significant number of the farmers protesting at Singhu and other borders are from Punjab and many of them are Sikhs. This factor has been noted so seriously that the Union government is once again actively circulating a booklet on "PM Modi and his government's special relationship with Sikhs" that was originally launched on the occasion of Guruparab.
MSP diversion
The demand for a written assurance on continuation of MSP has also diverted the discourse a bit, much to the relief of the central government. There is nothing in the laws that spell the end of procurement or MSP and the government is stressing on this at every opportunity, with Prime Minister Narendra Modi taking the lead through several of his widely-televised speeches.
Government procurement of food-grains has ensured enough stocks and also buffer for supply to the public distribution system (PDS) as well as open market intervention when needed. So no government can afford to end procurement and MSP that has encouraged farmers to go in for higher production of foodgrains year after year. Many state governments like Tamil Nadu, Chhattisgarh and Delhi are running effective supply of foodgrains to the public through ration shops and procurement ensures that supplies are maintained.
On this count, political mud-slinging has mis-directed the debate into procurement and MSP, rather than focusing on issues like proper regulatory systems to ensure that farmers who supply grains do not suffer injustice at the hands of corporates. When farmers deal with corporates for either procurement or contract farming, it is essential to make sure that the interests of farmers are protected. With their huge clout and might, there are chances that corporates might try to hoodwink or arm-twist small farmers and this can be avoided only if such transactions are monitored by a watchdog. Not just Adani or Ambani, any other corporate can do the damage and discredit the system. Hence, the call for boycott of Adani or Ambani is just rhetoric which takes attention away from the real risk to farmers. Contract farming has been happening in several states and it will be wise to learn from these experiments and provide a nation-wide safety net for farmers.
The government should also gradually work on ways to diversify farmers into pulses and oilseeds that are imported now to meet the growing needs of the country's population. These items will provide better returns to farmers rather than worrying about MSP and will also help the exchequer by saving forex on items like edible oil.
Related news | BJP plans massive campaign to promote farm laws amid backlash
Unfortunately, no discussion is happening on organic items, biofuel crops and medicinal herbs that can provide better returns and also wean farmers away from water-hungry crops that are causing huge damage to the environment. If the current practices go on encouraging ever-growing use of chemical fertilizers and pesticides, it will ultimately cause irreparable harm to India's agriculture that is now among the world's leading producers of fruits, vegetables, milk and foodgrains to some extent.
The other issue completely missing from the debate is genetically-modified crops which can enhance production significantly, but also hold the risk of adverse side effects.
Government largesse
In the middle of the everyday deliberations to settle the farmers unrest, the Narendra Modi Cabinet has announced a ₹3,500 crore package for sugarcane farmers. The subsidy will go directly to the account of the farmers who have pending dues from sugar mills for the sugarcane that they have supplied. Mills will also benefit as ₹3,500 crore of liabilities will be erased from their books and this could boost exports to some extent.
Government managers have been highlighting that subsidies used to go to the mills previously and this time the benefit will flow directly to the farmers who have been waiting for their dues. They have also been reminding stakeholders and media that the government has been regularly providing direct subsidy to farmers and is also working on several fronts including strengthening of irrigation facilities by linking rivers.
With so many battles going on simultaneously, the war over farm sector laws and the welfare of farmers is unlikely to come to a conclusion in the near future. Irrespective of who gains or who loses, awareness among farmers is sure to improve and if it also results in bettering the lives of farmers, the pains and disruptions of the unprecedented siege would be forgiven.