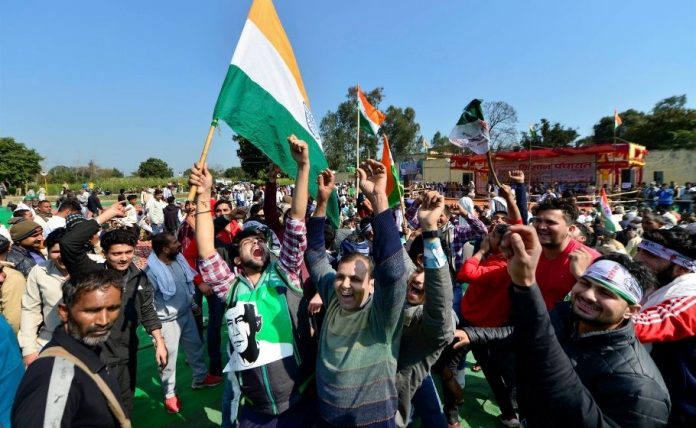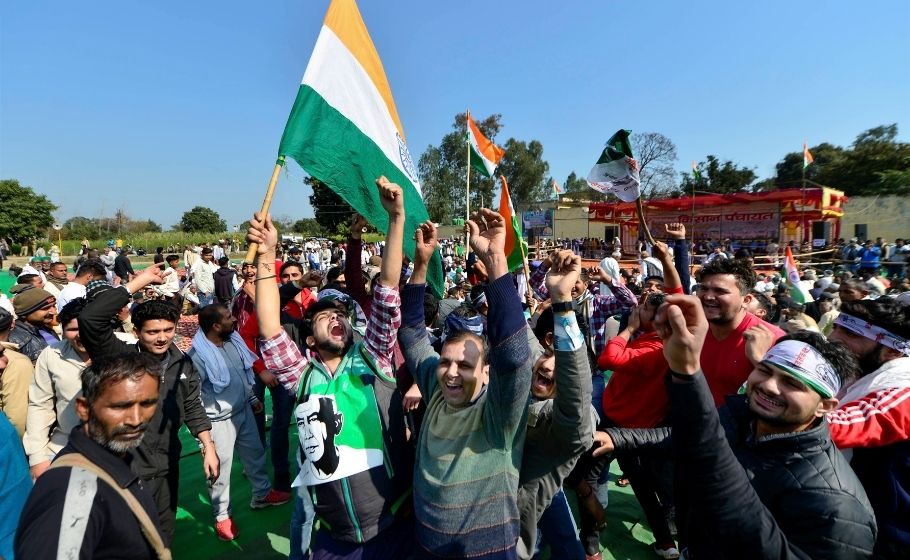 Despite the Uttar Pradesh government's denial of permission for Friday's (February 5) Mahapanchayat, thousands of farmers gathered in Shamli and songs blaring out from speakers implored Prime Minister Narendra Modi to listen to their voices.
Citing coronavirus-related restrictions on gatherings until April and "chances of unruly behaviour" by farmers, the district administration had denied permission for the meeting, but that didn't deter the organisers from holding the mahapanchayat. Raising chants of "Inquilab Zindabad", groups of farmers were seen proceeding towards Shamli.
In Uttar Pradesh and Haryana, several mahapanchayats were held over the last few weeks in support of the farmers' protest against the Centre's three farm laws. Rashtriya Lok Dal leader Jayant Chaudhary had said his party will organise a series of farmer panchayats in Uttar Pradesh and Rajasthan, from Friday over their protest.
Also read: Farmers decry Budget claims on agricultural income
In an interview to PTI, he asserted on Friday that farmers will not settle for anything less than the repeal of the new farm laws. He said the government's "strong arm tactics" will not work against the tillers and the nails being laid on roads for them would turn out to be the nails in the "political coffin" of the BJP.
Chaudhary, who has participated in a number of 'kisaan panchayats' in western UP and is campaigning aggressively against the Centre's farm laws, alleged the current leadership of the country is far removed from sentiments and is not perturbed by riots, deaths or big agitations as it is "cocooned" in its own bubble.
"It is a totalitarian administration. They are not even listening to their own political people on the ground. If you speak to the BJP MLAs or MPs off the record, they are not happy and they can feel the angst rising in the people of India, in the common man who had voted for (Prime Minister Narendra) Modi," the former MP said.
Chaudhary said he has been to almost every 'dharna' site of the farmers, has sat among them, spoken to them at different levels, addressed 'kisaan panchayats', and feels that the farmers have formed an emotional connect cutting across different states like Punjab, Haryana and Uttar Pradesh.
Related news | As Haryana farmers intensify protest, JJP's Dushyant walks tight rope
Asked about his father and RLD chief Ajit Singh announcing support to the Bharatiya Kisan Union (BKU) in their protest, Chaudhary said that it is not just an alliance with the Tikaits (Naresh and Rakesh), but is an expression of solidarity with farmers.
Thousands of farmers have been protesting at Delhi's borders with Haryana and Uttar Pradesh demanding rollback of Farmers' Produce Trade and Commerce (Promotion and Facilitation) Act, 2020, Farmers (Empowerment and Protection) Agreement on Price Assurance and Farm Services Act, 2020 and Essential Commodities (Amendment) Act, 2020.
The protesting farmers have expressed apprehension that these laws would pave the way for the dismantling of the minimum support price system, leaving them at the "mercy" of big corporations. However, the government has maintained that the new laws will bring farmers better opportunities and usher in new technologies in agriculture.
(With inputs from agencies)