A Federal series on The Covid Year
The Federal revisits life under the tyrannical yoke of the novel coronavirus. Through a series of stories, we try to highlight the key features of the year that was spent battling the biggest threat to humanity since the Spanish Flu of 1918, understand what it has meant for Indians, and how it has helped us understand life around us better
Good riddance, 2020: Hope never to see a disruptive year like you
Uploaded 29 December, 2020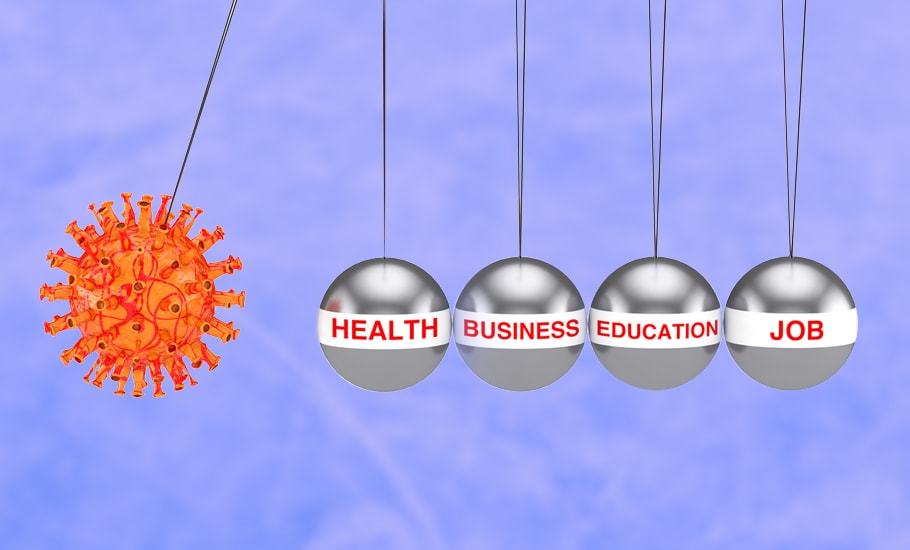 Good riddance, those two words should sum up the sentiments worldwide for the year gone by.
The ravaging pandemic, that has defined 2020, has so far left 80 million diseased worldwide, which is more than a percent of the global population, and 1.75 million dead.
After the United States, India has recorded second largest number of cases at 10 million that includes 1.5 lakh deaths.
Most of the infected displayed mild to moderate symptoms and recovered without any special treatment. Still millions were hospitalised and some of them landed up in the Intensive Care Units or ICUs and could survive only on oxygen support.
The pandemic resulted in an unprecedented shut down worldwide. Global economies melted as factories, offices, markets, transport services and each and every form of economic activity ceased to function for months together.
As a result, Covid is likely to add as many as 150 million extreme poor globally by 2021. Extreme poverty is defined by World Bank as those living on less than $1.90 a day or nearly Rs140 a day. The pandemic has set the world back by two decades of achievements on the extreme poverty front.
Besides the poor countries, the poverty alleviation efforts have affected even middle income countries, defined as those with per capita Gross National Income between $1036 and $4045.
India is a lower middle income country whose per capita GNI averages at $2000 or Rs1,47,320 a year or Rs12,276 a month. The United Nations Development Programme (UNDP) estimates that 260 million people should be back in poverty in 2020 in India - almost the same as 271 million people who came out of poverty between the years 2006 and 2016.
National Family and Health Survey or NFHS-5 released in the third week of December by the government paints an alarming picture. The nutritional requirements of children below the age of 5 is a setback by a decade. This is only pre-Covid data, the second phase of the survey which will cover the pandemic period is likely to be more severe.
According to CMIE, out of 43 million migrant workers 22 million were literally on the streets in India as they were thrown out of their jobs. In all it is estimated due to the lockdowns 121 million people had lost their jobs— nearly one-tenth of the population. Casual and household workers in cities and towns who did daily chores were thrown out of work.
Schools and colleges were closed drawing curtains on education for several months affecting the lives and future of millions of students. Online and mobile education proved to be a poor substitute as it only accentuated the gap between the rich and the poor.
Ironically, as the pandemic raged the rich grew richer and the poor turned poorer in 2020. The billionaire club worldwide grew their riches and continue to enjoy life in wealth and opulence. Though the pandemic did not distinguish between the rich and the poor, the fall out only enriched the super rich—both in India and abroad.
The pandemic of this size and magnitude brought out the best in human behaviour, but also the worst in equal measure.
While there were heart-warming stories of doctors and nurses and frontline health workers putting their lives at risk to save thousands of patients, there were tales of private hospitals levying exorbitant fees on distraught patients.
Funeral and conservatory workers rose to the occasion and did a yeoman task in disposing of medical waste and conducting last rites of the dead. But there were occasions when people rioted refused to yield space to bury the dead.
Many animal lovers went out of their way to feed stray dogs, cats and birds. They arranged drinking water and provided medical aid. Local volunteers took care of the old and diseased and maintained supply lines to their homes. But there were others who forced the infected to vacate their rented homes.
Millions experienced depression and faced bouts of anxiety. Prolonged lock downs, curtailed social activities, zero travel and absence of face-to-face contact only increased the stress levels.
The pandemic forced people to change their habits on personal hygiene. Social distancing, frequent hand washing, and use of face mask became the new norm. Though the concepts were drilled into the heads of ordinary citizenry through constant media blare, the violations continued. For some a new term 'pandemic fatigue' popped up as defence mechanism.
As offices brought in work-from-home culture, employees learnt to strike a new work-office balance. But in many cases it ended up causing more stress and increased work load especially on women. Cases of domestic violence mounted as personal relationships deteriorated.
The root of the pandemic was traced to infection jumping from one species to another due to their close proximity caused by dwindling bio diversity. Unbridled plunder of natural resources in the name of development, agriculture, excessive fishing, urbanisation etc has led to dramatic changes in food chain.
Hopes were raised briefly as lock downs reduced pollution levels, factories emitted lesser fumes, fewer vehicles ran on the streets and overall carbon emission levels reduced. Cities began to breathe easy, but all these proved to be temporary as things are now back to square one.
The Paris agreement seeks to limit rise in global temperature below 2 degree centigrade. But the target looked remote as 2020 is set to be the warmest year ever.
What seems to be difficult is change in attitude of human beings though millions experienced near-death due to the pandemic. The mightiest to the weakest to the poorest were subjected to the vagaries of the disease but once its effects were gone old habits seem to have bounced back with vengeance.
The political class continued to play its devious games. US President Donald Trump, who has mercifully lost the elections reinforced worst possible human traits by refusing to wear face mask, mocking his scientific advisors and trying to use vaccine as a propaganda tactic to win the elections. Many other authoritarian rulers world wide emulated him such as Jais Bolsonaro, the president of Brazil.
In India the pandemic came handy to attack and stigmatise anti-CAA protestors. The debate over Citizenship Amendment Act was reduced to partisan politics. BJP went about polarising the population though elections to Delhi Assembly were over.
A congregation of Tablighi Jamaat in Delhi came handy. As the practitioners of an orthodox form of religion gathered ignoring social distancing norms, the worst form of stereotyping took shape. They were linked to terrorism through vicious social media campaigns. It took 18 months and the judiciary came to their aide and declared all of those detained or arrested as innocent.
Prime Minister Narendra Modi in March announced one of the biggest lockdowns in the world by asking 1.3 billion people to restrict their movements. Following this air, bus and train services were suspended at a short notice. With no option millions of people had to walk back miles from cities to villages to reach their homes.
The good news at the end of the year has come in the form of definitive fall in number of Covid cases in India. As the pandemic begun to show signs of waning, bad news came from a mutated strain forcing a fresh lockdown in UK and in parts of Europe. As vigilant state governments begun to prepare, an unmistakable message has emerged that the guard mustn't be lowered yet.
An early success of vaccine experimentation has come as the second major relief to the World. In India the vaccination of front line workers is likely to begun by January raising the hopes of millions in protecting themselves and returning to normal lives.
Science has really come to the aid of humanity in an unprecedented manner as vaccine development that normally takes 10 to 15 years is collapsed into an unbelievable timeframe of 8 to 10 months.
With the pandemic receding, the poor, the unemployed and the middle class have begun to pick up the pieces to rebuild their lives. An arduous task, it may take a while before life returns to normal. Hope rests on 2021. Happy New Year!