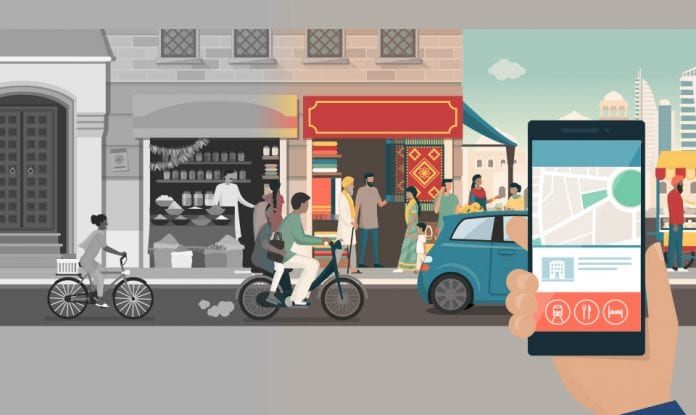 In the early 1980s, if you lived in Bhopal, the capital of Madhya Pradesh, and wanted to commute within the city using public transport, it would have taken hours to negotiate a few kilometres. The city buses would halt at designated stops and continue to stall endlessly until they found enough passengers to fill the seats. They wouldn't move until they were tailed by another bus similarly looking for passengers. In smaller towns the task was even more arduous because public transport simply didn't exist. Commuters had no option but to sweat it out waiting hours at bus terminals and stops.
Owning a vehicle was a luxury. There were only two models of cars available — Ambassador and Fiat, and these were owned by the super rich. The favourite carriers of the middle class were two scooters of Italian make — Vespa and Lambretta. Both had various brands as ownership of the companies that manufactured them changed frequently. Of the two vehicles Vespa, whose Indian version was largely manufactured by Bajaj, was more popular. It had a waiting time of nearly a year, but if you had the right contacts you could get your favourite vehicle in six months. Lambretta was more easily available, with a waiting period between booking and delivery reduced to a month.
Vespa and its variants were more fuel efficient and, therefore, in a price-sensitive country like India it was the preferred choice, though it had a problem. Since the engine was on one side of the vehicle's chassis, those learning to drive found it often difficult to balance. Both vehicles were workhorses and one could either add an extra seat or tie additional luggage to the spare wheel. There were no side indicators and turns were conveyed by show of a hand. Those days, helmets didn't exist and traffic was much lighter and, therefore, people could feel and enjoy the wind in their hair. The petrol cost was ₹12-15 a litre.
Cut to the present, the Metro network has spread far and wide. In Delhi, the Metro network is 373 km long with 271 stations. The coaches are world-class and travel is a breeze. The air-conditioned coaches give a salubrious feel. The frequency of trains are so awesome that during peak hours, the time gap between two trains running in the same direction is less than 90 seconds. The culture of Metro is now spreading to several cities.
Besides the Metro there is a plethora of bus services, both air-conditioned and otherwise. Cities are not stopping at single solution and are trying to develop multi-modal travel solutions that include BRT buses, mono-rails and trams. There is even talk of hyperloop trains whose speed could almost match a jet plane. Besides, the aviation sector is now exploding. Compare this with an era where flying was a luxury and there was only one airline — Indian Airlines — owned by the government.
If one were to answer the question: how has India changed in the past 72 years, the way we travel is one quick answer. Though we have many remote parts of India that remain unconnected, the achievements of the past seven decades are phenomenal. Of course, much needs to be done, but there is a need to recognise the ground realities, one of them being how poor India was: the fight was to fulfil basic requirements such as 'roti, kapda aur makan (food, clothing and housing)'.
When the British left the country, the poverty rate in India was nearly 80 per cent. Today, it is reduced 21 per cent, though the population has gone up from 330 million in 1947 to 1.3 billion now. One reason is self-sufficiency in food production. While mouths to feed more than tripled, the food grain production quadrupled. The per capita food availability has increased substantially. In mid-1960s India relied heavily on imports. But after severe droughts in 1965 and 1966 it improved its agricultural practices through the Green Revolution. As a result, a hectare of Indian wheat farm that produced on average 0.8 tonnes in 1948 went up to 4.7 tonnes in 1975 and 6 tonnes per hectare in 2000.
India is now the world's largest producer of many fresh fruits, like banana, mango, guava, papaya and lemon, vegetables, like okra, chickpea, milk and several varieties of crops such as chilli, pepper and ginger. India is now the second largest producer of wheat and rice, the world's major staple foods. It has become an exporting nation.
As a nation, India has come a long way from a humiliating agreement called PL-480 it signed with the USA in the mid-60s after two consecutive droughts. India had no foreign exchange and the purchases were done in rupees. The agreement came with strings attached, but eventually the country managed to assert and display its strategic independence through 1971 war.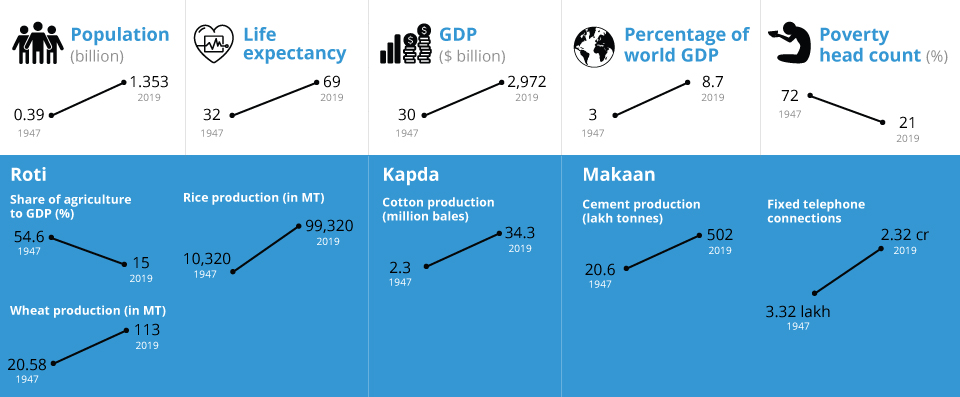 Towards midnight of August 14, 1947, India's first prime minister Jawaharlal Nehru gave a minute-long speech at the Central Hall of Parliament called 'Tryst with Destiny', which brilliantly captured the then prevailing mood of the new-born nation. Nehru said, "…we shall redeem our pledge not wholly or in full measure but very substantially…" The transformation of the nation was slow, incremental and almost unnoticeable. The socialist path of growth had its challenges but it provided the nation with some solid base in the form of public sector undertakings. That was an age of institution building and they took shape in the form of IITs, IIMs and AIIMS to name a few.
But India changed rapidly and it came in the form of economic reforms in 1991. In 1985, the then prime minister Rajiv Gandhi began the reforms and dramatic opening up happened during Narasimha Rao's period. Indian economy began to integrate itself with the world. There were widespread revolution in the information technology and communications sectors. The economy opened up dramatically and it touched all aspects of life. The age of high import barriers and tariffs was over, the industrial policy resolution was rewritten and domestic sector thrown open for competition. In 1991, India was left with foreign exchange equivalent to only 7 weeks of import and it had to pledge its gold. Now it talks of becoming a $5 trillion economy.
Before the 1980s, owning a fixed line phone, which used to be a big black machine, was a luxury. Entire neighbourhoods, of hundreds of families, were dependent on that one machine. In the 1990s, when the sector was opened up, cell phones, each the size of a brick, were introduced with a tariff of Rs 18/per call. Imagine a world without desktop computers, laptops and cell phones. The world of personal entertainment was restricted to state-owned television, Doordarshan, which had fixed news bulletins and entertainment programmes. The advent of cable television, followed by satellite television, changed the scenario in the 1990s.
In the late 1980s, as the Berlin Wall fell and perestroika (need for political and economic restructuring) and glasnost (new era of transparency and openness) were uprooting the socialist regimes world over, India's politics too was changing. The Mandal agitation swept north India and the affirmative action that was being practiced in Tamil Nadu by Dravidian parties found a new home in the north, in the Hindi speaking states. Simultaneously, the Ram Janmabhoomi agitation picked up steam and with the fall of Babri Masjid in 1992, the Hindutva politics occupied the centre stage. The culmination was the year 2014 that saw the installation of the Modi 1.0 government.
Indians firmly believe in tomorrow. A large number of Indians have prospered these seven decades as many of them were brought out of poverty. But India, being a populous nation, still has a large population that is poor, socially oppressed and denied several basic facilities. Reforms in health and education are needed for faster development. The challenges are many. And yet, India is better placed to achieve its goals now more than ever.
One crucial aspect is India's firm belief in democracy and the democratic process of selecting leaders through elections, which has provided the much-needed political stability to the nation. With right-wing politics and its eccentricities, in the form of Donald Trump and his ilk, sweeping the world, there are many who fear the new world order.
In India, the sharp right turn in overall politics since the past few years, including the abrupt abrogation of Article 370 in Kashmir recently, has left many worrying.
Indians largely believe in a multi-cultural, multi-religious, and multi-faceted ethos. Its electorate, which is young and generally despised politics all these years, has now begun to show interest. Social media and the advent of a powerful and charismatic leader in the form of Narendra Modi have kindled their interest in politics and national affairs. They are keen to participate in nation-building and the right-wing forces riding on this desire, driving home several righteous-sounding messages. Their task has been further made simple by a weak and rudderless Opposition. However, for a vibrant democracy, the nation needs its Opposition as much as its rulers.
As India marks its 73rd Independence Day, Indians must understand that while celebrating our past, it's also important to analyse the present — where we are going wrong and why. Happy Independence Day!