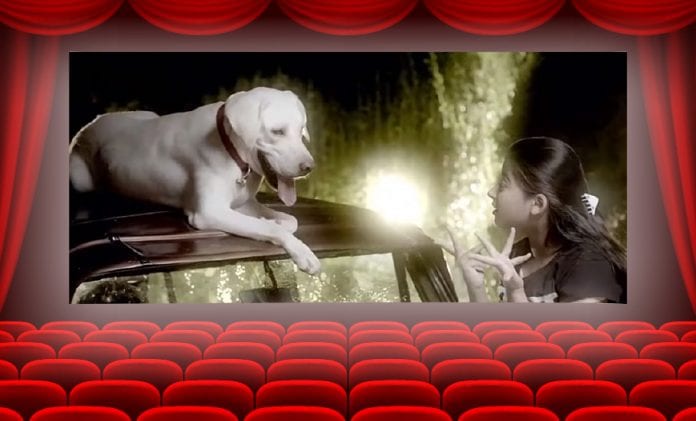 Imagine this scenario: a woman wakes up naked in an abandoned building and eventually goes to the nearest dumpster to find something to cover herself with. But a pack of ferocious stray dogs get territorial and one chases the woman across the street, into a parking lot, where there's a building, and sits outside the toilet that she manages to lock herself in. It stays there, growling, terrorising the woman.
This is one of the many ridiculous representations of animals in movies. 'Aadai', a Tamil movie starring actor Amala Paul, shows stray dogs to be vicious and vengeful, a common (and uneducated) theme used in the Indian film industry. Let's face it — no dog, unless trained, is going to hunt you down like that. We need to give stray dogs some credit; they have better things to do than sit in front of a toilet, waiting for a nude woman to come out. Unless, of course, the dog is a symbolism for lecherous, rapey men…
In a desperate attempt to show animals on screen, Indian movie makers tend to portray them in problematic roles that range from cuddly pets with human traits to them being heroes, villains and even ghosts.
When's the last time a dog chased you beyond its territory, with a vengeance that only humans can muster? It's a dog's natural instinct to protect its territory and barking is a way it expresses itself. Making the assumption that all stray dogs are ferocious, especially through a mass medium like cinema, is just wrong. A sense of fear of stray dogs is instilled in the minds of people as Indian breeds are always misinterpreted in Indian cinema.
Indian breeds are conveniently put under the term of 'indie' dogs and are most often used to portray stray dogs. 'Pedigree' dogs — largely breeds from the US and Europe – are your good dogs, the ones you keep at home, the ones you cuddle and love. Almost all the positive portrayal of dogs in Indian films is with 'pedigree' dogs — Labradors, Golden Retrievers, German Shepherds, Bulldogs, Pugs…
Sruti Nakul, a pet parent and social media influencer, says, "Indian movies portray pedigree dogs as those that should be kept at home and indie dogs are shown as aggressive, and barking and charging at people. Yes, stray dogs bark and run behind vehicles but that's because they are treated badly. Vehicles try to run over them and people throw stones at them. If you stop your vehicle near the barking dog, it doesn't do anything. Movies also show rottweilers and German shepherds as vicious but that's untrue. It all depends on how you bring up a dog."
Dogs are given human traits
Every animal has its own behavioural characteristics, but many movies tend to give them human traits, altering people's expectations of the animal and a pet.
In Jackie Shroff-starrer 'Teri Meherbaaniyan', the dog witnesses his owner's murder and eventually chases and kills all the antagonists. As far as we know, dogs don't plot revenge. It's a human emotion that is projected onto the animal in order to make it more relatable.
While this may seem harmless, it instills fear as well as unrealistic expectations of dogs over their loyalty. In 'Khoon Bhari Maang', Rekha's dog literally takes a bullet for her. And the 2015 release 'Dil Dhadakne Do' is narrated by the pet Bulldog (Pluto Mehra), who seems to understand emotions that even humans in the film can't.
This unnatural behaviour is taken a step further in Nayantara's Tamil movie 'Dora', in which the ghost of a dog takes control of the car and hunts down the people who murdered its owner.
Gayathrie Shankar, an actor and animal rights activist, says giving animals human traits can instill fear in people. "Animals are given humanistic traits in movies — like they understand conversations or undercurrents. For people who don't regularly interact with animals and don't understand their behaviour, what they see on screen becomes the yardstick for any future encounters with animals," she says.
The cult classic film 'Hum Aapke Hain Kaun' features Tuffy, the Pomeranian who has the ability to make people fall in love with each other. 'Poovellam Un Vaasam' shows a German Shepherd that reunites two families; Facebook in 'Golmaal 3' follows the instructions of biting anyone who wears boxers with a bone in its pocket by mere observation; and the Retriever Labrador in 'Main Prem Ki Diwani Hoon' has the most bizarre and animated reactions to his owner Kareena Kapoor's instructions. The movie also shows a parrot that speaks only through movie names.
"Maybe this is done in an attempt to make the character more relatable. When the characters are shown in a positive light, it's okay, but when shown as revenge seeking, grudging creatures, films are inciting fear in viewers," Gayathrie adds.
Romanticising pedigree dogs
Hollywood movies have influenced the way in which India cinema shows dogs. Golden Retrievers, Bulldogs, Great Danes, Mastiffs, Pugs and many more breeds from the West are used in Indian movies to play the best friend of the protagonist or the loveable character.
Akshay Kumar's 'Entertainment', Dhanush's 'Velaiilla Pattadhari' and Tushar Kapoor's 'Kya Super Kool Hai Hum' are just a few of the movies that use Western breeds to show the ideal pet. Indian breeds are conveniently left to play vicious, ferocious strays that people should be wary of. Even our furry friends can't seem to escape classism and racism.
Is it asking too much of the film industry to show a dog as a dog? And to use Indian breeds instead of glorifying and romanticising breeds that can't take our tropical climate? Owning Huskies and Saint Bernards in India is ridiculous, even with air conditioned rooms and all the jing-bang.
Very few films show Indian dogs in positive or neutral light. 'Pariyerum Perumal', 'Kakka Muttai' and 'Mera Naam Joker' are some exceptions.
In 'Chillar Party', the kids of a gated community in Mumbai join hands to do a chaddi march (protest while walking around the city in their underwear) in an attempt to save their friend's stray pet dog from being taken away to the shelter.
It's not just dogs
Dogs are an inescapable part of our lives so their portrayal in mass media needs to be done more carefully. But other animals such as elephants ('Kadamban', 'Kumki'), parrots ('Main Prem Ki Diwani Hoon'), mosquitoes ('Robot'), flies ('Eega') and especially snakes ('Nagina') have either been portrayed negatively and unrealistically, or they have been exoticised and turned into comic relief.
Snakes have it the worst. They are looked upon as scary creatures that kill people to take revenge, when, in fact, snakes are more scared of humans than we are of them. They bite when they feel threatened.
Shravan Krishnan, an animal rights activist, says that apart from misrepresentation of their behaviour, there's a lot of fear mongering. "Take snakes for example, since I work closely with them. Movies and serials portray them as vengeful and vicious, which has no scientific base. Even today, people believe that snakes are reborn and will take revenge, or that they remember people."
Sruti says, "I'm petrified of snakes because of how they are portrayed in movies but I know that just a small percentage of snakes in India are actually venomous. Cinema needs to educate people on such issues and most movies don't do that. Yes, cinema is meant to be entertaining and not educational but not at the cost of others. The same applies for how women are represented, how stalking is glorified, how toxic masculinity is encouraged in movies. Filmmakers have to be responsible and careful about what they say through their movies."
Gayathrie, who works closely with animal rescuers, adds, "Films and serials have done gross injustice to shy animals like snakes by portraying them as vengeful, vicious creatures. I think that trend is slowly changing as far as Tamil movies are concerned. I urge filmmakers to be mindful when representing animals," she says.
The way forward
The mindset of filmmakers has to change — they have to educate themselves more. Gayathrie says. "Being a part of the industry, I see how animal welfare has to have a two-pronged approach. On one hand, there are many people willing to help animals but we also need to look at ways to bring about awareness and stop animal abuse," she says.
Shravan says that while it's understandable to use dogs in films, it no longer makes sense to use other animals since technology has advanced so much. "Most countries have moved on to computer graphics. There's a lot of cruelty that happens — their natural behaviour isn't shown on screen. Take for example, a chimpanzee wearing a cooling glass or an elephant playing football. It's not natural and that shouldn't be encouraged. Especially when computer graphics can be used."