Perched on the middle of an open field in Theni district in Tamil Nadu, an elderly man wearing a white shirt and dhoti, readies a patch of land to cook a Christmas special dish. With a camera focused on him, 62-year-old Arumugam wishes his viewers and starts skinning a turkey. He then seasons it liberally with a paste of butter and chopped coriander leaves and starts cooking it using firewood. All this while, his 28-year-old son, A Gopinath, is capturing every little detail on camera and later uploads the video on YouTube.
The video titled 'Unbelievable Tastiest Turkey Prepared by My Daddy' uploaded on his YouTube channel — Village Food Factory — three days before Christmas last year, generated close to 12 million views. That's roughly about 10 times the population in Theni.
A diploma holder in electronics and communication, Gopinath entered the entertainment industry in 2011. But his quest to become an independent filmmaker continued as he struggled financially and emotionally, assisting film directors for five years in Chennai.
In 2016, when his family broached the subject of marriage, Gopinath wanted to have a stable job with a regular income first. In June that year, borrowing a friend's camera to shoot videos, Gopinath started the YouTube channel, which earned him money that he could never imagine was possible without a regular job.
Within two months, Gopinath says, he earned close to ₹40,000 in ad revenue. This is when he decided to make more videos. In a span of six months, he got about 70,000 subscribers and 35 million views. More viewers meant more money for Gopinath. His income doubled in a year.
Gopinath earns his income through Google AdSense — advertisements that appear every time someone clicks on his YouTube videos.
"As an assistant director, I was not able to find the right opportunities and my income was unstable. When I put out a video about a girl who was murdered in Chennai [Swathi murder case], it gained a lot of traction in a short time. This is when I realised that people will watch videos as long as the content is good," Gopinath says.
And since food has "no language and connects everyone", Gopinath decided to start something related to food. "I did not have to spend much as I took my father's cooking service for free," he adds. Three years down the lane, Gopinath not just became famous but also made his father a YouTube sensation.
Besides the ads that pop-up before a video is played, there are banner ads that appear on the video and above the comment section of his page — all different advertisers.
Keeping his expenses low, Gopinath and his father now prepare dishes exclusively for the purpose of making videos and later distribute the food to villagers, old-age homes and children in their town. Gopinath is now an influential YouTuber. He bought a car and a house in less than two years of starting his YouTube channel.
In three years, with 3.2 million subscribers, he has uploaded 248 videos. His videos have garnered 587 million views so far. It means, Gopinath, who wishes not to reveal his monthly income, earns at least 10 times the money he earned in the first two months.
Ticket to fame
While for some making videos is a passion, for others, it acts as a means to enter the film industry.
Even though he doesn't have long-term plans, Gopinath wishes to make it big in the entertainment industry and vlogging (video blogging) for him is a stepping stone towards his actual goal.
For many others who browse unlimited videos on their smart devices, becoming a social media star remains a goal even as the medium ushered in a new wave of career opportunities.
Snehal Pradhan, former Indian cricketer-turned-YouTuber, runs a channel wherein she teaches cricket and shares tips and tricks to learn the sport.
"I started playing Pokémon Go and went to watch tutorials on YouTube to learn the game. I liked the style of Trainer Tips (an LA-based tutorials channel) and wanted to start something similar for cricket and took off from there," Pradhan says.
Beyond YouTube, more and more youngsters are cashing in on platforms like Facebook, TikTok, etc.
Take for instance, Nakkalites, a Tamil comedy and satire channel on YouTube, run by a team of 25-plus youngsters (some working full-time, some part-time and as interns) and produces in-house videos. "We are a bunch of youngsters passionate about movies. When the government announced demonetisation of all ₹500 and ₹1,000 notes in 2016, we wanted to create more awareness about it and decided to create a spontaneous political satire. We started from Facebook and then migrated to YouTube following good response to our videos," says Arun Kumar, one of the team members.
With 2 million subscribers, the team produces on an average of two videos a week to generate an average monthly income of ₹3 lakh.
"We were making videos part-time, but once the channel picked up, some of us quit our jobs and took up YouTube full-time thinking it could be our ticket to movies," he tells The Federal.
The team is constantly in touch with producers for bigger projects.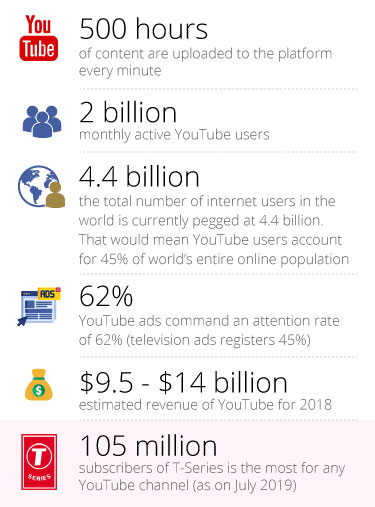 Beside ad revenues, vloggers also tie up with brands and promote their products and services, either as an input within the video or outside the platform, to earn more revenue as they scale up. Since the ads are managed by Google, which controls YouTube, the vloggers do not have to struggle much going around and convincing advertisers. For every pie that the Youtubers generate, Google take 40% of the share for the service it provides.
Even on TikTok, a short-form video app, advertisements are now regular as one swipes more videos on the platform. And on Instagram, users with millions of followers, tend to promote travel brands as part of the regular posts and videos.
Besides offering the vloggers a platform to upload their content, these social media sites conduct a creator summit every year and hold fan festivals from time to time in different regions to engage with the creative community and online viewers. Some of the platforms give rankings and star badges, indicating their popularity, thereby inculcating a sense of achievement among vloggers and pushing them to create more content.
"More and more brands are now realising the potential of social media influencers to reach their target customers. But for some influencers (especially artists and musicians), it is also a platform to showcase their talent for social recognition, which may convert to offline business," says Hanish Bhatia, senior analyst at Counterpoint, a technology market research firm.
These social media platforms have helped many become 'stars' in quick time. Content creators like Amit Bhadana and Bhuvan Bam (BB Ki vines) have given stiff competition to many Bollywood actors in terms of popularity.
To monetise, a channel must reach 4,000 watch hours (in a year) and have a minimum of 1,000 subscribers, according to YouTube policy. Once the channel is reviewed and approved by the platform, the vloggers can start making money through ads.
On an average, depending on how much time users spend on the channel, a YouTuber (channel) could earn $3,000-7000 (Rs 2-5 lakh) per million views. And since the videos are available for the users anytime, anywhere, even views on old videos, brings in revenue.
With 400 million smartphones users and 500 million internet users across the country, the targeted online advertisement that can be tweaked according to the taste of the viewers are increasingly becoming popular among advertisers.
The total advertising expenditure (adex) in the country is estimated to touch ₹70,889 crore in 2019, up from ₹60,908 crore last year, according to Pitch Madison Advertising Report, 2019. The report further notes that the digital advertising market had an impressive growth of 26% in 2018.
The growth of digital medium is fuelled by mobile, online video and social media, which are increasingly attracting more advertising investment. Digital adex touched ₹11,705 crore in 2018 (amount tripled in four years). It is expected to grow up to ₹15,612 crore in 2019. And Google and Facebook continue to dominate digital spends, cornering 65% of the total digital advertising.
The data consumption growth in India is driven by the availability of affordable smartphones, easy financing options, cheaper mobile data plans, and plenty of free and paid premium video content options.
"When it comes to video content creators, we have seen phenomenal growth of influencers across different platforms. Indian channels with 1 million+ subscribers on YouTube, has grown from 16 channels in 2014 to more than 1200 channels in 2018," says Bhatia.
In fact, mobile data consumption has grown significantly — 9.8GB/month per user — according to Ericsson Mobility Report, June 2019.
Bhatia believes there is significant room for growth in this category as smartphone penetration rises and more people get access to mobile video streaming.
This is certainly good news for vloggers like Arun Kumar, Gopinath and Pradhan. After all, it's not just about money. It's also about living their dreams.