Sitting in a small rented shop in Yarab Nagar to the south of Bangalore city, Aasha Vadivelu and four of her family members sort through dry waste every day. For the poor family that has been dependent on waste segregation for livelihood for decades, things are turning for the better in the last few years.
A rapid rise in mobile phone usage and the growing trend of quick disposal—because of poor quality or to adapt to newer technologies—has resulted in higher electronic-waste generation. An ASSOCHAM–KPMG study suggests that mobile phone e-waste accounts for close to 12% of the electronic dump annually.
For Aasha and her family, it's an opportunity that has helped them grow economically, and skill-wise too.
Every quarter, they collect roughly about 750 kgs of e-waste that includes mobile chargers, batteries, chips, computer equipment, speakers, TV sets and electronic home appliances, most of which are categorised as low value goods.
While earlier they used to burn the wires and electronic gadgets and encountered health problems such as skin allergy, breathing issues, etc., a training session by Hasiru Dala, an NGO working towards environmental consciousness, in 2016, turned the tide for them and helped them see value. They have started making ₹30,000-35,000 every quarter for the e-waste they recycle and sell, in addition to the money from other dry waste they segregate and recycle.
But for the NGO, Aasha and hundreds of waste handlers like her across the city would be down in the dumps. Thanks to the awareness and skills, even the environment can breathe better, even if only a little.
Manvel Alur, CEO and founder of Environmental Synergies in Development (ENSYDE), an organisation that aims to reduce the environmental footprint of corporates and institutions in India, says at about 92,000 metric tonnes of e-waste, Bangalore produces about one-tenth of the total e-waste generated in India annually.
She says it increased almost three-fold in the last three years, led by the smartphone revolution.
"Although technically people hoard electronic items as they have an emotional attachment or they see value in it, small items like batteries, charges, wires, cassettes and other low value goods end up in waste bins," Alur says.  "And even though the rules say they need to be segregated and collected separately, most of the time they end up in dry waste bins."
Ahead of Bengaluru, there is Mumbai and Delhi in the e-waste generation list, and after that comes Chennai, Kolkata, Ahmedabad, Hyderabad, Pune, Surat and Nagpur.
With budget and mid-range phones becoming more affordable and the 'disposable culture' that comes with them,  the e-waste problem is only getting worse.
Global e-waste
Based on the available data collected from 1,380 producers pan India, the Central Pollution Control Board (CPCB) estimates that India generated about 10.14 lakh tonnes of e-waste in 2019-20, up from 7.71 lakh tonnes in 2018-19 and 7.08 lakh tonnes in 2017-18. There are 312 authorised dismantlers and recyclers in eighteen states of the country.
While industries contribute to 70% of e-waste, households account for 15%. The rest is from discarded electrical and electronic equipment (EEE).
India is the fourth-largest contributor of e-waste after China, the US, and Japan. But with the growth in IT and communication industry enhancing the usage of electronic equipment exponentially, industry experts and consulting bodies like Ernst and Young estimate that India's e-waste generation has crossed the 2 million mark already (double of what the government reports).
According to the Global e-Waste Monitor, in 2019, the world generated 53.6 million MT of e-waste, an average of 7.3 kg per capita, an increase of 21% in 5 years. Asia generated the most at 24.9 million MT. However, its per capita figures stood at 5.6 kg. India generated nearly 3 million tonnes in 2019, at an estimated per capita of 2.4 kg.
Kaushik Chandrasekhar, associate fellow, Center for Waste Management (CWM) at The Energy and Resources Institute (TERI), says that international studies base their e-waste generation numbers on 1–1.5 years use per phone, whereas the CPCB's numbers are based on an estimated 4–5 years' usage per phone on average, considering multiple levels of phone usage (first sale, second re-sale etc.), which lead to lower estimates.
Guha Jayaram, director at TES-AMM India, an authorised waste recycler in Tamil Nadu, says the waste generation is through two modes—business to business (B2B) and Business to Consumer (B2C).
On the B2B side, big companies are made accountable but that is not the same with smaller organisations, wherein there is no mechanism to track.
On the B2C side, while consumers are aware about e-waste, they are not aware of the value it commands, he says.
That, he says, will come from increased awareness. However, he agrees that there's tremendous progress in the last three years.
TES-AMM handles about 20,000 MT of e-waste annually across four cities in Bangalore, Chennai, Hyderabad and Haryana.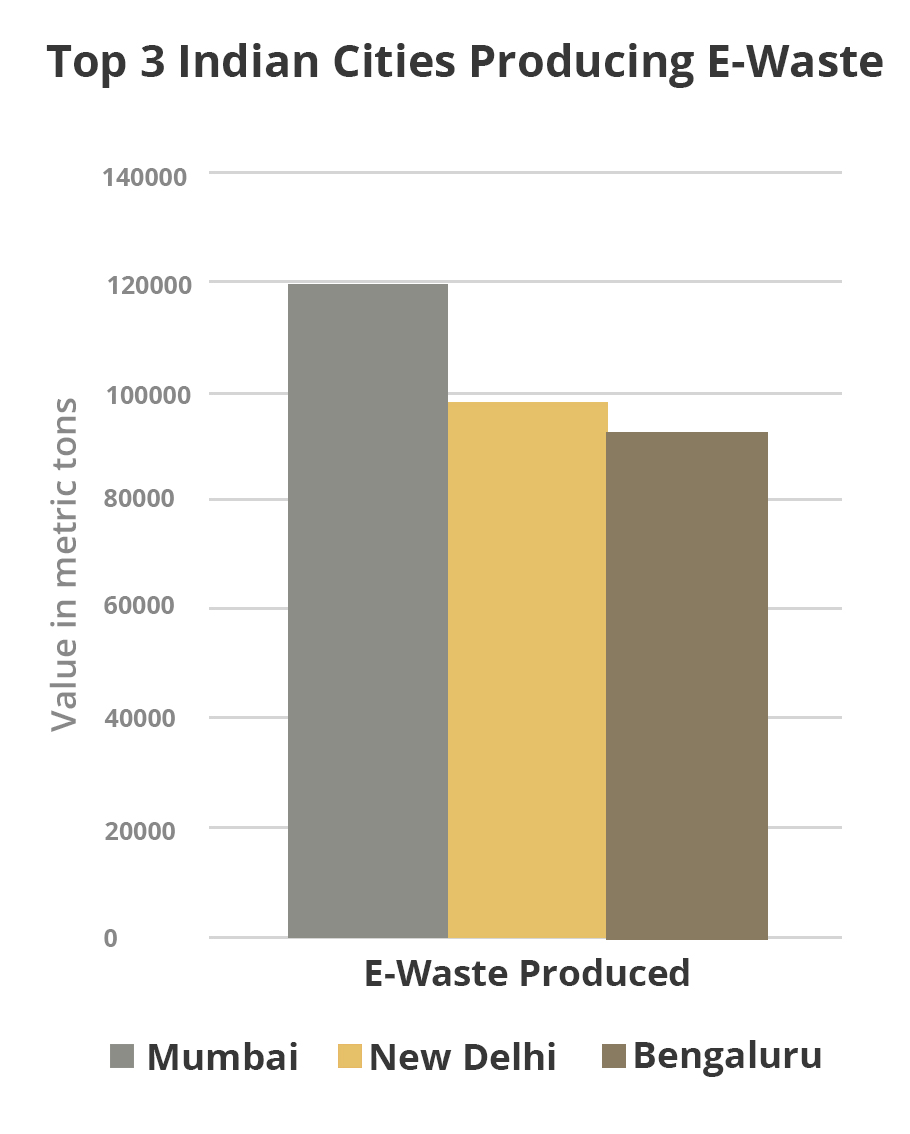 "In the last 2-3 years, there's been a consumer awareness drive by various stakeholders including the government, NGOs, and recyclers," Jayaram says. "And, with the government making extended producer responsibility (EPR) mandatory for companies, where they are asked to channelise e-waste, there's some sound environmental management in place."
Health hazards
The management of e-waste, 95% of which is still handled by the informal sector that does not have formal training, poses serious risks to human health and the environment.
A parliamentary panel in 2017 concluded that toxic constituents such as lead, mercury, cadmium, chromium and polybrominated biphenyls and diphenyl were used in manufacturing electronic devices and the e-waste generated thus posed serious health hazards.
"Commonly observed effects of such heavy metals on human health can predispose various diseases of the skin, nervous system, kidney and respiratory system," it said.
The committee had recommended strict implementation of e-waste rules, preventing illegal trade in electrical and electronic equipment, fiscal incentives to the e-waste processing industry and collection of e-waste in an organised manner.
The National Centre for Biotechnology Information (NCBI) has time and again highlighted the health hazards of e-waste and sought low-income countries like India to design sustainable and environmentally sound processing of e-waste.
There are several illegal waste management units in the Seelampur (Delhi)-Ghaziabad (UP) stretch which receive truckloads of e-waste daily and use crude methods such as open incineration and acid burning to extract reusable components and precious metals such as gold, silver titanium and palladium, besides other metals like copper and aluminium, releasing toxic gases as a result.
Taking cognisance of a report on the matter, last year, the National Green Tribunal (NGT) had issued notices to the Uttar Pradesh government.
The state last month told NGT that 80 illegal units were raided and shut and also said that the government would pin the responsibility on the producers for not complying with EPR norms, which make producers liable to pay 30-70 per cent (over seven years) of the e-waste they produce.
E-waste has been listed in the Schedule VI of the Hazardous and other wastes (Management and Transboundary Movement) Rules, 2016. Also, the government has banned import of e-waste for disposal in the country, something that many developed countries do.
Citing a report by the Ministry of Environment, Forest and Climate Change, which observed in 2018 that many recyclers aren't recycling waste at all, Chandrasekhar of TERI says that while some are storing e-waste in hazardous conditions, others don't even have the capacity to handle such waste.
Possible solutions to reduce e-waste
One of the solutions that Chandrasekhar suggests is to establish a reverse supply chain mechanism to remove older phones and also to incentivise the user through exchange schemes or buy-back offers.
While the unorganised sector has a well-established collection network, he feels that the formalised sector needs to utilise this network to achieve wholesome recycling, and the government needs to step in to bridge the gap and support.
"Incentives are key for the end users. We don't need anyone to advise us to recycle newspapers as we receive a token incentive from the kabadiwala. Forces of the market in a similar fashion must be established to incentivise the end user adequately for e-waste," Chandrasekhar says.