Right next to a containment zone in Uttar Pradesh's Noida, a towering high-rise apartment complex with more than 1,100 flats houses a dirty secret. And Usha Devi, a sanitation worker, has been one of the many keepers of that secret for a couple of years now. Rain or shine, mahamari (epidemic) or Mahashivratri, her God, she says, has never been merciful to his children like Usha who clean up the mess created by the residents.
Until COVID-19 tightened its grip around India, the apartment building was a picture of urban bliss, the kind that's available for sale on the Indian real estate market — a lavish pool, manicured lawns, a fountain spitting water any time of the day, a tennis court, a club, a restaurant, a 24×7 supermarket besides a retinue of staff at the service of the residents.
Today, the pool is dry, the fountain has stopped hissing, the lawns look a tad bit weary, but one thing is running as usual — the sanitation and housekeeping staff (barring a few exceptions). If anything, their workload has increased with working-from-home residents generating a mountainload of work and garbage for these workers. But despite the increase in workload, Usha Devi has found herself jobless.
Advertisement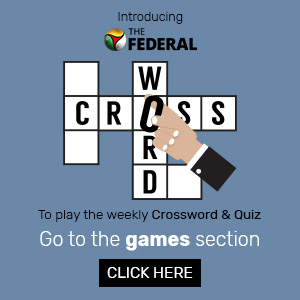 "After the lockdown, they asked us not to come since they can't take the risk of  letting in outsiders. Instead, they have hired some new waste pickers from the jhuggi (slum) behind the apartments," Usha tells The Federal on her way to collect her pending dues.
"Bola aaj nahin milega, do-teen din baad aana (They said they can't pay our dues today and have asked us to come later). Now, can I say the same to the shopkeeper when I go to buy ration?"
This one month, she says, has already put the entire family — husband, son and daughter who too have lost their jobs — under debt.
While Usha Devi begrudges the new waste pickers (who replaced her and around two dozen others), the conditions under which these workers are serving are far from enviable.
As the number of positive coronavirus cases mounted and Gautam Buddh Nagar emerged as a hotspot, so did the mountain of used face masks, gloves and wet wipes, exposing waste pickers to infectious waste.
Mukesh (name changed), who is assigned to pick up trash from three towers in the apartment complex, says his heart skips a beat every time his hand reaches out for a used mask or tissue.
"Residents often discard masks, gloves and tissue papers out in the open. Sometimes inside the lift, sometimes on the staircase. Rich people are only scared of contracting the virus and not about spreading it," says Mukesh, who does two shifts in the building every day.
"Gareeb kab tak virus se bacha rahega. Jab mar jayega aap log tali bajana (The poor can't dodge the virus for long. When I die, you can clap in my honour)," he tells The Federal in an accusatory tone.
The coronavirus outbreak in the country has reported several 'heart- warming' incidents when frontline workers like Mukesh have been garlanded by legislators and applauded by Indians — sometimes from their balconies, sometimes on Instagram and Tik Tok videos.
"But is that enough?" asks an unsparing S Paapathi. A sanitary worker with the local body in Tamil Nadu's Coimbatore, Paapathi dismisses such gestures as "natakam (drama)".
"It is not just during this pandemic that we are at the forefront. But little do we get for our hard work, not to mention the lack of dignity and the danger to our lives," she says.
It has been over seven years since she took up the job after the death of her husband. "Despite serving for so long, I am still a contractual worker and my daily wage is ₹230. I have to work on all days, even if I am sick. If I take a day off, my wages get deducted accordingly," Paapathi adds.
After deductions, a sanitary worker under contract, gets somewhere between ₹7,000 and ₹11, 000 a month, she claims.
"But is that enough for a family of eight?"
While Paapathi didn't receive any training on preventing the spread of coronavirus — except basic instructions like wash your hands and wear masks — others like Usha Devi are less worried about the virus and more concerned about finding a new job.
"Even otherwise, we risk our lives every day. It took a deadly virus for authorities to provide protective gear to us. What if we get infected with some other disease during normal times?" asks M Sangeetha, a sanitation worker at a Government Medical College Hospital in Tamil Nadu.
Although the Manual Scavengers Act suggests providing face masks, caps, gloves and shoes for sanitation workers, they hardly get anything.
"We get gloves, masks and shoes only when some big official from the state or central government visits the city for inspection. But, if we use those gloves and shoes (normally used by construction workers to mix cement), we cannot work at all. Also, it hurts your skin. It's better to work without any," adds Sangeetha.
But COVID-19 has brought in some changes.
"Now, we have been provided with surgical gloves, which are easy to wear and work with. But this happened only after some NGOs and mediapersons raised the issue. Our demands for protective gear and increase in wages always go unheard," says Ganesan, who works with the local civic body in Coimbatore.
Ganesan says most workers like him are forced to work under dehumanisaing conditions not by choice but birth.
"I did not come here to work by choice, but there was no option. Had I not taken this job, there were thousands of others with degrees in their pockets ready to take it up," says another worker Murugesan. The Federal caught up with him while he was disinfecting the streets of Indira Nagar in Selvapuram, Coimbatore.
In his early 20s, Murugesan is a Class XI dropout. Although he knows the risks involved in his job — his parents too were sanitation workers — he was forced to take up the job as his "caste certificate didn't quailfy" him for any other job.
Murugesan is part of an unjust social system that has translated into an 'official' policy in India. Children of sanitation workers — who manually clean sewers and collect waste —  are often forced to fill the positions held by their parents, even when they are qualified for other jobs.
Sanitation workers in local bodies as well as government hospitals mostly comprise people from the socially oppressed Scheduled Caste community, irrespective of their educational qualifications.
For instance, in Tamil Nadu, when sanitation workers die on duty and their children apply for a job on compassionate grounds, they are employed in the same position.
"However, if a policeman dies on duty, his child would not be given the same post, but posted in some other department according to their qualification. Why not the same for Dalits?" asks Karthik, a graduate who joined the sanitation workforce after the demise of his father.
The job, he adds, of course comes with the "added bonus" of discrimination and caste abuse. Even COVID-19 couldn't change this.
Pandemic and human rights crisis
On April 10, an elderly Brahmin man was caught on camera hurling casteist slurs at a sanitation worker in Chennai's Pallikaranai.
In the video, the man was heard saying: "You collect faeces because we are here and you are earning your meals because of our waste." When the worker shouted back at him, asking the man if he was trying to say that the worker eats shit, the elderly man replies: "Yes, you do."
Despite risking their lives for people, sanitation workers in return get abused, says Dalit rights activist A Pannerselvam. "Moreover, they are not even provided with risk allowance that other frontline workers get."
According to him, policemen and health officials get a risk allowance ranging from ₹3,000 to ₹5,000, depending on the cadre.
"Even after submitting several requests to the Union government as well as the state, the local bodies are still reluctant to allocate risk allowance for sanitary workers," he adds.
Unsurprisingly, neither Panneerselvam nor Usha Devi think COVID-19 will change the way the society or the government perceive their work, irrespective of how important their service is, especially during the pandemic.
"For instance, the Union health ministry thinks sanitation workers don't need PPE. Its guidelines on rational use of PPE categorised sanitation work as moderate risk and recommends the use of gloves with an N95 mask. This is abosolutely unbelievable," says a Chennai-based health activist who didn't want to be named.
However, according to the World Health Organization guidelines, sanitation workers should be equipped with a mask, gown, gloves, eye goggles, boots or closed work shoes.
Every time India talks about frontline workers, he adds, it's mostly about doctors. "But what about those cleaning COVID-19 wards in hospitals?"
The past few weeks have already seen a number of sanitation workers testing positive for coronavirus across cities, including Delhi and Mumbai.
Highlighting the plight of these workers in an open letter to Centre and state governments as well as society at large, a group of citizens, recently wrote: "We have to work and build on the understanding that hygiene and well-being are complementary, even identical, just as the tasks of sanitary workers and doctors are complementary, and their purposes identical."
It is this lack of acknowledgement paid to the services provided by them that makes Mukesh angry with the "system". "Right from the government to society, nobody understands our plight. We don't want fake sympathy or symbolism, we want our rights to be secured."
Usha Devi agrees with him. "Our men are still forced to enter manholes and septic tanks without any safety gear. So many of them die every other day. Every day women like me either clean up toilets or segregate waste — from rotten vegetables to used sanitary napkins."
Coronavirus or not, Mukesh adds, our lives are infected by the apathy of an unjust society.
(This story is part of a series on frontline personnel in the fight against COVID-19. You can read the other stories here)