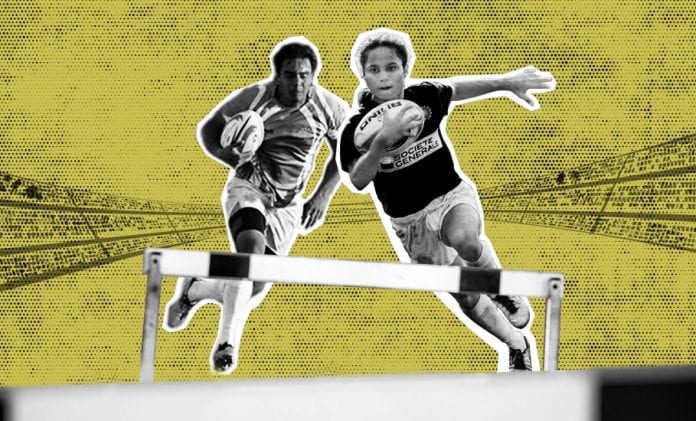 The folklore goes that schoolboy William Webb Ellis picked up the ball during a game of football in 1823 and ran with it, introducing the world to a new sport — rugby. Predominantly popular in England, France and New Zealand, the sport has been embraced by Asian countries in the last few decades.
But India, from where the Calcutta Cup — the oldest international rugby trophy in the world played between Scotland and England — emanated, occupies only a microscopic space on the World Rugby map.
What began on Christmas Day in 1872 between 20 English players and 20 players of Scotland, Ireland and Wales seemed to end the very next year as a local British army regiment was sent back to England, which led to discontinuation of the free bar at the club. While many members withdrew, a few decided to stay. They melted the 270 silver coins taken from the club's funds, made a trophy and presented it to the Rugby Football Union in 1878, on the condition that it should be competed for annually.
Rugby in the post-British era was scarcely popular. But when a passing interest by Indians was noticed, the Indian Rugby Football Union (IRFU) came into being in 1998. Now, IRFU has 24,010 registered players, with 7,160 female, besides 120 rugby clubs.
Sweety on top
In a cricket-crazy nation, very few people discuss the game, and besides the IRFU, there's almost none to nurture it.
"After winning any international game, we just go to our homes, and live in the hope that someday someone will write about our win," says Indian women's rugby team player Sweety Kumari, who is described by Asia Rugby as the continent's fastest player, and the women's rugby website, Scrumqueens as the 'international young player of the year'.
For the 19-year-old Bihar sprinter, rugby was introduced by the secretary of Bihar Rugby Association, Pankaj Kumar Jyoti, who was amazed by her speed at an athletics tournament.
"My speed is a natural gift from God. Even if I don't practise for a month, it will not reduce," she says. "Pankaj sir was so keen on me playing rugby that he sponsored travel fare, jersey and equipment for all local tournaments."
The now-explosive winger went on to form a rugby team at the age of 14 with her friends from athletics.
Like other sportswomen, women's clothing was an issue for Kumari. When the length of the skirt of someone as internationally acclaimed as Sania Mirza is hotly debated, rugby was not going to be any different. But Sweety loves challenges.
"I come from a village, and in Indian villages, you will see women gossiping in a huddle. They often remark on the length of my shorts," she says. ""They would suggest that I, like other girls in the village, should learn cooking at home instead of riding my bicycle to the rugby field every day. But I never bothered about their comments."
For Sweety, all that mattered was her family's support, and that was always enormous. Thanks to that, she went on to play internationals, with her first one being in Dubai, where rugby-specific grounds made her wonder why India lacked them.
"I was spellbound by the rugby grounds in Dubai. Not just one, they have many. And they have rugby-only grounds unlike India's mutli-sports grounds. We thoroughly enjoyed playing there."
Government apathy
Since their debut in 2009, the Indian women's rugby team has come a long way. In February 2017, they won five of six matches at the Asian Rugby Sevens in Laos. In June 2019, they won their first international 15s.
But Sweety believes this is only the beginning, and rugby can achieve a lot more if government helps.
"We women are bringing medals for the country but the government does not give us any attention. The Indian Rugby Union is doing as much as possible, but we need recognition from the government."
Vikas Khatri, who led men's rugby team to many feats, says government recognition can encourage parents to send their children to play the game.
"99% of athletes play sports with the aim of securing a job. The government does not give jobs for bringing medals in rugby. So parents are also reluctant to let their children play the game."
Despite repeated representations to the Haryana government in the last five years, Khatri, who plays for the state team, says it was in vain.
"We want them to add rugby to the state's game policy. If we win any medal for the state, then they should award us ₹3 lakh cash prize," he says, noting that this amount can help them sustain a whole year.
Surprisingly, no cash prize is awarded to any Indian rugby player, even for international achievements.
Need for status change
Khatri feels that the team needs more funds and sponsors to make progress. "Right now the only sponsor we have is Societe Generale, a French bank."
Former India captain-turned-IRFU CEO, Nasser Hussain says the Sports Ministry recognises rugby in the 'other sports' category, which needs to change.
"Once our category changes to 'priority' or to one of the other higher categories, we will get a lot of support."
Hussain, who has scored 14 tries, also emphasises on the lack of infrastructure. "We do not have a single dedicated rugby field across the country. That has been a challenge in growing the game."
There are a lot of sporting arenas which lie vacant and could be used for playing multi-sports, he points out. "You don't necessarily need one playing field for one sport because there is no sport that plays 365 days."
Among other issues, the lack of opportunities post-retirement is another worry. As of now, rugby coaching is not a part of the curriculum at the National Institute of Sports (NIS), a chain of Asia's largest sports institutes where diploma courses in coaching are offered in 26 different sports.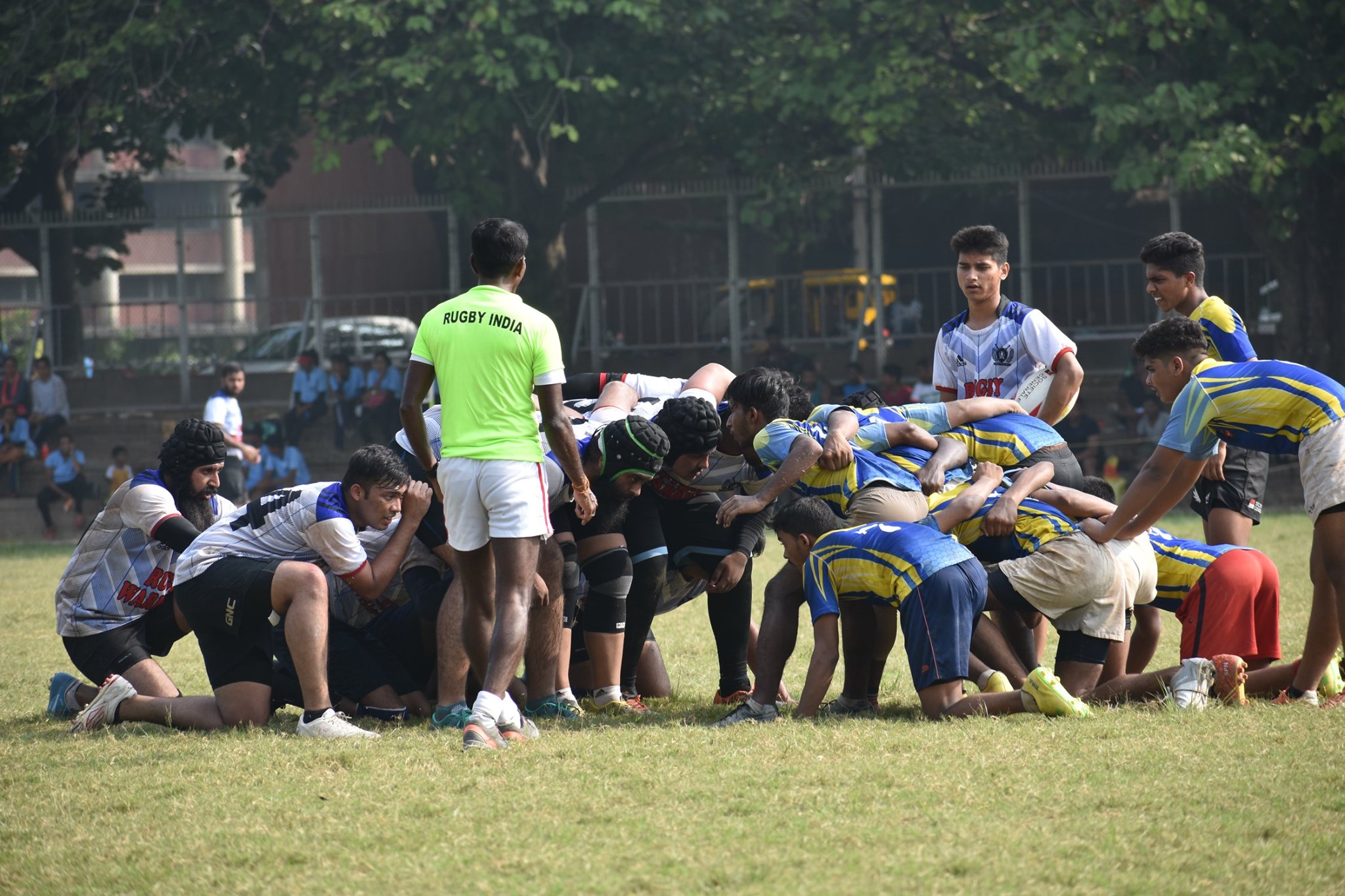 Hussain, however, concedes that the Rugby Union has not done enough homework to get rugby into the NIS.
"To be fair, we have been a bit slow in getting our act together. Our homework has taken a little longer than we expected," he says, hoping that by the end of the year, a six-week curriculum for rugby would be introduced at NIS.
But Vabiz Barucha, women's captain, is all praise for the Odisha government which has partnered with the rugby union to build "a high-performance centre where players can train". "Once we have good infrastructure, our rankings will improve."
Lack of media attention
Khatri feels that the biggest support that rugby needs is from the media. He recalls how India beat Pakistan in Pakistan in a 15s game with just 14 players but there was not much hype around it.
Of the 23 players, 10 were denied entry into Pakistan as they were army men. Since they were short of players, Hussain, who was also the manager, had to come out of retirement and play.
"Despite that, we beat Pakistan at their home. But how many know about this?" Khatri asks.
Rugby sevens became a core sport in the Commonwealth Games in 2010, when India hosted the Games in New Delhi, and the Indian rugby team was part of it.
"Considering we were a low ranked team and up against the best in the world, our performance was really good. But all that the media highlighted was that we did not manage to win," rues Hussain.
The women's team was faced with a heartbreak in 2018 when, despite meeting the requisite selection criteria, it was excluded from the final contingent for the 2018 Asian Games in Indonesia. Lack of funds and internal miscommunication is believed to have led to this fiasco.
Barucha believes that an issue as weighty as this was not highlighted by the media.
"I think it was not spoken about enough that we were denied participation in the Asian Games despite meeting the criteria. It's a gone story now but not enough noise was made about it," she laments.
Barucha, who works as a physiotherapist for a living, feels that the media should start from scratch — cover local tournaments so that more people know about rugby.
Slow growth but steady hope
Indian rugby's progress is slow, but as they say, some progress is better than none.
The government has included rugby in the School Games Federation of India (SGFI), in university games and recently in Khelo India Youth Games. "So that is a good thing."
"The union has been doing a lot of work since the past 3-4 years. It started the 'Get into Rugby' programme in 2012 wherein they employed rugby development officers in every state who go from one school to another to promote the game," says Khatri.
He echoes Sweety's review of new foreign coaches. "A former South African player is now our coach and will remain at the helm for the next few years. A long partnership with the same coach will help us a lot."
Despite lack of match practice and experience, India's rugby stars are envisioning a bright future.
Sweety hopes she will help India win a gold at the Asian Championships someday, after which she says her vision would be to qualify for the Olympics and the World Cup.
Despite India's low ranking of 77 in the world, she is confident of scaling new heights.
For Khatri, the biggest aim is to take India to the top 5 in Asia in the next five years. He feels that there are a lot of talented players, but they need to be nurtured well.
(With inputs from Anushka Deepak)