A few years ago, a day like Monday, April 29, would have been a busy day in Namakkal, Tamil Nadu. The state board Class 10 exam results had been released and that would have meant frantic phone calls and personal inquiries at the schools here. But this year, Namakkal streets showed little traces of any buzz and the schools wore a deserted look.
Namakkal's schools are not typical. Until recently, they churned out Class 12 toppers by the hundreds and anxious parents would have fervently wished to get admission for their sons and daughters in these schools after Class 10.
Some three decades ago, Chennai, being the capital, used to produce the toppers of the Class 12 state boards. But over the last three decades, the focus had shifted to smaller towns and cities. With rote learning entrenched and demand for higher education spreading, new schools sprang up in the smaller cities, mastering the art of cracking the examinations and teaching the students.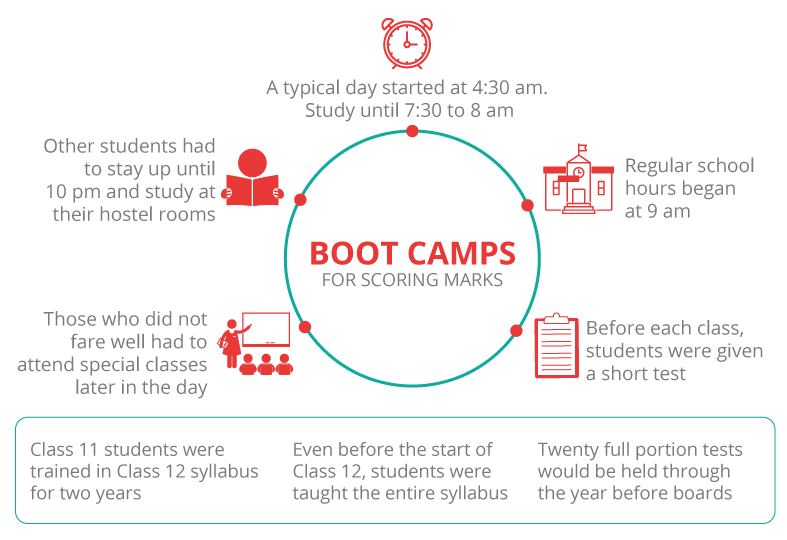 The questions, including in science subjects, rarely required thorough understanding of concepts and their application. Rote learning of answers to previous years' question papers were enough to score 100% including in Maths and Physics.
Erode and Namakkal were among the districts that hosted topper factories. Namakkal, especially and perhaps just out of sheer accident, saw the mushrooming of several such schools.
Things started chancing in 2015. That year, the state government decided to stop announcing the names of toppers. The enthusiasm for these schools waned somewhat, as a result.
Then came the crushing blow in 2017: NEET and change in question paper patterns. These meant that the methods of the Namakkal topper factories had become outdated.
Statistics showing change
Across the state, there has been a decline in the number of students taking state board exams because of these changes. In Namakkal, while 26,343 students took the Class 12 boards in 2018, only 22,727 of them appeared in 2019 – a 14% drop in one year. In Erode, while 25,009 students appeared in 2018, 2019 saw 780 fewer students taking the exam.
Speaking to The Federal, academic director of PGP International School at Namakkal, H Jayashree conceded that NEET has delivered a blow. The principal of another private school in Tiruchengode opined that students from outside the districts had stopped seeing much attraction in Namakkal district schools although the numbers were steady for students within the district.
History and economy of Namakkal region
Namakkal was once known for being the state's hub for egg production. It was also the state's transit point for trucks which triggered spinoffs in terms of setting up of repair centres and workshops.
Birth of topper factories

In early 1990s, a group of government school teachers in Namakkal came together and started a coaching centre for students taking Class 12 exams
Buoyed by success, they started a private school
In early 2000s, they convinced the parents of district level toppers to send their sons and daughters to their school, assuring of special training
This model succeeded and in a few years they started offering merit scholarships that became a major attraction
As more schools started following this model, Namakkal became the Kota of Tamil Nadu, churning out toppers
In 2015, the government decided not to publish the list of state rank holders. Without this evidence, enrollment in Namakkal schools started declining
Some 25 years ago, a few government school teachers got together and perfected the method of coaching students on exam strategies. One thing led to the other and, before long, some 20 schools started up in the town — 50 in the district.
Around the schools an ecosystem grew. For instance, house rentals boomed.
Many students came from outside the district and hostel facilities were limited. Parents used to rent a house close to the school. "Either one of the parents would move here to live with the student or the grandparents would shift to the house to be their guardians," said S Janaki, a resident of Bodhupatty in Namakkal, who used to let out a house.
Now, however, house rentals have taken a sharp dip, she rued. In the past, ₹7000-₹10,000 for one BHK a month and an advance of ₹50,000 was the norm. "This year we were ready to reduce the rent to less than ₹5,000 and the advance amount to ₹20,000, yet no one came to rent our house," Janaki said.
Strategy for NEET
NEET has been the gamechanger across Tamil Nadu and in Namakkal, too. CBSE schools have got a boost, and coaching centres have been brought inside the schools. "We had as many as 20 sections for Classes 11 and 12. But in 2018-19, it got reduced to just five sections in Class 11 and seven in Class 12. In our CBSE schools, we used to have just two sections for all the groups in Classes 11 and 12. Now, we have four sections for Biology alone. And another two for Computer Science group," said S Gunasekaran, managing director and founder of Vidyaa Vikas educational institutions.
School administrators acknowledge that NEET requires a different approach in the classroom. PGP International School's Jayashree said that interactive sessions and getting students to ask questions have become part of their training process.
After each test, the correct answers are discussed in the class and students are once again encouraged to discuss, she says. "A re-test helps to push up performance," Jayashree said, adding that much depends on the skill sets and professionalism of teachers.
Agreeing with her, Gunasekaran said that only experienced and highly skilled trainers could mould students for NEET. When asked whether teachers associated with the state board syllabi were involved in training students for NEET, Gunasekaran said that such teachers would require at least a couple of years to understand the concepts of a competitive exam like NEET. He added that his school has brought in teachers from Hyderabad to train his students.