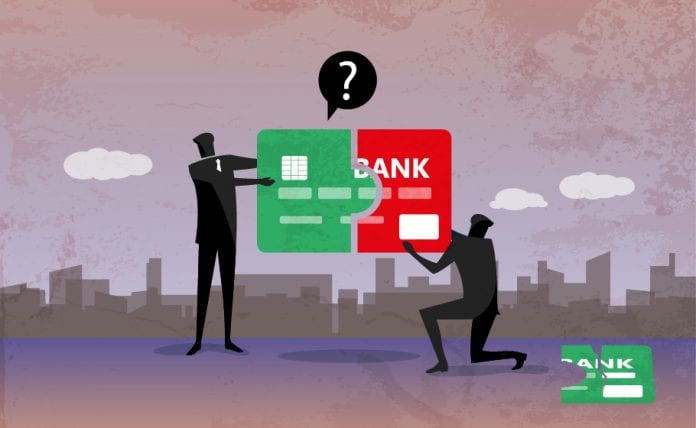 Sitting calmly with its tongue sticking out, the dog staring at you from a Syndicate Bank signboard looks exactly what it claims to be — "Faithful. Friendly".
For as long as 60-year-old GG Mohandas Prabhu remembers, this dog (Syndicate Bank's logo) has been a constant companion to him and his family. A longstanding customer of Syndicate Bank, Prabhu is a sixth-generation businessman dealing in wholesale trade of animal feeds in Old Bunder region of Mangalore. According to him, his family's association with the bank goes back nine decades.
Syndicate, he says, was the only bank that catered to interior areas of the South Canara region and focused on lending to farmers, which in turn, helped his business.
"No other bank except Syndicate had a branch in Kakinje, a remote place in South Canara. The bank had a vision and the management understood that economy lies in rural India. They were as friendly and helpful as one can be when needed," he adds.
Last month, Finance Minister Nirmala Sitharaman announced the government will merge Syndicate Bank into Canara Bank as part of a big-bang plan to combine 10 state-run banks into four. Once the exercise is completed, India will have 12 state-run banks from 27 in 2017, when the first such mergers took place.
The government had merged State Bank of India with its six associate banks in 2017 and combined Bank of Baroda, Vijaya Bank and Dena Bank last year. While it is merging Oriental Bank of Commerce as well as United Bank of India with Punjab National Bank, Union Bank of India will absorb Corporation Bank and Andhra Bank. Indian Bank and Allahabad Bank will also be combined.
This means Karnataka will be left with only one public sector bank that emerged from the region.
Banking on personal touch
In 1925, Dr Tonse Madhav Ananth Pai, along with two other co-founders started Canara Industrial and Banking Syndicate Ltd (now Syndicate Bank Ltd) in a small temple town called Udupi. It was part of the erstwhile South Canara region in the Madras Presidency of British India. The bank operated from a small clay tile-roofed village home.
As early as 1928, the bank took its services to the doorstep of consumers. To distinguish itself from others banks that emerged from the region, Syndicate Bank started a 'pigmy deposit' scheme, whereby the bank would collect an amount as less as four annas (25 paise) from a large number of small depositors at their doorstep to supplement the regular savings mobilisation. The 'pigmy collectors' — not a regular employee of the bank but agents who would collect money and operated on commission basis — became the brand ambassadors of the bank. They also gathered market information required by the banks. With a maturity period of seven years, a deposit of Rs 25 paise collected daily would fetch Rs 700 by the end of the term.
Apart from pigmy deposit scheme, it also used to run programmes celebrating "lawyers' week", "doctors' week", besides starting "all-women's bank branches" to attract customers from different walks of life. To improve agricultural lending, it also started Syndicate Agriculture Foundation through which it propagated modern technology and disseminated knowledge about improved practices.
Gradually, the bank emerged as a "small man's big bank". The pigmy scheme had become so popular that many banks later went on to mimic it under different names. It became a topic of interest for the World Bank, which invested in research about the scheme. With its popularity, the bank went on to open branches in nooks and corners of the country, including in Andaman Islands, Lakshadweep and the Northeast over the next few decades.
By 1960s, when all other banks wanted to shift base to bigger cities like Bangalore and Mangalore, Syndicate bank shifted its base to a rural area and moved its head office to Manipal before it was nationalised in 1969.
The founder, TMA Pai, a doctor-turned-banker, with his family members, went on to build an empire by investing in social ventures in the education and healthcare sectors (Manipal Group of Institutions/Kasturba Medical College), which stand tall even today. The founder was later conferred with Padma Bhushan by the Indian government in 1972.
"My father's understanding of saving was different. When everyone went by the logic of 'earning minus expenditure should be the savings', he went on to promote 'earning minus saving should be the expenditure'. That encouraged people to save a fixed amount every day or every week," says Ashok Pai, the youngest son of TMA Pai. He also heads the TMA Pai Foundation.
Ashok Pai says that the bank had a unique method of identifying entrepreneurial spirit in people. "We were the first people to give loan to agriculturists besides giving loans to rickshaw-drivers, taxi drivers, weavers and others," Pai adds.
With a hint of pride, he says that Syndicate Bank was the first to recognise and give Dhirubai Ambani (founder of Reliance Industries) an advance of Rs 1 lakh. "Even today, Syndicate is a leading banker to Reliance," he smiles.
Emergence of banks in the South Canara region
Besides Syndicate Bank, there were six other principal banks of the country—the Canara Bank, Corporation Bank, Vijaya Bank and Karnataka Bank that originated from the South Canara region, which earned the sobriquet of 'the cradle of Indian banking'. (Karnataka Bank, being a private entity, will escape the merger bid.)
According to reports, between 1880 and 1935, as many as 22 banking companies were established in this region and all of them were associated with the minority community in the region. Many of the founders and initial board members of the three banks were established lawyers, teachers, doctors and philanthropists.
The primary objective of the founders was to promote banking habit, thrift and entrepreneurship among the farming community of Dakshina Kannada district.
In 1906, two leading banks were established. Ammembal Subba Rao Pai, a philanthropist established the 'Canara Bank Hindu Permanent Fund' (now Canara Bank Ltd) in Mangalore. The same year, Khan Bahadur Haji Abdullah Haji Kasim Saheb Bahadur, a trader and philanthropist, set up Canara Banking Corporation Ltd (now Corporation Bank Ltd) in Udupi.
And in 1931, AB Shetty, a politician and philanthropist, along with enterprising farmers established the Vijaya Bank. It became a Scheduled Bank of India in 1958.
GV Joshi, an economist from Mangalore region who has observed the banking system evolve in the region over the years, says the need for caste dominance and the competitive spirit led to growth of these banks.
"The thirst for development gained momentum. While Canara and Syndicate catered to Gowda Saraswat Brahmins, Vijaya Bank catered to Bunts. Karnataka Bank catered to Brahmins," Joshi says.
Although Corporation Bank was started by a Muslim, Joshi adds, it remained a bit different as it catered to different communities from the beginning.
Joshi agrees that despite caste equations, the banks boosted saving and entrepreneurial spirit in the region while bankers used the banking system as an instrument to develop their own communities.
According to BM Kumaraswamy, who specialises in rural banking, a high literacy rate, a port and proximity to Bombay (Mumbai) helped small businesses in South Canara grow. This, in turn, helped these banks to go big from their home turf.
Most of these banks, which have moved their headquarters to tier-I cities, have retained their founders' branch and converted them into heritage sites and museums.
'Sentimental attachment to the banks will be lost'
Even though the government argues that the merger will streamline the banking process to a large extent, some of the questions that arise are — whether it will impact the customer base of these banks and if the communities supported by these banks will continue to derive the same benefits.
According to MJ Nagaraja, general manager of Bank of Baroda who is overseeing the merger of Vijaya Bank with Bank of Baroda, the mergers were imminent as Indian banks had to compete with big international banks.
"The shock absorption capacity of smaller banks is limited. But for bigger banks with bigger capital, the risk gets reduced and the panic among the investors because of any big loan default will be controlled because of the sheer size in this case."
The customers, Nagaraja adds, will not be affected in the long run and the different philosophies with which these banks started will continue to be integrated into the merged entities.
"The fear of these banks moving away from its core identity should not be there. The banking system has been streamlined anyway and the mergers won't affect their functioning in a big way," he says.
That said, many believe the sentimental attachment to the name/s will be lost and people may find that disturbing as the core identity will be lost.
People will get over the feeling over a period of time, argues Kumaraswamy.
"A nationalised bank cannot serve a limited geographical area. Small banks getting merged with bigger ones are imminent and it does not mean they will not serve rural population. The areas of delivery will remain the same. People will get over the sentimental attachment soon," he adds.
As for Ashok Pai and his staff, they can't stop the merger, but it won't demoralise them. Pai, who is continuing the legacy of TMA Pai, the founder of Syndicate was not bogged down even when the government nationalised the bank. But on behalf of the his entire 'family' (staff and customers), Pai says, he would like to request the finance minister to retain the name — Syndicate — in the merged entity.
Ramachandra Hande, a retired staff as well as customer of Syndicate Bank, couldn't agree more. The attachment to the bank is deep-rooted. "We had a personal touch with every customer who walked into the bank. Today, things have changed with digitisation. And if the name is lost too, then South Canara will certainly lose its banking identity."
However, not everyone feels the same way. For Prabhu, Syndicate lost its personal touch anyway after nationalisation of banks in 1969. The latest merger, he feels, won't affect him much — he already holds an account with Canara Bank.