Meera Crasta (name changed), a class 9 student of a private English medium school in Bangalore, has a harrowing time every time she sits for online classes.
All her classes are available online on Doordarshan's Youtube channel but they are in Kannada. The Tamil-origin girl who has limited knowledge of Kannada and has taken up studies in English medium, has a difficult time decoding the instructions.
Everyday, for a half-hour class, Crasta and her mother spend about one-and-a-half hours trying to understand the meaning of Kannada words using a dictionary or Google translator.
If one looks at the comment section of some of the videos, requests for English teaching are numerous. (screenshot). But there is no help from the school or the teacher, she says.
Crasta, however, follows her teacher's instructions on WhatsApp groups created by the school and does her homework.
Besides, there's a resource constraint. The teenager not only accesses the laptop of her mother, who's working from home, but also takes away her time in asking doubts. The laptop and mobile are shared at home during class hours.
For Crasta, the problem doesn't end there. Her class teacher made her and two of her classmates WhatsApp group in-charges. They have to call up students who fail to check messages or do the homework, a task that the teacher is supposed to do, but has been entrusted to students.
And things turn difficult when non-curriculum messages flow in. She narrates one such incident.
Class teacher: "Bhumi, a new student joins us today. Please welcome her."
Students: "Welcome Bhumi", "Hi Bhumi". 52 such messages flow in separately from each student in the class.
Bhumi: "Thank you, ABC". "Thank you, XYZ". Again 52 such replies are sent, addressing each individual in the group.
One of the parents: "You look pleasant in the photo, Bhumi (WhatsApp profile pic)."
Teacher: "Please stop this."
The kid of the parent: "Sorry, ma'am."
Such things happen everyday, she says.
On the other hand, some of her classmates don't have access to personal smartphones or computers and have to wait until their parents return from work in the evening. That means, they end up burning the midnight oil to do their homework.
"Online teaching is new and fun. But it makes the learning process boring as we interact less with fellow students and it's rather a one-way channel where we cannot even ask doubts," Crasta says.
Hurdles in the marathon
It's almost three months since the new academic year started and there's no sign of schools reopening. The lockdown imposed to curb the spread of COVID-19 continues to remain for schools even as other workplaces and industries have long resumed operations with restrictions.
To tackle the shutdown, the government has emphasised the need to go with e-learning wherever possible and adopt learning through television and radio where internet was not available.
But the switch to digital education remains a Herculean task for many. The e-learning system is fraught with several challenges, including a diverse schooling system across the country, with varied medium of instruction, lack of access to Information and Communication Technology (ICT) infrastructure such as internet or devices, electricity, besides communication and cultural issues making it a real ordeal for students, teachers, and parents.
The problem compounds in hinterlands and remote areas. In Haryana, more than 70% of students don't have access to smartphones directly — like Meera, they share it with family members or friends.
"Besides the internet connection issues, there were communication issues as well between students and teachers. Some are not tech savvy and are unable to download and upload assignments," says CN Bharti, president of teachers union in Haryana. "We want the government to provide them with smartphones and build internet infrastructure."
Kanwar Pal, education minister of Haryana, said the government is trying to address the issue and improve online education. "The government will provide smartphones to students if required."
In Bihar, most poor families don't own smartphones, and besides poor connectivity issues, students complain about not being able to hear the teachers' voice properly.
Further, due to the heavy rains and floods, half of the state is currently under the grip of floods, which has prompted villagers to flee their homes and take shelter at open places under makeshift tents. In such a situation, the children just can't focus on studies when their first priority is to somehow survive on meagre food without electricity. It's obvious they can't charge phones due to unavailability of power.
The situation is more challenging amid the prevalence of COVID-19, which means students and teachers have to adhere to the pandemic protocol.
The school education department in various states, recognising such issues, has said that a local, decentralised planning and implementation was the need of the hour, and for that to happen, various organisations (education boards) at the states/UT level need to join hands.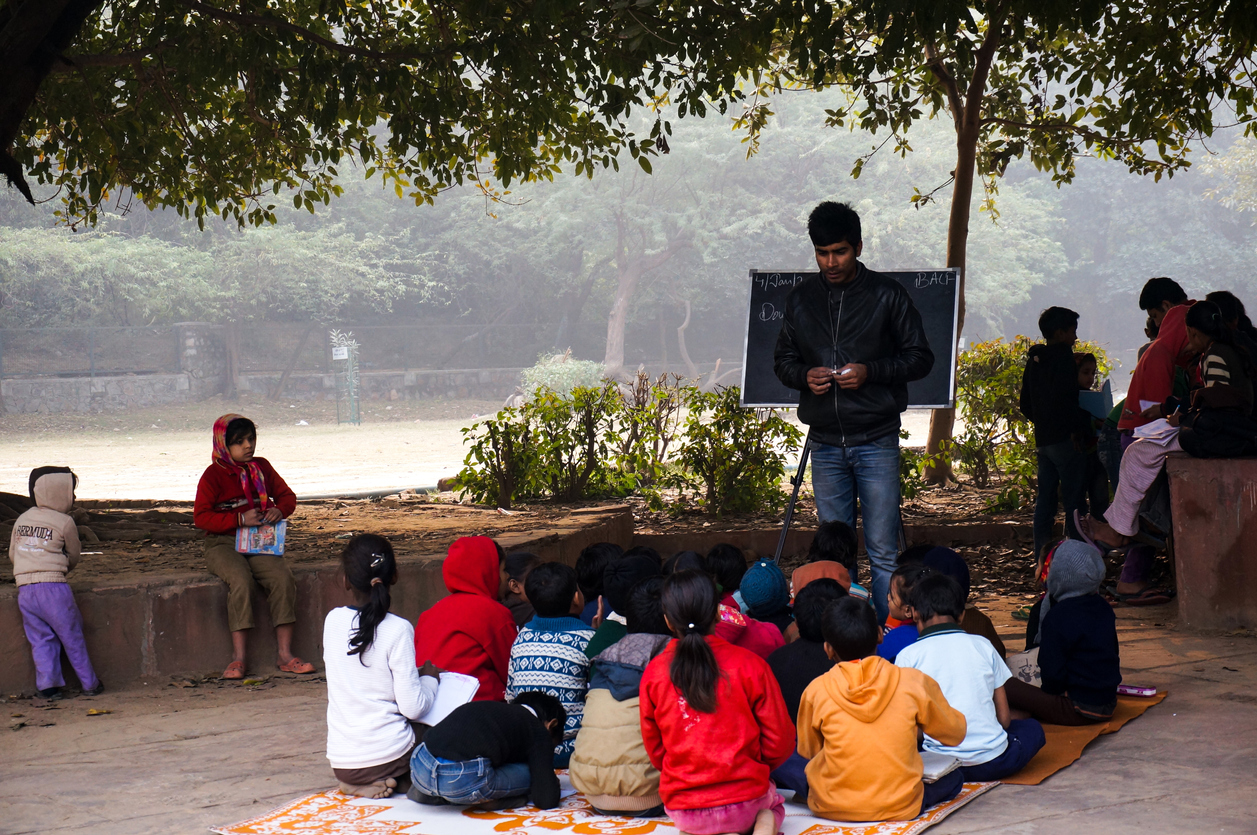 Old school way
In rural areas, digital education is almost impossible. To beat that, authorities and teachers are finding alternatives to keep the students engaged.
In states like Karnataka and West Bengal, teachers are going to far flung areas and teach students in open public spaces like temples, community centres or below trees. The Tripura government is contemplating starting similar classes at a 1:5 ratio — one teacher for five students.
"Most of them are poor and cannot afford smartphones. As schools remain shut, we do not want to lag behind," says Veeranna Rao, a school teacher in Kalaburagi, Karnataka. "We formed eight village centres and we use common spaces near students' homes. Each centre will house 15-20 students."
Faced with similar constraints, the Chhattisgarh government launched an ambitious scheme, 'Padhai Tuhar Dwar' (Education at Your Doorstep), but failed to achieve the desired results. As per the scheme, school teachers and students could register on the portal using mobile phones. But not many in rural areas could benefit from it.
Tenzin Kaldan (15), a class 9 student from a remote hamlet in Hanle village in Ladakh's Changthang region, travelled 250 km to reach Chuglamsar near Leh to attend online exams this summer. He crossed the banks of Pangong Tso Lake and Tanglang La in Changla, the second highest mountain pass in the world, at 17,688 feet, on his way.
Kaldan studies in Druk Padma Karpo School in Shey village, popularly known as 'Rancho School' after the Bollywood blockbuster 3 Idiots featured Aamir Khan as Rancho alias Phunsukh Wangdu, as a local and also showed the school. He used to stay at the school hostel but went back home after the school shut due to COVID-19. Ever since, his studies have come to a near halt.
"Erratic BSNL connection in my village remained suspended due to India-China faceoff along the Line of Actual Control in May," he says.
The problem is largely prevalent in the mountains of Leh and Ladakh and hampers learning for students who are eager to attend online classes.
Many schools and colleges are now requesting students living in far flung areas to travel to places which have internet connectivity.
"Some of the students even don't have smartphones. Our principal is now making a group of two to three teachers who will be sent to villages to distribute handwritten notes," Rinchin Angmo, English Professor in Leh Degree College.
Poor internet penetration
India stands at the 132nd spot worldwide on internet speed and stability, as per Ookla's Speedtest Global Index report 2020. The average mobile broadband download speed in the country was 9.81 Mbps while the average upload speed was at 3.98 Mbps.
South Korea topped the list with an average mobile broadband download speed of 88.01 Mbps and Afghanistan stood last at 139th position with 6.02 Mbps. Neighbours Bangladesh (130th rank), Pakistan (112) and Nepal (111) fared better, as per the report.
Internet penetration in India stood at 50% in January 2020. Currently, the country is estimated to have 574 million active internet users, of which 264 million are from rural India. In 2019, rural areas drove the digital revolution, with a 45% growth in internet penetration as compared to urban India's 11%.
However, West Bengal had only 29% internet penetration in 2019, Jharkhand 26%, Chhattisgarh 30% and Assam and other Northeastern states together 38%.
In a survey conducted by the education department of Tripura, it was found that 29% of 3.22 lakh students of classes 1 to 8 could not attend virtual classes.
In Arunachal Pradesh, some villages got internet connection only a few days ago. Vijaynagar that has a cluster of 16 villages in Changlang district got mobile connectivity for the first time after the BSNL launched 2G service on August 1 this year.
TV to the rescue
On the other hand, the government is imparting lessons through TV via Doordarshan, the state-owned channel, to reach a larger number of students, including in remote areas with low internet penetration.
The channel airs lessons for classes 10 to 12  for an hour from 11 am to 12 noon for five days every week.
Students from far flung places in West Bengal and the Northeast, and places like Durbuk, about 100 km from Leh, access classes via the Doordarshan channel.
However, this too is a problem since only 35.3% households in West Bengal have a television set, according to the 2011 Census. In Assam, the figure is 27.5%, Arunachal Pradesh 41.1% and Meghalaya 33.7%.
In Tamil Nadu, tribal children who did not have access to either internet or TV or even electricity, resorted to working to support family income as their parents faced reduced earnings during the COVID-19 lockdown.
Although TRAI report says only 28 villages in Tamil Nadu don't have mobile services, many tribal villages in the state lack mobile network connectivity as well as electricity. Many children from these villages skipped education and turned to farmland and mills to work.
Following reports of this, the Madras High Court asked the state government to conduct a survey and submit a report about tribal children leaving school and becoming workers.
The state education department too came up with a plan to issue television sets and set up large screens in primary and elementary schools in tribal hamlets and villages.
How much is too much?
With the increasing dependence on online classes, parents and experts have flagged health concerns due to prolonged screen time — even after classes, students needed to use mobiles or computers for references, homework and sometimes entertainment, due to restrictions on public spaces like playgrounds and parks.
Parents said that their kids had to be taken to clinics frequently for complaints of burning sensation, watery eyes, headaches and irritation as they are exposed too much to mobile and computer screens for long hours.
"My grandson keeps rubbing his eyes while staring at the phone screen during online classes. Before lockdown, we made sure he doesn't use our cell phone but the start of e-classes forced us to give a phone to him," says Patna resident Nageshwar Prasad. The boy studies in class 2 in a private school.
To overcome this concern, the HRD Ministry in July suggested that online sessions for primary classes should not exceed 30 minutes a day; for classes 1 to 8, not more than two sessions of up to 45 minutes a day; and for class 9 to 12, a maximum of four sessions of up to 45 minutes every day.
(With inputs from Prabhakar Tamilarasu, Prabhu Mallikarjunan, Dhananjay Jha, Manoj Kumar, Samir Purkayastha and Safeena Wani)