In a not so brave new world,
the price that everyday heroes pay
Prabhakar Tamilarasu
Storyboards by Mihir Ranganathan
We see heroes on screen frequently. We know there are heroes guarding our borders. But it's not often that we get to see such overt acts of bravery in our daily life. There are, however, civilians who turn into heroes when it comes down to it.
Courage and fear walk hand in hand

Two years ago, on a cool July night, head constable Senthilkumar found himself chasing a thief at the Coimbatore Junction railway station. The policeman shouted to civilians at the station to help him nab the culprit but none were willing to lend a hand.
Advertisement
As the thief ran towards the autorickshaw stand, clutching the bag he had stolen from an elderly woman, an auto driver lunged forward. C Selvam attempted to catch the thief but he managed to escape, leaving the bag behind. As he scurried across the road in a bid to escape, three other auto drivers — A Nawas, A Sikkandar and A Manoharan — who were having tea nearby, caught hold of him.
As it turned out, K Ajithkumar, from Usilampatti in Madurai, was a serial offender with at least 14 cases against him. The four were lauded for their act of bravery and celebrated as heroes. The railway police rewarded the four with ₹2,000 each in cash, along with a certificate.
"We knew the constable and since he was chasing someone, we thought it must be important. So, we caught hold of him and handed him over to the police. It's only the next day that we came to know he was a serial offender and was wanted for several crimes," says Nawas.
It takes a lot of courage to stand up to criminals. Selvam, who has been driving his auto around the railway station for over 20 years, says he wasn't afraid to apprehend the thief. "I am the leader of the union here, I don't have to fear such culprits. We used to nab such people and have never thought of the consequences," he explains.
However, it won't be fair to assume that brave men feel no fear. Some of them do act in the spur of the moment but live in fear of the consequences. "After learning about the accused, I asked the police if there will be any consequences. They assured us that nothing untoward would happen. Yet, I can't get rid of the fear as nowadays people kill even for ₹2,000. So, I have stopped ferrying single men in my auto and mostly stick to families," says Nawas.
When bravery reaps rewards

Acts of bravery by civilians transcend occupation, age and other factors. While these auto drivers were in their mid 40s, an 18-year-old in Chennai gave a chase and nabbed a chain snatcher in April last year.
Surya was standing near a car accessories shop in Anna Nagar when he saw a man running out of a clinic. A woman was frantically chasing him, asking people to stop him. The woman was Amudha, a gynecologist practicing at the clinic. While no one else stepped forward to help her, Surya sprinted for about half a kilometre and managed to grab the man by the collar. It was only then that he realised the culprit had snatched Amudha's chain.
On hearing about this, AK Vishvanatham, Commissioner of Police, Greater Chennai Police, rewarded him and asked people to draw inspiration from his act. He also asked more people to come forward to help the police crack cases.
Surya was also awarded ₹2 lakh in cash by the Rotary Club Chennai Tours and ₹1 lakh by the SRM Group.
...and those who are forgotten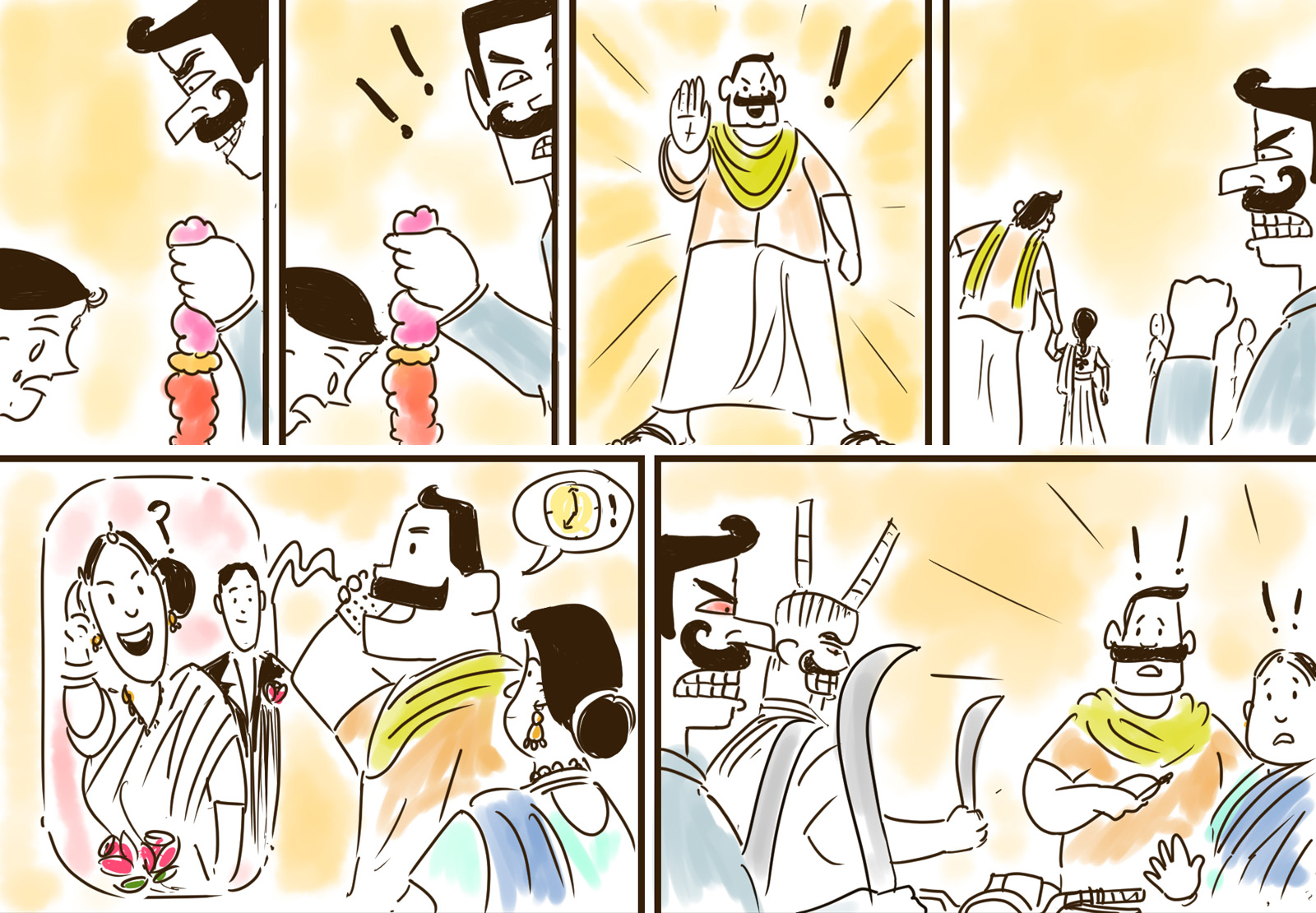 While civilian acts of bravery that go right are rewarded and the people celebrated, those that go wrong are quickly forgotten. There are instances when people died while trying to do good but their families weren't compensated in any way.
In April this year, a social worker in Chennai's Ayanavaram locality was hacked to death on the day of his daughter's wedding reception for stopping a child marriage two months before.
According to police, Jabaseelan had reported a child marriage that was supposedly planned by his neighbours. Angered that the marriage was stopped, the groom's side gathered around his house two months later and hacked him to death. When his wife, Prescilla, tried to stop them, they injured her as well.
The narrow street from the Ayanavaram main road leads to Thikkakulam street, a small slum settlement in the locality. Jabaseelan's family resides in a small house at the corner of the street.
On reaching the house, Jabaseelan's sister Ester, who was visiting, tells The Federal that months after the murder, she is still afraid of strangers as she was a witness to the murder and identified the culprits. Pointing to the corner of the street, she says, "Both of them (Jabaseelan and Prescilla) were hacked here, when they took their vehicle to travel to the marriage hall for the wedding reception. It was in the evening, the attackers hid around the house and none of us noticed them."
Ester, who was inside the house when the couple was being attacked, came running out when she heard their cries. This is when she saw all the men who were involved in the murder. "They were from the same area, some of them related to our neighbours. It happened in full public view and none of them came to help us," she says, fighting back tears.
Ester got Jabaseelan and Prescilla admitted to a government hospital nearby. "I didn't tell anyone about what happened until the next day as I didn't want to spoil the wedding reception."
According to Ester, Jabaseelan and his family had never been involved in any kind of petty fight in the locality. "He was kind and helpful to the people in the locality. If they had problem getting their ration picked up, they would ask my brother for help," she claims.
As she was talking to this reporter, a few youths crossing the narrow street on their bikes glare at her. "It is all because I identified the men who are involved in the murder. I have already moved out of here. I am here now to take care of my mother. I will not leave the youth without getting them punished for killing my brother," she says adamantly.
When The Federal tried to speak to Jabaseelan's neighbours, none of them who were believed to have witnessed the incident were willing to open up. However, people in the adjacent street felt sorry for the family's loss.
"We have been reeling under severe water crisis for the past two months. Had he (Jabaseelan) been here, he would have arranged for water for sure. We did not even know whom to approach," says K Rani, a resident of Thikkakulam.
Jabaseelan was the sole breadwinner of a family that includes his wife, a son, a daughter, his mother and his younger brother.
Now, Jabaseelan's younger brother Jayaraj, who is a cinema artiste, is taking care of all the expenses. He has admitted Jabaseelan's son to an arts college in Ayanavaram. "Had he been there, he would have put his son in a better college. We did not get enough time to enrol him as everything happened during the start of an academic season and we were in a hopeless spot," says Jayaraj.
Without Jabaseelan's steady income, managing the family is more difficult for Jayaraj on his fluctuating salary. "I don't know what we will do. We see no sign of living a decent life henceforth," he adds.
Realising his wages would not be enough to feed the family, Jayaraj decided to take up his brother's career as an auto driver to eke out a living. "But, I realised it is not that easy to drive an auto and run the entire household. It's a miracle that my brother looked after the family and helped others as well by just driving an auto."
Apart from the daily expenses, there are medical bills that need to be paid. Jabaseelan's wife Prescilla, who lost three of her fingers while saving her husband, is being treated at the Stanley Government Hospital.
"I have undergone two surgeries and doctors say that I have to undergo another surgery on my left hand to get the nerves right. My whole life seems hopeless as I cannot even do my own work without someone's help. How can I raise my son like this?" Prescilla asks woefully.
Jabaseelan is not the only person who has been killed for standing up against crime. But often such incidents go unnoticed or are underreported.
Speaking about the nature of such acts of bravery, University of Madras criminology department assistant professor M Priyamvadha says that it is just a decision that civilians take at that moment. "If they think for a minute, they may not act on it. It also differs from person to person. Most people don't react immediately, though they want to help," she says.
Narrating how one of her family members attempted to chase a mobile phone snatcher but stepped back after finding out that the culprit had a weapon, Priyamvadha says, "On his way back home, two men snatched his mobile phone and before he could react, a taxi driver asked him to get in to chase them. After chasing them for over 10 km, from Alwarpet to Anna Nagar, they closed in on them. Then, sensing that they would get caught, one of the two on the bike took out a long knife."
The taxi driver who initially volunteered to help the man asked him to get down. "Then, an auto driver offered to help him chase the duo. However, after giving it a second thought, the man decided to give up the chase and not risk his life for a few thousand rupees," she explains.
She says that people will generally not risk their lives, though this will differ from person to person. But courage is something that everybody admires. One needn't be a superhero but can still be brave.