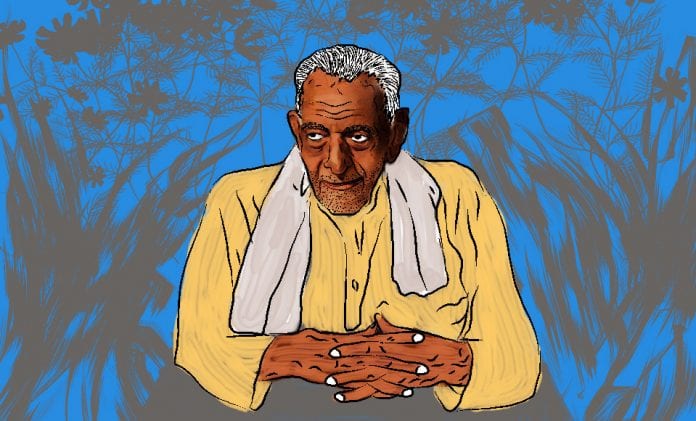 August 15, 1947. At the stroke of midnight, when the world was sleeping and India awoke to life and freedom, 28-year-old Harohalli Srinivasaiah Doreswamy, like many of his fellow Indians, dreamt of a country free from the shackles of poverty and inequality — a great nation built by its 'honest', 'hardworking' and 'compassionate' citizens. Seven decades on, the veteran freedom fighter and social activist fails to understand what prevented his countrymen from moving ahead.
While the 101-year-old has still not lost the zeal to fight for an India of his dreams, he finds himself walking a somewhat lonely road. Here's what the last of the living links with the time when India attained independence has to say about the freedom struggle — and what held India back from achieving its dreams.
Excerpts from an exclusive interview with Doreswamy at his Bengaluru residence:
What is your idea of India and how far do you think we have been able to achieve that?
When we attained Independence, we dreamt of a future where all Indians would contribute towards nation-building, keeping aside personal ambitions and greed. However, that didn't happen. Not all citizens of the country got equal opportunities. India should have been able to get rid of poverty by now. Yet, an estimated 30 per cent of the population is still below the poverty line. This despite 13 five-year plans and crores of rupees spent. The poor have become poorer and the rich, richer. This is a problem that has remained unsolved for 73 years.
Do you think the present-day political parties and leaders are responsible for that? What are your expectations from them?
I have come to the conclusion that no political party at present can alleviate poverty. None of them are focused on nation-building. Today's elected representatives are mere politicians and not leaders who stand up for their people or work for their well-being. They have no vision for the country. Rather, they believe in spreading hatred, divisiveness and jingoist sentiments to divert attention from the real issues. We have been to the moon but are still unable to address the basic needs of people.
How would you describe India's freedom movement and your own struggle?
When Mahatma Gandhi launched the Quit India movement in 1942, I was 23. Some of us used to make and supply tiny time-bombs that exploded within 10 minutes. We used to seal them in envelopes and put them inside post boxes near government offices. The idea was to stop government communication. Some of my friends were smart, they used to tie these tiny bombs to a rat's tail and let it inside the government record rooms to destroy all the documents. We also organised a labour protest involving about 8,000 people from textile mills such as Binny mills, Minerva mills and Raja mills in Bengaluru that produced parachute clothes for wars. We wanted to stop that. I was in jail for four months during the Quit India movement.
But nothing deterred us from our goal. We all wanted freedom and everyone discussed that and nothing else. There were mass uprisings everywhere and we had leaders with high moral stature leading us. Today, there is a huge leadership crisis.
Tell us about your journey into politics…
I joined the Congress party after Independence. Until then, I was part of a coterie of the party because of the work it did and because of the leaders who inspired us with their speeches. Until Indira Gandhi came, I was in active politics. Once she divided the Congress into Indira Congress and Organisational Congress, I got disillusioned and left the party. Even when I was with the party, I acted like an opposition member. If they didn't call for party meetings, I used to get signatures from the youth and threaten to hold parallel meetings within 15 days. Then the ministers used to apologise and pacify us.
In those days, Indira wanted to keep her chair by all means. She was the 'fountainhead of corruption.' But Jayaprakash Narayan came into the picture and awakened the people.
What do you think of the present-day Congress?
There was a high command even then and there was a democratic process in the state. People would elect the legislative party leader. Over the years, people with vested interest and criminals became part of the organisation. And the high command looked to them to make decisions from the Centre. In such a scenario, how can parties build a nation?
Now, when there is a formidable enemy, a strong leader is needed. And the Congress does not have that. Neither does any other political party.
…and the current BJP dispensation?
We live in a world where we don't know whether we are in a democratic state or under dictatorial rule. Now, we have an undeclared emergency. They (the government) decide on things like 'one nation, one election', 'one nation, one flag', and do not let others grow. We have a federal structure in place, but they are trying to make it ineffectual. They want to control all the states.
Mahatma Gandhi wanted to decentralise power and that is why we have Parliament, state Assemblies, panchayat at the taluk/village levels. Now, they want to centralise everything and it goes against democracy. The BJP wants to annihilate all other political parties. A democracy needs a strong opposition but there is none at the moment. This is how dictators function.
First they came with the agenda of Hinduism and cow slaughter, and created communal tension. Those who criticised the government — people like Narendra Dabholkar and Gauri Lankesh — were killed. They changed their strategy in 2019. Nationalism and national security took centre stage. I don't know what sort of modus operandi they will come up with tomorrow. This is 'kumbhakarna prajaaprabhutva', where democracy functions and voters are fast asleep.
Why do you call Narendra Modi a dictator and a danger to democracy?
Basavanna, a 12th century philosopher, says in a vachana, "Do not steal, do not kill, do not lie. Do not be angry, do not be scornful of others. Do not glorify yourself, do not insult others. These are the means to inward purity, these are the means to outward purity." Modi does the exact opposite of what Basavanna taught.
We gave power to a person who has no inner/outer purity.
However, he has good qualifications, like keeping his family out of politics. He is also not directly involved in corrupt practices, or else people would have thrown him out.
As someone who has been a part of the freedom struggle and now pained to see today's India, what do you think of the future? Is there a solution?
See, there has been a direct attack on the basic structure of the Constitution. Politicians are busy protecting themselves and diluting existing laws to suit them. Today, be it at the Centre or the state, bills are passed without discussions. Opposition parties should inform people and start a people's movement if they disagree about something, instead of simply staging a walkout in Parliament.
We allow anyone who has money to invest and exploit the country's resources, instead of letting our own industries survive. We need leaders who can question the G7 countries that are trying to exploit us. We need intellectuals, those who believe in the federal structure, to come forward and start an all-India struggle. Sadly, not many come out to protest. Only a handful of people protesting everyday without much purpose and determination is not enough. When 'we the people' take up a fight, we must not give up until we win.