45-year-old Ganesh Kumar, founder of a restaurant called Just Orient in Chennai, was mercilessly bullied by friends for his poor Hindi. But that turned out to be a blessing in disguise. He says, "That is why today I am able to hire staff from Bihar and Jharkhand at my restaurant and I am able to work with them well, speaking a language they understand." Kumar believes that language is the greatest leveller when it comes to coordination. "The restaurant business is all about how well you manage your human resource, and language is a crucial element in ensuring this."
The Ministry of Human Resource Development's draft version of the National Education Policy 2019 created a furore in Tamil Nadu recently, as it suggested mandatory learning of Hindi in non-Hindi speaking states. The Federal, on taking a closer look at various sections of the Tamil speaking population in the state, found that there's an alternative story to tell. The draft NEP brought about a discussion on formal language learning, but the state has always been open to informal means of language education.
Hindi not an imposition
Advertisement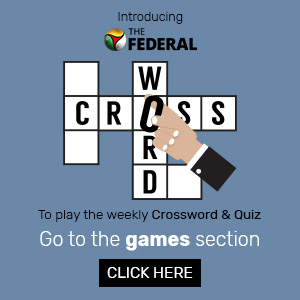 While professionals like domestic help, bus conductors and service professionals learn Hindi on or for a job, many homemakers have jumped at the chance to learn and master a new language. Hindi, despite common perception, has found acceptance among the masses in Tamil Nadu. According to the 2011 census, of the total Tamil speakers in the state (6.3 crore), 3.2 per cent of them speak Hindi as a second language. That is the third highest after English and Telugu.
Kumar reveals that he upgrades his Hindi by looking up Google now and then. "I learnt the language during my stint as a HR personnel in the early 1990s. Now I am always updating my Hindi lexicon, looking up new words to know their meaning and pronunciation," he says. Kumar also uses an app called 'Learn Hindi, Speak Hindi'.
The restaurant owner admits that though he struggled to pick up the language, he has become extremely fond of it. "From my experience, I have realised that learning a new language is never a bad thing. It comes in handy at some point or the other," he says. For Kumar and many Tamils like him, who have been exposed to just one language in their schooling days, learning another language is a welcome opportunity and, in many cases, it gratifies their literary pursuits.
A Avudaiyappan opted for Hindi as his first language when he took up zoology at the American College, Madurai, even though he studied Tamil throughout his school days. He says, "I was intrigued by the poetic richness of Hindi and since I had done a beginner's course in Hindi, I wanted to learn more." He kept in touch with the language by watching films, along with his course work. "Today, I can speak and comprehend Hindi really well, even as my reading and writing skills are moderate." He occasionally translates Hindi songs to Tamil and vice versa to understand the nuances of the languages. "'Kora Kagaz Tha Ye Man Mera' is wonderful when you can understand it in Hindi. That is the beauty of the language, like with Tamil. They are unique and poetic in their own ways," he adds.
Learning the language on the job
Anuradha is a 44-year-old domestic help at a Sindhi speaking household in Chennai. Educated till class five in a corporation school in the city, Anuradha can just about manage to write in Tamil. However, she can speak Hindi and a smattering of Sindhi. She says, "Having worked in this house for more than six years, I have picked up the language by watching and observing conversations. Some of the other help are from Odisha and Bihar and they speak a lot of Hindi, and there are others who speak Sindhi. Having heard a lot of Hindi, I have picked up basic sentences like 'Aur pani laa-oon?' (Shall I bring more water?) and 'Farsh saaf karo' (clean the floor). I can now follow exchanges, even if I get stuck with long sentences. The funny part is, my employers speak to me in Tamil but my co-workers only follow Hindi."
A conductor on a Metropolitan Transport Corporation bus took to Hindi to communicate with migrant passengers easily. "I do not know English and till about a few years ago, I barely knew a word in Hindi. But my friend, who is from Andhra Pradesh, taught me the basics. I can now converse with the non-Tamil crowd because they invariably follow Hindi. I can ask them 'kahaan jaanaa hai?', 'Agle stop mein uthro' and phrases like that. Some of them are pleasantly surprised and even thank me for speaking to them in Hindi," he says.
Interest is the key
The number of people learning the language at various levels from courses offered by the Dakshina Bharat Hindi Prachar Sabha shows a 100 per cent jump in the past decade. The state has the highest number of aspirants and as many as 5.8 lakh appeared for exams the previous year.
At the Sabha, 80 per cent of the learners are school children. But it's the remaining 20 per cent who pursue the courses that have interesting stories to tell. Says S Jeyaraj, general secretary of the institution that was founded in 1918 to propagate Hindi in the southern states, "We have separate classes for parents who enrol their students in the school on the same campus. They have an hour-long class every day at the same venue and it is attended by a large number of mothers."
Many women attend courses at the institute, and go on to become 'pracharaks', a designation they get after completing a certain level. He adds, "Even among school students, girls form a larger section and that, in a way, realises Mahatma Gandhi's dream — he wanted women to carry forward the language."
The popularity of Hindi is visible from the fact that this year, again, as many as five lakh candidates are going to take up exams that are held for different categories in the state. Jeyaraj attributes the growing interest to the fact that, unlike other southern states where Hindi is more commonly used, Tamil Nadu has stuck to Tamil as the commonly available language in schools. He explains, "Many parents enrol their children saying that they didn't have a choice to learn it in school, but they want their children to."
One among them is Sobhana, a mother of two, who decided that her daughter should take up Hindi as a second language in school and has been learning it herself for the past two years. "I didn't have a choice when it came to language. But my daughter has a choice between Hindi and Sanskrit so I decided she should opt for the former."
In class eight, Sanjay Rangaprasad has completed the Hindi course at the Sabha, clearing the last level recently. It was his mother Srividhya's decision to enrol him in the course when he was in class two, a year after he began studying Tamil as his second language in school. She says, "I was reluctant to make him learn both languages at the same time. But he has been able to handle them with ease and has successfully completed the final level. Now, he is pursuing Sanskrit in school." She believes the courses will help him in the future, in his career, apart from imbibing a joy of learning different languages.