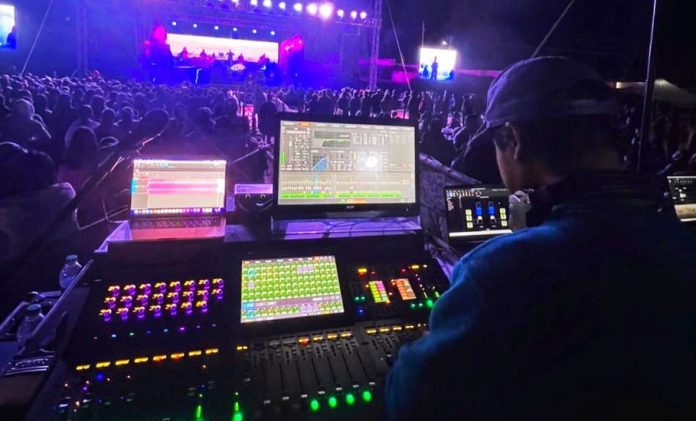 On March 13, the final day of the Arunachal Yuva Samanvay Festival 2023 in Lumdung, Arunachal Pradesh, indie music heartthrob Taba Chake was gearing up to belt out the first song of his performance. Everything was set — the stage lights were flickering, the audience was roaring, and the drummer was about to give the first four counts — when the singer-songwriter coyly asked in the microphone, "Rocky, can you increase Sonny's (Taba) guitar in my monitor?"
Almost instantly, Rocky Gogoi, the band's live audio engineer, stationed at the Front of House (FOH) manning numerous knobs and jiggling feathers in the Venue SC-48 (monitor mixer), diligently obliged. "Do you need more of Teji's (Toko) drum in it too?" he'd ask through the 'talkback', a system in the monitor mixer used by engineers to communicate with the performers on stage via separate channels. A couple of minutes passed and Taba broke into one of his most popular numbers, Aao Chale.
Concert-goers who frequently attend shows are familiar with such scenes, and they'd all concur that if it weren't for the live audio engineers, watching one's favourite performer live on stage wouldn't have been as enjoyable as it is now.
Today, the North East is teeming with many seasoned professionals who chose to remain in the region and make a significant contribution to the region's thriving live music scene rather than leaving its frontiers to seek a career in big cities. "A trained-ear is a quintessential trait of every live sound engineer, and those in the North East have an edge over others because the majority of them have been musicians first. For instance, musicians-turned-audio techies know when to use what — the equalisation, the nuances of using effects, the needs of a musical genre, and so on and so forth. We (as a band) have been blessed because most of the engineers who mix for us in the region are our fans," opines Rudy Wallang, founder of the internationally acclaimed blues band Soulmate from Shillong.
To continue reading this article...
You have to be a Premium Subscriber
Start your subscription with a free trial
Enjoy unlimited Eighth column, archives and games on
thefederal.com and many more features.
You will also be supporting ethical and unbiased journalism.
plans start from Rs. 149