Bharath N, 40, who is part of the ITeS workforce in Bengaluru, has been working from home since mid-March, a little before the Indian government imposed a lockdown to contain the spread of coronavirus in the country.
Living in an apartment complex, Bharath's consumption patterns are defined by government orders, community rules and regulations, his corporate's responses and the self-care imposed on himself and family.
Being a habitual newspaper (print version) reader, Bharath now misses his dailies as his apartment association banned the entry of newspaper vendors, domestic workers and food and other products' delivery staff. He now accesses news through news apps, e-papers and social platforms. But he would like to go back to print versions of newspapers as and when the lockdown ends.
Given that he works from home, he doesn't use the public transport, the Metro, too now. The Metro services are shut now, but when it resumes after the lockdown, he's not likely to use it. He'd rather choose a private mode of transport to avoid the risk of infection at crowded places.
Bharath seldom took an Uber or Ola, but ordered food online once a week. Now, that's changed. Although there is no evidence to connect coronavirus transmission from food or food packages and no cases have emerged to show people have contracted the virus from consuming packaged food, Bharath is cautious and wants to avoid outside food for a while, much on the advice of the state government.
Again, he used to take about 20 flights a year. With the lockdown, he says flight journey will reduce by half this year, with no air-travel for at least the next six months.
"The lockdown is unprecedented. At work, we have proved that remote working can be productive as we coordinate with teams well. This would cut down non-client related travel work in the long run," Bharath says.
Besides, the techie has also cut down big ticket expenses like buying a new car as he says he wants to keep surplus cash in case there is an economic crisis.
As the world fights the rapid spread of coronavirus amid a massive lockdown, many people are confined to their homes. The effect of the pandemic is unprecedented. It is changing consumption patterns of people like Bharath and may have a long-lasting impact on certain industries. It is altering the consumer behaviour on a massive scale. It is changing the way we think, work, read and relax on a daily basis.
While the urban poor are scrambling for food and essentials and migrant workers are struggling to cope with the crisis, the effect of a near-complete shutdown in economic activities is making companies minimise their production and operations, and this is likely to last till the first quarter of 2020-21.
Keeping aside short-term responses, the varying urban consciousness and habit changes with the lockdown effect will continue beyond the pandemic times. The sectors that are most severely impacted are newspaper/media industry, transport, hotel and restaurant and office workspaces.
The Federal looks at how some habit changes of urban consumers will shape certain industries in the near future.
Newspaper industry
Although the government has emphasised that coronavirus cannot be transmitted by touching newspapers, several customers have stopped taking their daily dose of print news, apparently due to fake news and messages from certain doctors.
Newspaper vendors across cities are struggling to deliver them to customers. On one side, they have to manage resident associations' objections and on the other, they have to evade the police who are trying to force total lockdown. Several vendors have said their orders dropped by 60-80% in the last 10 days.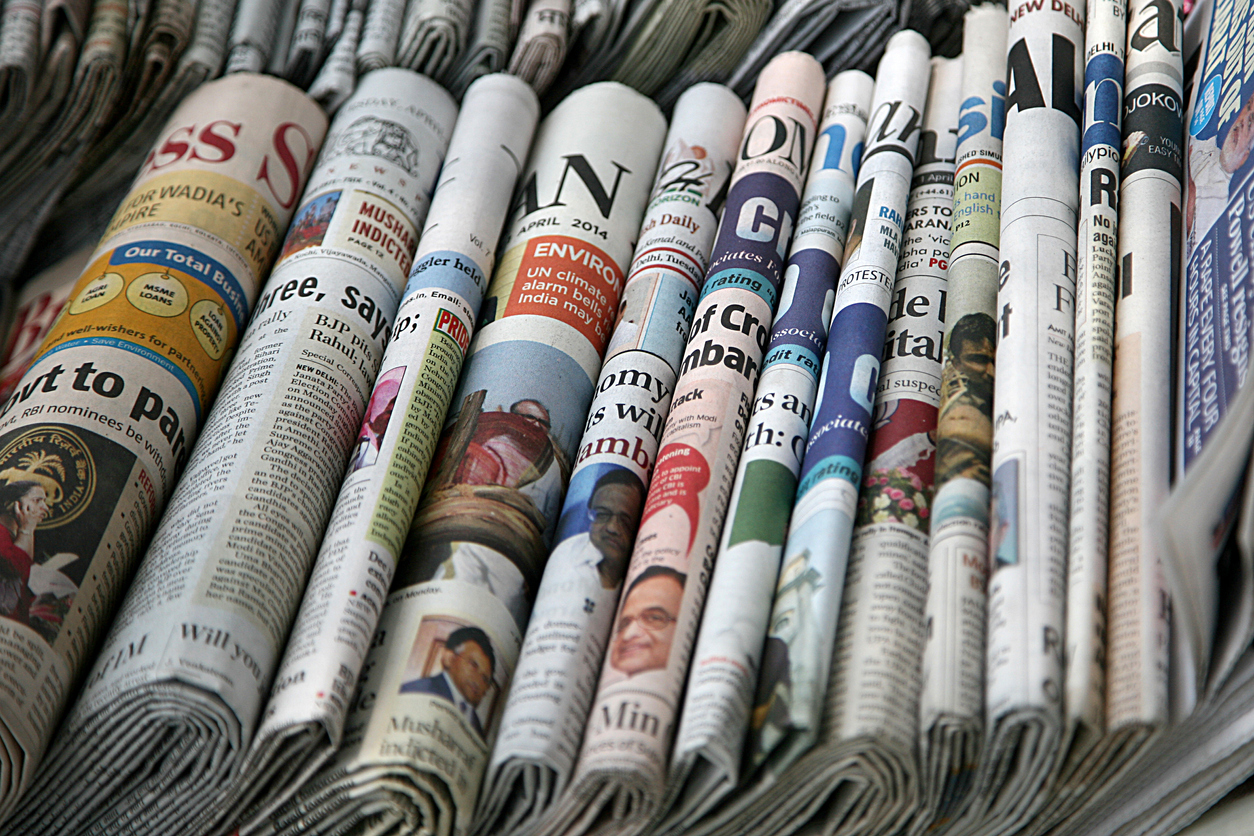 Ramesh, a newspaper vendor who delivers about 600 papers to a residential complex in Bengaluru, says his business has been shut ever since the lockdown was announced. He employed four delivery guys and paid them ₹1,500­–2,000, which helped them add to their family incomes. Though Ramesh is willing to continue paying them for two more months, the drop in subscription will threaten their jobs, he says.
The drop in subscriptions/circulation in the long run will also hit the newspaper industry hard because of a drop in advertisements.
According to the registrar of newspapers for India, there were 17,753 newspapers and 1,00,666 periodicals in the country as of 2018. Hindi publications had a total circulation of 19.56 crore and English ones had 5.34 crore while Urdu ones accounted for about 2.53 crore.
"English newspapers were already slow in transitioning to online and they were yet to capitalise on the market. Now, they have to increase the pace and do aggressive marketing to attract more readers and thereby more ads," says Harish HV, managing partner at ECube Investment Advisors in Bengaluru.
Some newspapers like Business Standard, The Hindu are giving free subscriptions for the next few months.
"The coronavirus impact will be a big blow for English language publications. Not only will their print ad revenues decline but their online revenues too would be affected with the economic slowdown," Harish adds.
Soon after the lockdown was announced, with the newspaper circulation and sales dropping, The Indian Express asked its employees to take a "temporary salary cut" between 10–30% at different levels of operation. Business Standard too followed suit with similar cuts.
"Our advertising revenues have been hit hard and all available evidence shows the worst may be yet to come," CEO George Varghese said in an internal email to employees on April 1, calling it "absolutely unprecedented".
"…if the situation continues, this proposed reduction in salary will also not be enough for us to see through this crisis," Varghese added.
Meanwhile, Newslaundry, an independent news media organisation and media critic website, reported that 15 staffers at Pune-based Sakal Times were given the pink slip.
Online food delivery industry
Like Bharath, there are several people who prefer sticking to home-cooked food and they express their willingness to continue with it for health and safety reasons.
With restaurant closures, online food delivery companies like Uber Eats, Zomato and Swiggy are left with little to deliver. They reported a 70% drop in sales. While this could be temporary, experts view that the orders could drop in the long term as well.
The online food industry was valued at USD 2.92 billion (₹20,000 crore) in 2019, according a data analytics firm EMR. The sector was about to witness robust growth this year, until the coronavirus stopped it on its tracks.
With non-essential services being suspended in order to contain the spread of coronavirus, food delivery players have started entering into other sectors where hyperlocal deliveries such as groceries and medicines to adjust to the changing needs.
Both Swiggy and Zomato have expressed an interest in delivering groceries and essentials. The latter partnered with the Punjab government to deliver essentials and also with Grofers to deliver groceries from kirana stores.
Zomato CEO Deepinder Goyal took to twitter to announce that hundreds of employees have taken deep voluntary salary cuts to help the company maintain a steady cash flow. The company employs close to 7,000 people.
Also, fwiw, to conserve our own cash flows, hundreds of Zomato employees have taken deep voluntary salary cuts. We are also donating for our delivery partner fund, as well as Feed the Daily Wager campaign to support the community during these times. [8/n]

— Deepinder Goyal (@deepigoyal) March 25, 2020
Zomato is also facilitating loans for its food delivery restaurant partners and funds for thousands of its delivery partners to compensate lost earnings.
Harish says in the long run, the online food delivery business will see a sharp dip in orders. "The industry had a good month-on-month, week-on-week growth (in 2018 and 2019). But they will now have to restart at a much lower level and think as new businesses for the next two-three years," he says.
Dine-ins lose out
The shutdown of restaurants and pubs will affect the dine-in restaurant businesses. The National Restaurant Association of India, with five lakh members, said they are set to lose up to ₹80,000 crore in 2020. The value of the food service industry is estimated at ₹4.23 lakh crore in India.
The industry body says they are staring at a prospect of several businesses closing down, besides the spectre of job loss to millions.  The body has sought the Finance Minister Nirmala Sitharaman's help to chalk out relief measures by way of policy interventions and cut in GST rates.
However, the online retail industry is likely to pick up pace with customers transitioning from offline to online in the wake of shutdown. While players like Grofers and BigBasket in the grocery segment reported a jump in sales, other segments like fashion and electronics, led by e-commerce players like Flipkart and Amazon will see a tough time with behavioural changes resulting in cutting impulse purchases.
Transport industry
As many corporate companies have abided by the government's request and given many of its employees the option to work from home, this would cut down non-essential travel.
In addition to the international travel bans, this essentially means not only the airline industry but also the domestic transport, particularly the cab industry, will be severely affected.
With the initial curbs on movement, the online-cab aggregator Ola, one of SoftBank's biggest bet in India's startups, said the firm will continue to encourage citizens to limit travel only for essential emergency needs as per the government's directive.
But as the 21-day lockdown was announced, the company sought the government to waive loans of its driver partners, and requested delay in tax payments (up to 12 months) to make up for lost income, Reuters reported. Much of the two million vehicles on its platform are owned by drivers, who had migrated from villages to various cities and taken car loans to earn their livelihood.
According to Redseer, a research and consulting firm, mobility, including of cabs, autos and bike services, went down by 45­–50% in the first 15 days of February and now it's almost nil.
Ola's competitors Uber's stock in the New York Stock Exchange dropped to almost 50% of its value since February. On February 11, the stock traded at USD 41.27. And the previous close was USD 22.82.
The aviation sector is one of the worst to be hit with domestic and international flight bans across countries.
Even before the coronavirus-pandemic disrupted air travel, the Indian aviation industry was affected by the slowdown in the economy. The pandemic has just worsened their prospects.
The Centre for Asia Pacific Aviation (CAPA), a market intelligence firm, said most airlines in the world will be bankrupt by the end of May 2020 and that a coordinated government and industry action was needed to avoid a catastrophe in the sector.
CAPA projected initial losses of USD 3.3–3.6 billion (₹24,000 cr) for the Indian aviation industry in the first quarter of 2020-21.  Nearly 40% of it would come from two listed carriers, Indigo and Spicejet.
With companies looking to cut cost and conducting online meetings and video conferences, the demand will drop considerably in the months to come.
Co-working spaces
With many people working from home, the co-working spaces too are looking at empty seats. While players like Indiqube, Wework, CoWrks and others had subsection plans, they now say customers want to withdraw the plan or ask for discounts if they were to continue the services.
The sector had witnessed a steady growth since 2017 and companies had expanded across multiple cities in India but with the slowdown in the economy and the pandemic indicating job losses across sectors, the players are feeling the pain.
"We still have to pay rent and cannot change the internal structures all of a sudden. So certain costs cannot be avoided. It would affect our expansion plans as companies are not thinking of long-term business deals," an official at WeWork in Bengaluru said.
But Ankur Pahwa of Ernst and Young would like to differ. He says small and medium-sized firms and startups that used co-working spaces will continue with these in the long run and this would enable them to make a quick recovery after two quarters.
"There will be a short-term blip. One of the flipsides of the work-from-home option is that people are working in silos and the social side of the workplace is missing. So, co-working spaces will be a choice for many," he says. "Even before the crisis hit them, the cleanliness and hygiene factor increased with many of these companies. So, they will make a quick come back."
Moreover, there could be a brighter side to co-working spaces as the work-from-home option benefitting certain companies, which would look to make that the standard, considering the costs that could be saved on running huge workspaces.
Amit Agarwal, cofounder and CEO of Nobroker.com says companies now want to save on rent as they have seen the leverage of work from home option.
"People tend to work longer hours compared to coming to office. This adds to the productivity," he says. "What I see is, entrepreneurs think they need office space to synergise with the team. But that can be done by renting space in co-working spaces for a few days in a week or month. So there is no need for an office space as such."