Mansoor Gous's voice beams with pride over the speaker on Radio Active CR 90.4 FM, a community radio station in Bengaluru.
Speaking in Kannada, he eloquently talks about waste management — how to segregate wastes, how to handle them, the pain points of waste pickers on ground, a few tips here and there for citizens on how to keep surroundings clean.
The radio jockey (RJ), who learnt the job on the go, runs a regular show 'Kasa Shramika Parisara Rakshaka' (Litter Labourer, Environment Protector).
Advertisement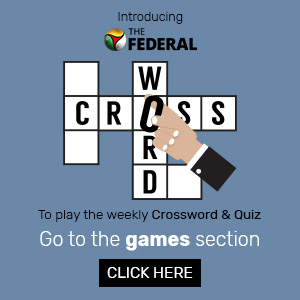 But that's not his primary job. Gous, 36, is a waste management entrepreneur who has been into picking and segregating waste for over two decades now. He leads a team of eight members who go door to door and pick dry waste, sort it, and then recycle them and earn money out of the scrap.
Collaborating with the civic body to keep Bengaluru clean, Gous and his team of 'waste warriors' battle day in day out and manage Dry Waste Collection Centres in Jayanagar and Basavanagudi areas in the city.
Member of Hasiru Dala and founder of Clean City Recyclers Association (CCRA), a scrap dealers' cooperative, Gous bats for creating a fair price marketplace for scrap handlers.  Today Mansoor and team manages 10-12 tonnes of waste every month that generates an annual turnover of ₹18 lakh. His passion for the job overflows into the radio show.
Having spent his early years in the slums of Bengaluru, Gous saw an opportunity in the life battles. From being a ragpicker to turning an entrepreneur and then a radio jockey, he's done it all with passion and rigour.
Gous is an early adopter of technology. With a smartphone and a voice recorder in hand, he manages to run his shows by sending audio clips from the ground to the production department who edits the clips and puts it on air.
But Gous says he doesn't take any fees for his RJ work as he feels he gets sufficient money from the waste management. For him radio jockeying is a voluntary initiative through which he also gains a bit of popularity and reach, which helps him in his business.
During pandemic times, he feels it's even more important to communicate to people about waste management and cleanliness.
"People sometimes leave dangerous medical waste without proper care. We explain the problems, the hazards and educate our listeners – both civic workers and urban dwellers about usage and disposal masks, gloves, tissues and other sanitary waste," he says.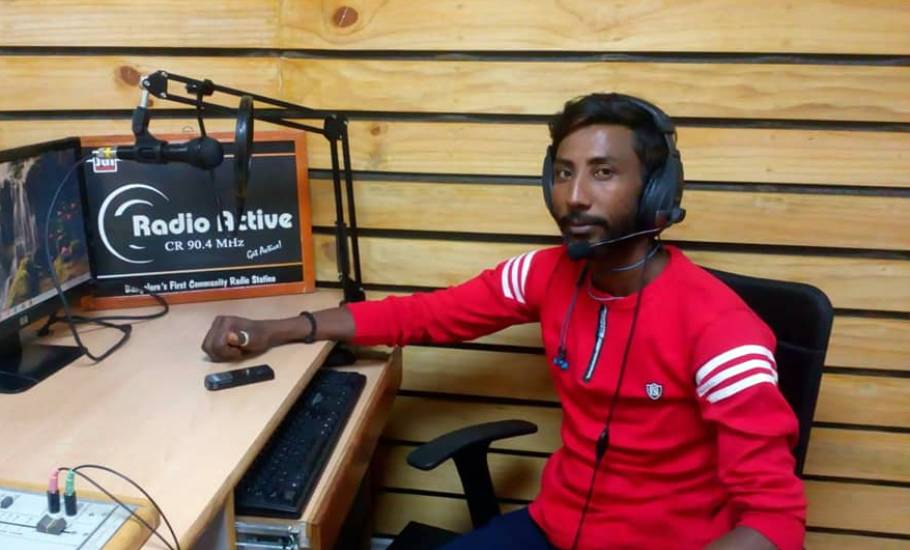 Radio Active CR 90.4 Mhz, the first community radio in Bengaluru started in 2007, actively engages social groups to air their views, concerns and also mobilise help to assist the vulnerable population. The 24×7 channel, which had 8-10 hours of original content a day, now has 14-16 hours of original content during the pandemic times. The channel now looks for individual stories from various groups.
"From farmers to HIV patients requiring ART (antiretroviral therapy) drugs to doctors in the forefront of the pandemic control have all shared their concerns, ideas and suggestions to deal with COVID-19 crisis," says Pinky Chandran, director of Radio Active CR.
With socio-economic problems cropping up everywhere in the wake of the pandemic, the radio channel has put out programmes on child abuse and care, supporting health workers in isolation wards, managing depression, how to get ART medicines, awareness campaigns on healthcare for pregnant women among others.
They have also done interesting shows on healthy food, lake rejuvenation, temple histories and climate change initiatives.
"In the initial days of the lockdown, it was all about uncertainties. But later, we realised several vulnerable communities were affected and needed help. So we changed our strategy to help out these communities with a voice on air," Chandran adds.
With 11 paid staff and over 45 volunteers, Radio Active produced shows uninterrupted amid lockdown, although only three transit passes were issued to the team by the government.
They use simple mobile technology to record and edit audio files while the production team is at the station and helps.
Similarly, a group of radio enthusiasts in Tumakuru district run awareness programmes using a WiFi-based mobile community radio station.
With a computer, recorder, mike and amplifiers, the mobile van is turned into a radio station. About 10 students from TVS Academy in the district keep the community radio alive and kicking.
Opening up airwaves
Ending government monopoly over radio broadcasting, India opened the airwaves to private, private radio operators in the late 1990s and to community radio (CR) stations in 2002.
S K Arora, the then secretary of Ministry of Information and Broadcasting, anticipated in 2007 that India would have nearly 4,000-5,000 community radios by 2008. But come 2020, we are nowhere close to the 4,000 mark.
As of March 2020, India had 289 community radios stations. It grew from about 40 in 2009 to 180 in 2015 to the present numbers. The existing ones are used by farming communities, tribals, educational institutions and medical associations disseminate information and engage locals in community-led initiatives.
From providing information on COVID-19 to documenting concerns of frontline workers, and countering fake news and rumours, these stations have remained active through hard times in the past two months.
Increasing reach in pandemic times
A study commissioned by the Association of Radio Operators for India reveals that radio listenership had increased by 23% during the lockdown period.
Community radios have in the past too proved beneficial particularly in crisis times like natural disasters across the world. Be it during the earthquakes in Japan, Haiti and Nepal, or during the tsunami times in Indonesia, Sri Lanka and India coasts, or during the floods in Uttarakhand and Kerala, community radios have always been at the forefront to disseminate information.
In 2018, Kerala witnessed the worst flooding in nearly a century. The rains ravaged the entire state. The opening of various dams made the situation worse and cut off certain villages completely.
The hilly region of Wayanad was among the worst affected. But thanks to Radio Mattoli 90.4 FM, the district's only community radio that opened its doors for rescue and relief operations.
Similarly, during the current pandemic times, the radio has been actively engaged in helping communities, including in remote tribal belts.
Started 11 years back, Mattoli today has around 20 staff and 50 volunteers to run the shows 24×7.
Unlike in Karnataka, where the community radios are left to handle by themselves, in Kerala, the district and state administrations actively engage and participate in community radio programmes.
"With the support of district administration like the collector, National Health Mission (NHM), Kudumbashree, we run about 25 different shows daily," Radio Mattoli director Fr Bijo Thomas tells The Federal over phone. "From airing government scheme details on skill development programmes and Women and Child Development to disseminating information on social distancing, availability of ration and market linkages to farmers, we have done it all."
With an estimated listenership of 3 lakh people, Bijo Thomas says they even let villagers air their problems, by way of sending audio recordings to the station.
Besides, they also invited the collector to assure people that everything was under control and that people need not have to panic.
"The moment we knew the first COVID-19 case was likely to come up in Kerala, we started programmes related to the subject," he says.
Radio Mattoli even distributed 5,000 radios to people over the past few months so that people can tune in and get information.
With the help of technology, the radio is not restricted to airwaves alone. Many of them are also putting the sound clips on social media platforms for better reach.
Ajil Sabu, a young mechanical diploma student behind the Radio Mattoli, set up an office space near the radio station and has made that his home for the last two months.
"I enjoy interacting with people. Though I am from mechanical stream and should be out in the field, due to health issues I wanted a sit-in job and this place offers me much to learn," Sabu says.
Battling financial crisis
But for people like Sabu and Gous, the successful run of these radio stations may not last long as the community radios are also staring at financial difficulties in the wake of the pandemic.
Many of them are run by NGOs, which support these radios with a social initiative. But with funds drying up and governments barely giving advertisement to these radios, the going gets tougher for these community stations.
Thomas says it takes at least ₹5 lakh for him to run the radio station with so many volunteers and full-time employees. Though the government officials get on his platform to reach out to people, he says none gives him advertisement and he's merely functioning on community support and donations.
"While the fixed salary is about ₹10,000-12,000, during pandemic times, I asked my employees and arrived at an agreement to pay all of them ₹5,000 even if they could not come. They had the freedom to work elsewhere as well to earn more," he says.
However, he says the NHM assured him a one-time grant of ₹2 lakh, the money to be released in tranches. Thomas and two other senior staff have decided not to take any salary during the pandemic just to ensure the business is running and their staff are compensated accordingly.
"We need support either from the corporates by way of CSR funds or through government ads. Just like newspapers and television channels, our sources are drying up too, at a faster rate," Thomas says.
The private FM Radio and community radio sector have been left out of the Centre's ₹20 lakh crore economic package. The Association of Radio Operators for India, an industry body of private FM channels, appealed to the government that the radio sector too needs financial intervention to stay afloat.
The AROI underlined that a ₹300 crore relief package was "needed to keep private FM radio channels alive" and wrote a letter to Union Information and Broadcasting Minister Prakash Javadekar about the crisis.
While Pinky Chandran of Radio Active still feels that Kerala-based community radios are better placed considering the government interventions, in other places, including in Karnataka, she feels the community radios are squeezed by financial difficulties.
"We are a free channel. It would not blend with vulnerable communities if we charge for our services. At the same time, we cannot keep sustaining on the parent company's funds which are now drying up," Chandran says.
"Since we also air messages related to government schemes, the state and the Centre should open up sponsorship, evaluate priorities and relook at community radios from a social perspective and boost our revenue potential," she demands and adds that it is also time for philanthropic organisations and other think tanks to step in.