Against the fading evening light, the Big Mosque in Chennai — usually bustling with devotees during Ramzan — stands desolate. The thousands of small and big lights illuminating the winding roads of Triplicane seem to have melted into a dystopia of never-ending gloom.
For 45-year-old Shaziya, this is surreal. "I can't remember a Ramzan when the streets are not bursting at the seams. But the Coronavirus has changed everything in one fell swoop."
Social distancing vs congregating
The holy month of Ramzan is traditionally a time for congregation. But this year, mosques are shut for taraweeh (nightly prayers), there have been no iftar parties nor the special outings with extended family and friends.
"We have been praying and eating alone without inviting our friends and relatives. This is something we never expected. Not in our wildest nightmare," says writer Kalanthai Peer Mohammed.
Ideally, the rich and poor, Peer Mohammed adds, would break their fasts and eat together.
"In many places people are connecting on video-chatting apps like Zoom to break fast and offer taraweeh prayers every night," says Zeenath, a dental surgeon based in Chennai.
In Tamil Nadu, it has been a tradition to break Ramzan fast with Nombu Kanji, a rice porridge. Most of the mosques offer 'nombu kanji'. "But with mosques closed in the wake of the Coronavirus, none of this has been possible."
Last month, in the beginning of Ramzan, Islamic leaders across the world urged the Muslim community to offer prayers from home and not to congregate at mosques amid the pandemic. With Eid just days away, Islamic leaders have again urged people to stay indoors and avoid large gatherings on the occasion.
"This means an Eid in isolation," laments Kanyakumari-based novelist and filmmaker Meeran Mitheen.
Mitheen misses praying in mosques, standing shoulder to shoulder. "Whether rich or poor, the Prophet encourages us to hug and shake hands with everyone. Treat everyone equally."
"We also have a tradition of sharing our food and blessings with everyone. This time around, we are missing that." The rice porridge made in mosques, Mitheen says, has a unique taste because it is shared with everyone.
But COVID-19 has forced everyone to maintain social distancing, he adds.
Yet the faithful have found ways to keep the true spirit of Ramzan alive.
"Ramzan is more about fasting and prayers and less about food and feasting. It is a time to do charitable deeds (zakat) and time to introspect. The coronavirus crisis has offered us yet another opportunity to help others in whatever way we can," says Hameedudin, a technical engineer.
The art of giving
"Zakat (giving a portion of one's income to charity) can be paid in three forms — either by donating money, new clothes or by providing food materials. This year, many have offered zakat in the form of food provisions," he adds.
Many Muslim families have been preparing the porridge at homes and distributing it to their neighbours," Hameedudin adds.
The core aim of Ramzan celebrations is to bring everyone close and help others, says Zeenath. "No one should be left in hunger. They must be provided with food and that is iftar in the true sense."
While most people are having quiet iftars in their houses, those admitted in hospitals are finding it difficult to follow the fasting rules. Some good Samaritans have come to their rescue. For instance, in Trichy district, an organisation called 'Udhavi Seivom Uyarndhu Nirpom' (Let's help and stand tall), is providing 'Sehri' (pre-dawn) meals to the COVID-affected in government hospitals of the district.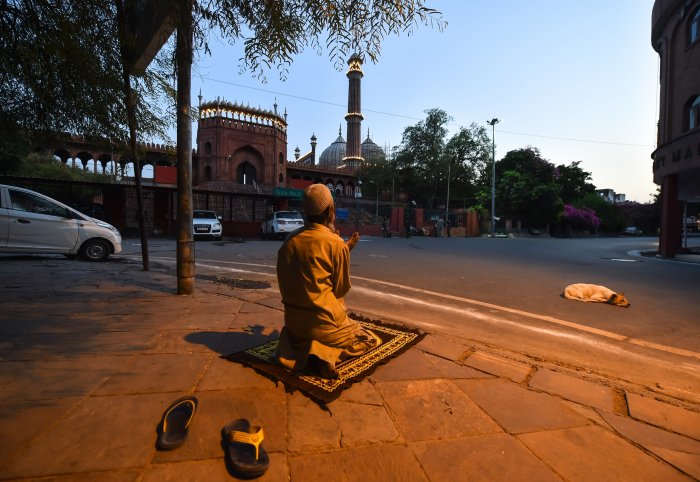 "Besides patients, we are distributing food to 300 poor Muslim families," said Mohideen, a member of the organisation.
Roza in quarantine
While many hospitals in Tamil Nadu didn't allow Covid-19 patients to keep fast (because of medication), those who have tested negative but in quarantine could do so. Hameedudin was one of them. He was admitted to Omandurar Medical College and Hospital for two weeks.
"I had a fixed time chart for prayers. During my time in the hospital, I prayed accordingly near my bed. I missed my morning meals though," he tells The Federal.
In neighbouring Telangana, the government directed authorities to provide special (nutritious) meals to Coronavirus positive patients observing Ramzan fast after community members told doctors that they were determined to observe fasting.
Now, out of quarantine, Hameedudin is hoping for a quiet but meaningful Eid at home. Many like Hameedudin are already hurt by the heightened Islamophobia and negative profiling of Muslims by the media, especially over the congregation in Delhi.
"If COVID-19 is a natural attack, citing the Tablighi Jamaat event as a reason (to target all Muslims) became a man-made tragedy for us," says Kalanthai Peer Mohammed.
In what was seen as a bid to fight the stigma and phobia, imams allowed the use of mosques as isolation centres in places like Kolkata, Ghaizabad and Pune.
As part of the good spirit of Ramzan, members of the Tablighi Jamaat in Delhi, who recovered from the coronavirus, also volunteered to donate blood plasma following chief minister Arvind Kejriwal's appeal to all COVID-19 survivors to donate plasma for serious patients undergoing treatment for the disease.
Many, in fact, broke their Roza (fast) as a donor requires to eat something before donating blood plasma. Many others from Tamil Nadu who recovered after having tested positive for the virus too came forward to donate their plasma upon their return from Delhi to Tamil Nadu.
"No one was forced to come for plasma donation. Everybody came voluntarily. Some people, including large sections of the media, accused us of deliberately spreading the virus. Hopefully, now they will understand and stop targeting Muslims," says one of the volunteers from Tamil Nadu.
Eager to put behind the Tablighi Jamaat incident, he says, "No one can change the past. Let bygones be bygones and we all (people from all religions) can look forward to celebrating an Eid together, even if socially distanced but united in spirit."
Where there is celebration, there is food
And when there is celebration, can food be far behind? A big part of the Ramzan celebrations includes inviting friends and family members to iftar dinners. This also includes non-Muslims neighbours and friends.
This is the first time ever since he came to Delhi five years ago that Fazil will not be home (Chennai) for Eid. "This year I couldn't go because of the lockdown. So it's just I and my roommate," says 32-year-old who works for a media marketing company. His roommate, Sanjay, though has some 'plans' to surprise Fazil.  "I'm not exactly sure if I'll cook everything on my own, but we will have our own feast on Eid," promises Sanjay.
Back in Chennai, Fazil's mother is busy chalking out a menu for Eid. "She tells me on phone that it's unlikely to have a big feast this time around. Perhaps a few of those melt-in-mouth kebabs and haleem and that mutton biryani that she cooks every time," Fazil sighs. He then goes on to add. "I was planning to surprise my sister with an iPhone that she has been asking for forever. Maybe next time whenever I get to see them," he smiles, his eyes, slightly misty, talking about people and memories that make home.